The whole scaling debate started during high network activity when the crypto market was introduced to CryptoKitties in 2017 or the DeFi summer of 2020 followed by the crypto bull market in 2021. Although decentralized networks may have several advantages over centralized architecture, a lack of scalability remains a constant challenge for many blockchain projects. Before diving into rollups, let's get to the core of why it matters.
What is scalability?
Scalability is the ability of a system to handle rapid increases in usage without sacrificing functionality. In blockchain technology, scalability means a blockchain's capacity to support increased transactions without any effects on its functionality. 
What is Ethereum scaling?
Ethereum scaling is one of the most talked-about topics in the crypto industry. During the peaks, the unparalleled demand for the Ethereum network requires a high gas fee making it expensive for everyday users to pay for their transactions. To handle this problem, the ultimate scaling solution was the top priority for the Ethereum community.
What are Ethereum scaling solutions?
Ethereum scaling solutions are platforms that are designed to improve transaction execution on the Ethereum network. Ethereum scaling solutions like layer 2 rollups and sidechains are protocols that use different mechanisms to increase network output.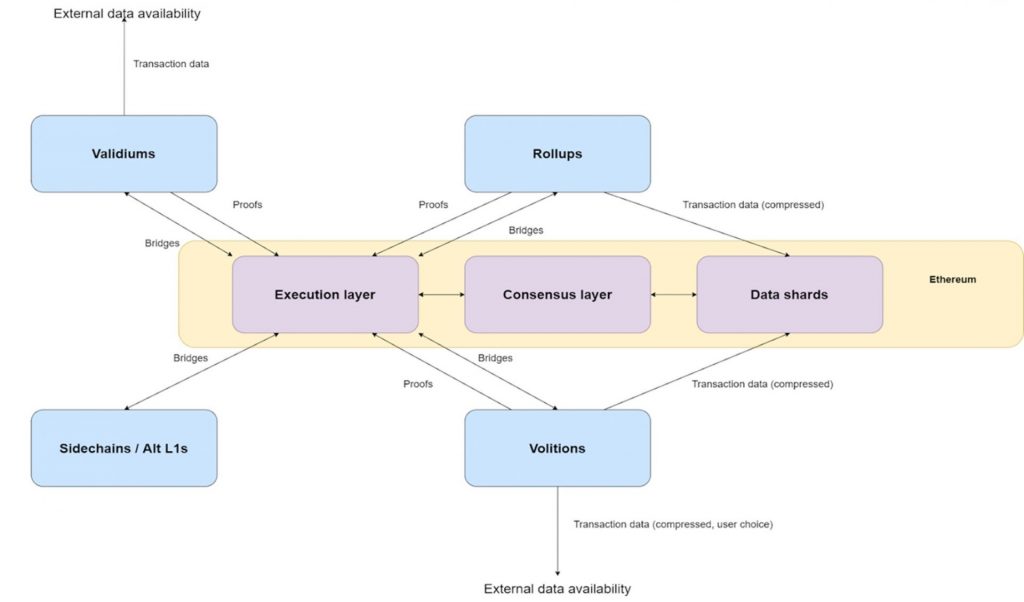 Scaling solutions can be divided into two categories: On-chain and Off-chain solutions based on their point of execution. 
What are Layer 1 scaling solutions?
Layer 1 scaling solutions make changes to the blockchain network and rewrite the base layer. In on-chain solutions, the scaling upgrades to Ethereum are executed on the blockchain itself. Here a potential Layer 1 scaling improvement increases the block size. If Ethereum's 1MB block size is increased, miners will have more space to include additional transaction data in blocks. Moreover, sharding is the other main Layer 1 scaling solution in the Ethereum space.
What are Layer 2 scaling solutions?
Layer 2 scaling improvements are executed off the main chain (Layer 1). Thus, they are also called off-chain solutions. Layer 2 scaling solutions involve processing transactions on a separate network that relies on the main chain for security. 
The Layer 2 solutions are often designed with an emphasis on transaction, speed, and scalability whereas decentralization and security are of lesser concern here. This is mainly because they post transaction data to the main Ethereum layer. Layer 2 scaling is benefitted from the mainnet's decentralization and security. Also, because Layer 2 solutions are built on top of Ethereum, they do not need their native token. 
These off-chain protocols can collect multiple transactions into a single transaction and then add them to the main chain. This reduces pressure on the network and improves the potential of dApps to scale as their usage grows.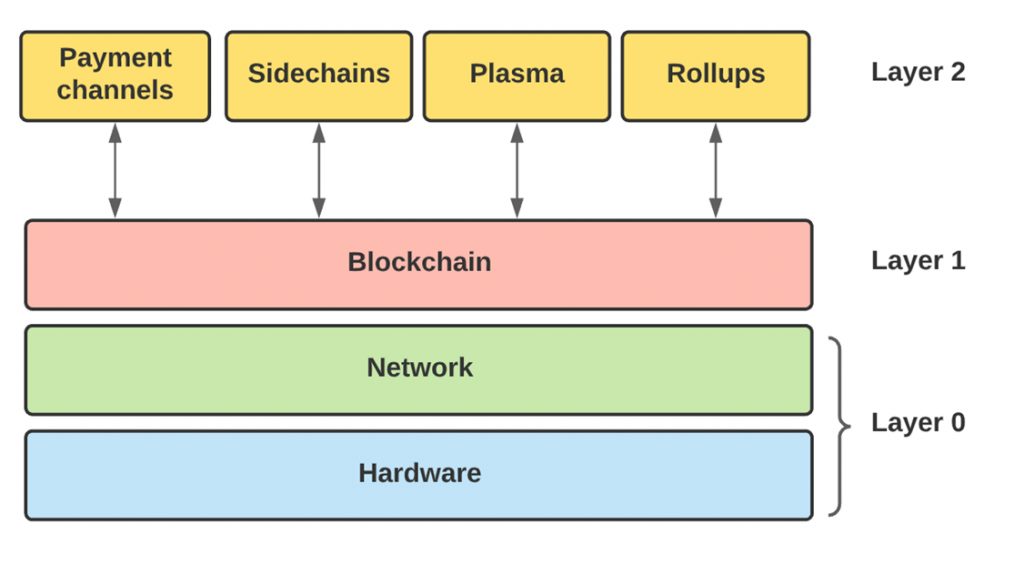 What are Rollups?
Where blockchains like Polkadot and Solana were making thousands of transactions every second, Ethereum was stuck at around 15 transactions per second. They had this problem from the very beginning.
The only solution to this problem so far was Ethereum 2.0. The idea was an up-gradation of the whole blockchain that will reframe the structure to allow more transactions in less time using the sharding technique. Moreover, Ethereum's roadmap has taken some time and evolved. Thus, with the technological developments, Rollups emerged.
The concept of rollups dates back to 2014, also known as Shadow Chains by Ethereum co-founder Vitalik Buterin. As developers had failed with solutions like Plasma, they have been led back to Shadow Chains – now known as "rollups".
A rollup allows off-chain collection of transactions inside an Ethereum smart contract, which then reduces fees and congestion by increasing the output of the blockchain from its present 15 transactions per second to more than 1,000 tps. 
Moreover, a rollup is a type of scaling solution that works by executing transactions outside of Layer 1 but posting transaction data on Layer 1. This then allows the rollup to scale the network and still derive its security from the Ethereum consensus. Then moving computation off-chain allows processing more transactions in total as only some of the data of the rollup transactions has to fit into the Ethereum blocks.
Later, to achieve this, rollup transactions are executed on a separate chain that can even run a rollup-specific version of the EVM. The next step after carrying out these transactions on a rollup is to batch them together and post them to the main Ethereum chain. The whole process essentially executes transactions, takes the data, compresses it, and rolls it up to the main chain in a single batch. This is how it got its name – A rollup!
There are two types of rollups: Zero-Knowledge (ZK) and Optimistic
Zero-Knowledge rollups speed up the reviewing process by implementing a validity-proof protocol. Whereas, Optimistic Rollups writes the transaction on the Ethereum chain as call-data. Both these processes are equipped with 100x the scalability. A regular Ethereum smart contract works on a majority voting system which means that every block mined is done through a consensus. Moreover, for Optimistic Rollups, the validity is ensured by a fraud-proof and synchrony assumption whereas, for ZK-Rollups, validity is ensured by zero-knowledge proofs. 
What are Optimistic Rollups?
The whole idea of Optimistic Rollups was initially detailed by a post from John Adler in the Ethereum Foundation research forum in July 2019 and is much closer to the original outline of Shadow Chains as mentioned earlier. 
Optimistic Rollups provide almost instant transactions and smart contracts, and they do not require gas, except for aggregator fees. Also, the transaction speed enabled by Optimistic Rollups is approximately 100 transactions per second with the potential to increase that to 500 tps.
Here secure autonomous smart contracts are enabled on layer-2 through the use of fraud proofs and on-chain data availability. While ideally the execution is not performed on the chain. Since blockchain data is available without processing it on the main chain, higher production and a better user experience become possible.
Rollups can be considered an extension to Ethereum that allows the batching of transactions to be processed quickly. Furthermore, later these transactions are settled on the Ethereum mainnet. This technology would give users a faster and smoother experience while working in the background. 
What are Zero-Knowledge Rollups?
Zero-knowledge rollups are a layer-2 scaling solution in which all funds are held by a smart contract on the main Ethereum chain. While it performs processes the validity of sidechains is ensured by zero-knowledge proofs.
Moreover, Zero-Knowledge proof is a method in which one party (the prover) can prove to another party (the verifier) that they know a value X, without conveying any information apart from the fact that they know the value X. Initially proposed by Barry Whitehat in 2018, Zero-Knowledge rollups have the same security guarantees as to the Ethereum blockchain, and the potential to produce blocks in under a minute and increase output to as high as 2,000 transactions per second (tps).
Overall, optimistic rollups can support simple payments as well as complex smart contracts where 80% of the Ethereum Virtual Machine (EVM) tooling can be transferred. Costing on Ethereum is complicated thus optimistic rollups are seen as an immediate solution. On the contrary, it is more difficult to port over smart contracts flawlessly from Ethereum's main chain to ZK-Rollups. As a result, Zero-Knowledge rollups are viewed by Ethereum as a much more promising solution in the long run.
However, while the crypto industry awaits ETH 2.0 to redesign the structure of Ethereum Blockchain, it seems like rollups are the way forward. Companies like Synthetix and dYdX are already using them and the day is not far when most Ethereum users will rely on rollups.
Curious to learn more about D-CORE? Click this button to speak with one of our specialists and discover how D-CORE's research can benefit your blockchain business.