Ah, the crypto life. You wake up one day, tired of being poor. You remember you overheard a panel of people talking about Bitcoin on CNN last week. You type in "best crypto to invest in" on Google, and, after scrambling to find your credit card and buying some coins, the money starts flowing in.
(And yes, we've all also heard stories of Dogecoin millionaires and thought, "that could have been me.")
However, if you've been in the crypto world for a while, or have an understanding of how any kind of investing works, you might know that things are rarely that easy. It could be entirely possible that you manage to luck into the next memecoin to hit quadruple-digit gains. Regardless, we trust that, if you landed here, it is because you understand that you're more likely to find some level of success by, instead of going straight into a cryptocurrency exchange, doing your homework first.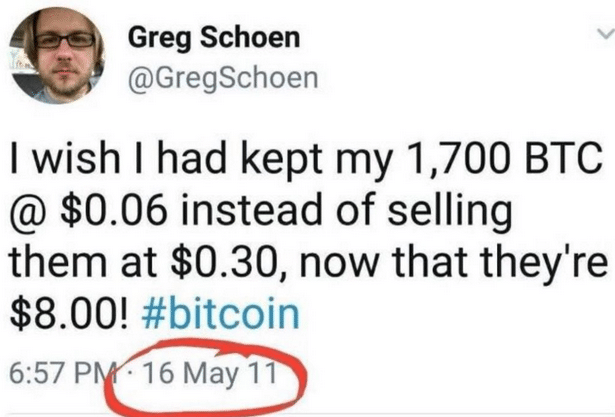 If you're lucky enough to spot an opportunity early on, you better carefully calculate your chances of making it big
In previous articles, we've talked about the red flags of investing in blockchain projects. This time around, however, we'll focus on helping you understand whether that particular token you're looking at is the best crypto to invest in, or you could do better.
We can't assure you that following this strategy will make you money. In fact, no one can! However, we think that knowing some basics will definitely improve your chances. So, off you go!
Your crypto investment checklist… and the principles behind it.
Allow us to start by familiarizing you with a simple (to a fault) idea. It is called "the Star principle", and it was popularized by British investor Richard Koch, famous for his book "The 80/20 Principle" and his no-nonsense approach to educating people about Pareto distributions and the wonders of compound interest. Let us take the Star idea and see whether it can apply to the crypto world before hitting crypto exchanges.
As Koch writes, a star venture simply has two qualities: One, it operates in a high-growth market (over 10% growth per year). Two, it is a leader in that market.
The combination of niche leadership (regardless of how big or small the niche) and fast niche growth is what makes a star venture profitable and desirable. Even though any particular niche or market can only accommodate a leader at a time, you can spot the effects of leadership quickly. This is incredibly important, so don't lose sight of these two core conditions or try to twist them (yet)!
In this clip from our podcast, we analyze how the competition between Bitcoin and Ethereum is, at its deepest, a problem of niche misconception.
Let us give you a couple of examples from the traditional enterprise ecosystem before returning to the cryptocurrency market/blockchain industry.
Take Apple, one of the most successful companies on Earth. The company's products command a price premium almost impossible to find elsewhere. People are looking to pay extra for the Apple brand. Nevertheless, even if they didn't, it wouldn't matter: The sheer volume and demand for their products means that they have lower costs than their rivals.
And, for star ventures, both things are often true. The growing demand of a growing niche compounds with the more-than-ideal waters, creating the perfect climate for smooth sailing. Leading firms get to charge higher prices, lower their costs, rake in higher profits and have cash flow to spare. Which triggers a positive feedback loop that then feeds onto itself.
Note that we're choosing the word "niche" carefully: Just like Apple started by creating a niche they were naturally bred to lead (computers designed with the average person in mind), there can be other niches in the computing business (gaming computers, really affordable ones, etc.) with stars of their own.
But, what happens if you're not a star?
Going back to our star definition, we acknowledge that not every company is the leader of its market, or in a fast-growing one. Therefore, not all of them can be considered stars. What are they and why are we advising you to, at least, be careful when considering them?
The BCG Matrix, created by the Boston Consulting Group (BCG), a globally recognised global management consulting firm, perfectly showcases this, and is actually the origin of the star concept.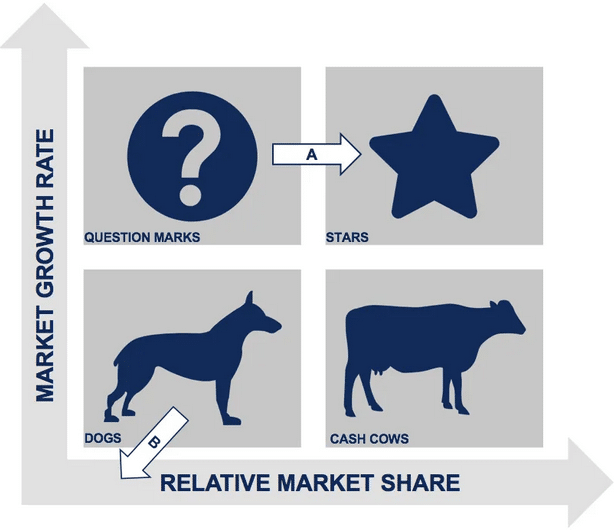 The BCG matrix, featuring all four kinds of companies.
Besides from stars, BCG breaks down all companies into the following:
A company in a fast-growing niche, but that isn't the leader, is at best a question mark. It has the potential to turn into a star given the right circumstances but, given the power of network effects, and the way growth tends to compound, market leaders often end up swallowing question marks.
One that leads a low-growth niche is considered a cash cow. It generates returns, but is threatened by stars willing to innovate within their niche. Niches can be finite, and the tides can turn, which more than one cash cow has discovered. For example, Blockbuster went from being a star to being a cash cow to disappearing.
A follower in a low-growth niche is a dog and needs to go. It is incredibly hard to turn a dog into a positive long-term investment. If you want one imperative piece of advice, let it be this one: The best crypto to invest in is NOT a dog (pun semi-intended!)
Ok, but enough with animals, symbols and companies. How do I find the best crypto to invest in? Does this apply to the decentralized world?
The beauty of the Star Principle rests in its simplicity, and it translates into cryptocurrencies and blockchain projects surprisingly well… provided that you understand the differences. And, to do so, you need to understand how to draw the lines that divide niches. Let us, then, make that the #1 spot on your crypto investment checklist.
Crypto investment checklist step #1: Identify what niche you're thinking about.
Back in the day (and for most people in the world, this remains true), "cryptocurrency" could be considered a single niche. Without a myriad of cryptocurrencies to buy, one could consider that all of them did more or less the same thing, and they competed amongst each other.
Nowadays, however, there are many sub-niches, each one of them with leaders and nuances. Therefore, if you want to know whether a specific coin is the best one among all cryptocurrencies to invest in, it'd be helpful for you to identify the niche it competes in.
Some examples of niches (we would need a separate article to cover all of them!) are:
Store of value cryptocurrencies
Bitcoin and other proponents (some of them with different variations of the same name), attempt to create digital currencies that either become digital gold, replace the global monetary system altogether, or are used by people to invest. You can call these store of value currencies, a niche that, as you can tell, is dominated by BTC.
Therefore, if you were to think about investing in a coin that exclusively aims to become a store of value, know that its chances of long-term success, according to the Star principle, are as slim as if the same team was thinking about creating a new Cola beverage: They better have a great proposition that makes the world take a 180-degree turn.
Another greatly important niche are payment coins… but why not take a break from reading and learn all about them from our podcast? We did this great episode with Dash evangelist Joel Valenzuela recently!
Smart contract networks
This segment (currently led by Ethereum network) does not aim to provide the best value haven. Instead, it intends to create networks that execute and host decentralized applications (dApps) to power the decentralized Internet, sometimes known as the Web 3.0.
Measuring smart contract networks against Bitcoin is like comparing apples to pears, and in this case, the top pear in the game is currently Ethereum. There are disputes within the community as to whether existing networks, such as Cardano or the Tezos blockchain network, could overtake it. Still, we'll save that discussion for spot #2 on our crypto investment checklist! For now, let's concur that the best crypto to invest in, right now, when it comes to smart contract networks would be Ethereum. But let's stay open-minded, since that might change!
DeFi governance tokens

Although all these tokens are listed as "DeFi tokens", they all serve radically different purposes.
Things can get pretty specific when it comes to niches, and a niche's size does not directly affect its capability for explosive growth.
A currently popular model within Decentralized Finance (DeFi) is to have a protocol in which users can become stakeholders by owning and voting through its native token. Regardless of whether these tokens are actively used to vote or not, users tend to equate a platform with its token, resulting in them equating support with token holding.
Owning a platform's token, such as Aave's $AAVE, Maker's $MKR, Uniswap's $UNI, etc. represents a users' support for its protocol and, therefore, the most popular DeFi platforms enjoy tremendous growth in their tokens' value. You could consider that, being that the Total Value Locked (TVL) metric (that is, the amount of money locked within a protocol) is an obvious indicator of platform success, it can provide great insight as to the niche's leaders.
If the token you're looking at falls within this niche, you might want to see how its underlying protocol compares to others.
Storing your digital assets
Properly buying, selling and trading cryptocurrencies all require the use of crypto wallets. Traders rely on them to securely store crypto, preserve and validate transaction data. Custom crypto wallets, whether hardware or software, also known as hot and cold storage, provide traders with tailored solutions that crypto exchanges do not. We will dive in the topic of crypto wallets in another occasion, as this is deep enough to take up another 3,000 words at least!
Privacy cryptocurrencies
The privacy niche is a big favorite of crypto believers, and for good reasons that we'll leave out of this article.
As it happens everywhere, there are sub-niches within the privacy sector, which doesn't get discussed as much as it should. There are privacy coins that aim to be held as investments (becoming private store of value), as well as others that are meant for transactions. There are also privacy Layer-2s that provide privacy within existing smart contract infrastructures and privacy-oriented DeFi platforms.
Depending on which sub-niche you're in, the metrics you'd use to determine the leader would change. For a store of value currency, market capitalization would be ideal. For a transaction coin, however, the number of transactions relative to time would make more sense.
Point #2: Determine an objective criteria to see whether your crypto project is/can become a niche leader or is in an entirely new segment.
One of the main takeaways from hosting the Crypto Hot Seat with the CEOs of the world's biggest crypto companies was that all of them believe our industry is still at unbelievably early stages of development. Your average folk isn't going around thinking about crypto, even if you are!
As the text beneath the video above explains, our industry is still taking its first steps. This is good news for you since it means that, at least initially, most niches and sub-niches are likely to grow quickly (although some highly specific ones might develop slower than others). Finding the best crypto to invest in is niche-dependent, so it's always a good idea to learn about them.
About crypto niches
Note that, although we're saying most cryptocurrency niches are likely to grow quickly, this only applies to viable ones. This is similar to due diligence (something we'll talk about later) but for your target niche: You need to make sure the project you're reviewing has both a chance to compete in it and that the niche itself is valuable. Many investors have suffered from losses due to investing in projects with no viability that temporarily registered gains solely because of positive market trends.
Understanding a niche takes time, effort, and criteria. You might need to understand (at least at a high level) the technology powering blockchains and how it applies to different niches, a process that can take years. However, the benefits from understanding a niche can be enormous, as you'll recognize a star when you see it.
And, speaking about spotting stars…
Star, or pause and restart?
Let's use the niche of smart contract blockchains to help you understand the nuances of picking a star. Now, the undoubted star of this niche, at the moment, is Ethereum: It has the richest environment, most developers, it has captured most of the industry's value locked and meets every criterion you would consider objective within the niche.
Except scalability.
Having Ethereum suffer from scalability issues is, albeit something in the process of fixing, extremely inconvenient since most dApps on Ethereum are tremendously hurt by high fees and processing times. This jeopardizes Ethereum's star status, making competitors such as Cardano, Solana, and Tezos (which are among the top proof of stake blockchains) viable alternatives. Should any of them scale to the size of Ethereum without facing issues, they could overtake the network as the star of the niche.
At this point, it's essential to know that stars that fall from their place should be treated like the plague. It is incredibly rare to see a star reclaim its throne and, therefore, the best crypto to invest in is one that is a star or is ready to become one.
A star can obtain its status via superior attributes, market fit, or side-stepping into a new niche. This is, to some level, what Ethereum's competitors would have to do should Ethereum fix its scalability issues before any of them can seriously catch up to the front of the race. We have seen this happen already with Binance's Smart Chain (empowered by the Binance Coin, BNB), which invented a new niche with a highly centralized, fast, inexpensive blockchain that piggybacks its mother company's reputation.
Because of everything we've mentioned above, you could consider that market capitalization, although it doesn't tell the whole story, is a decent metric for finding the best crypto to invest in within the smart contract blockchain niche. However, when utilizing a simplistic measure, it's always important that you understand the factors at play: As you can see from it, Cardano, with no smart contracts until recently and no ready ecosystem, has 1/4 of Ethereum's market cap, something that is safe to assume is based on the promise that the network will scale fairly quickly once deployed. In that case, it could swallow Ethereum's (and its other competitors'!) capitalizations.
Hopefully, this example has helped you think about the many nuances of finding a star, and how you should consider yourself lucky if you believe you've found one among many digital assets. But, should you throw everything you have at the first star you find?
Crypto investment checklist #3 and final step: Time for the good old blockchain due diligence. The best crypto to invest in is sometimes not the one you're thinking about!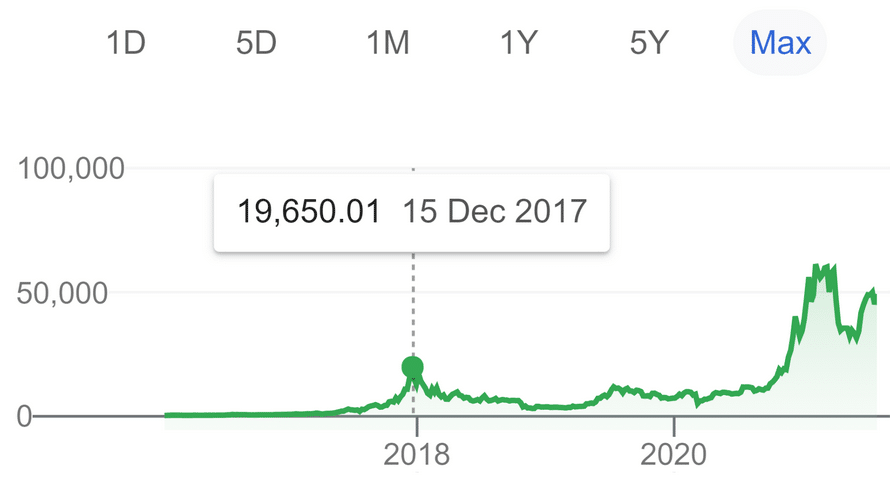 Don't you wish you had invested in Bitcoin, a star if there ever was one, even at "irrational levels" four years ago? Stars reward patience and seem obvious in retrospect.
And so, we arrive at due diligence. We have a full article about it and have centered D-CORE's whole existence based on its importance.
There are different levels of need for due diligence. Of course, if you want to make higher profits in crypto land, you'd require to take a more active and professional role in due diligence to find the best crypto to invest in at an early stage. For the up-and-coming investor, our materials on the topic should suffice, in particular, the 2021 Institutional Blockchain Investment Guide, however.
If you're looking at a project ready to contest a niche or create a new one, it is imperative that you carefully review its team, tokenomics, technology, whitepaper… and a long et cetera. So, if you want to make the most out of this process, why not use the services of professionals in the subject?
At D-CORE, we have created a distributed engine that helps us research blockchain projects and generate high-quality reports at great speed. Thanks to it, we can help a variety of industry top-level players, ranging from institutional investors to projects themselves, helping drive capital and talent in the blockchain sphere.
If this sounds like something you'd like, please follow the links below. And if you've enjoyed this article and would like to continue learning along with us, please continue to check out our blog, guide, podcast and stay tuned for more updates!
Curious to learn more about D-CORE? Click this button to speak with one of our specialists and discover how D-CORE's research can benefit your blockchain business.