Are you trying to figure out what is the best crypto to buy now? We've all fantasized about going back in time (the best time to buy cryptocurrency or even to purchase Bitcoin is often the past, after all!), mining or purchasing a few coins, and going back to enjoy unlimited wealth with no effort.
Haven't you?
It always seems like investing in cryptocurrencies is the obvious and best time to buy cryptocurrency was the past, while the future ahead is uncertain. In some way, our minds seem like the perfect tools to find the reasons why something was obvious in retrospect (also the best crypto to invest in now is the project one can understand).
In this article, we'll explore diverse investment strategies in crypto, as well as discuss its current state. Through this, we hope to aid you in planning your next move!
Does timing matter? The importance of crypto market cycles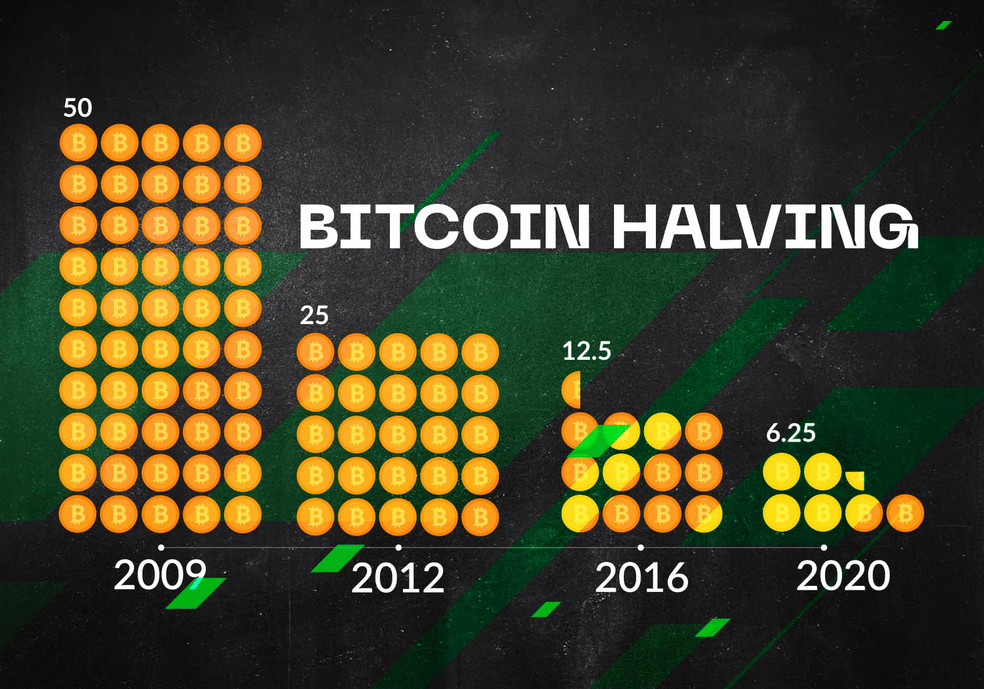 Bitcoin halvings and rewards are represented in this diagram by StormGain.
Volatility is both a burden and the number one feature of the crypto market and vital when trying to determine the best time to buy cryptocurrency. When prices increase and decrease with such violent swings, getting in at the right time is a great way to go "to the moon", as was the case for the well known Binance coin ($BNB) in the beginning of 2022. Nonetheless, even if it may appear so with the benefit of hindsight, predicting which way the market will move next is never trivial. Some might even say it is completely impossible and that those we celebrate for making such "predictions" of the best time to buy cryptocurrency benefit from "survivorship bias", that is, that we only heard about them because the 99% that fail in predicting is completely silent.
Yet, some might say that there is such thing as a discernible pattern to predict the crypto markets' moves on a large enough scale.
Crypto market cycles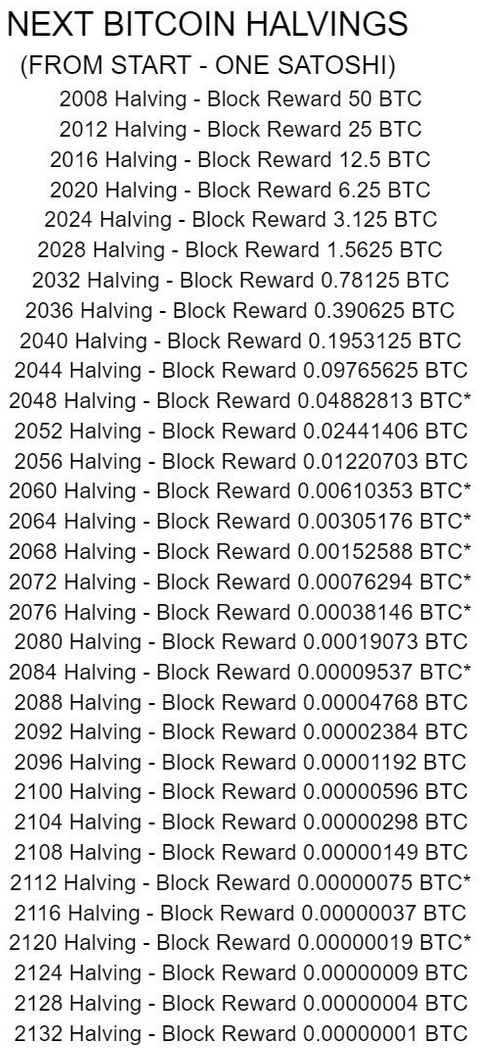 Market cycles are often determined by halvings. If you had started mining in 2008 along with Satoshi, you would have made 50 BTC each time you successfully mined a block!
Market cycles are the continuously-repeating medium to long-term trends in which a market goes through boom and bust phases. The crypto market has its own cycles, which are exacerbated by its high volatility. It is very difficult to identify the transition between the boom and bust phases, but once we enter a bear market, it might take a few years to achieve a new all-time high. Ironically, this might just be about the best time to buy cryptocurrency, so it's important to understand these cycles.
In general, crypto market cycles are considered by the most popular theories to last four years, a tendency marked by Bitcoin halvings.
Halvings are relatively simple to understand: While Bitcoin and other virtual currencies based on it have a limited supply, the users who provide the underlying infrastructure and safety of the network "miners" are rewarded for their efforts with new coins. The rules of Bitcoin ensure that this process won't go on forever since, every 210,000 blocks (about every four years), this reward decreases in half until it gets rounded down to zero. The network is set to stop minting new coins when the total reaches 21 million Bitcoins.
The Bitcoin stock to flow model
Because of this programmed scarcity feature, analysts have created a model to track Bitcoin's value in an "objective" manner based on its scarcity dynamics. The "Stock to Flow" (S2F) model is a straightforward method to predict price changes of assets like gold, platinum, silver, which has been applied to Bitcoin. The underlying concept is that general scarcity rises when mining output slows down, putting upward pressure on the price.
Analysts defend the precision of the S2F model because it has been even more successful for Bitcoin than it has historically been for precious metals because of the predictability of Bitcoin halvings (and the fact that there is no such thing as secret Bitcoin mining). However, skeptics point out that, since there have only ever been a handful of halving events, the dataset used for these models isn't conclusive.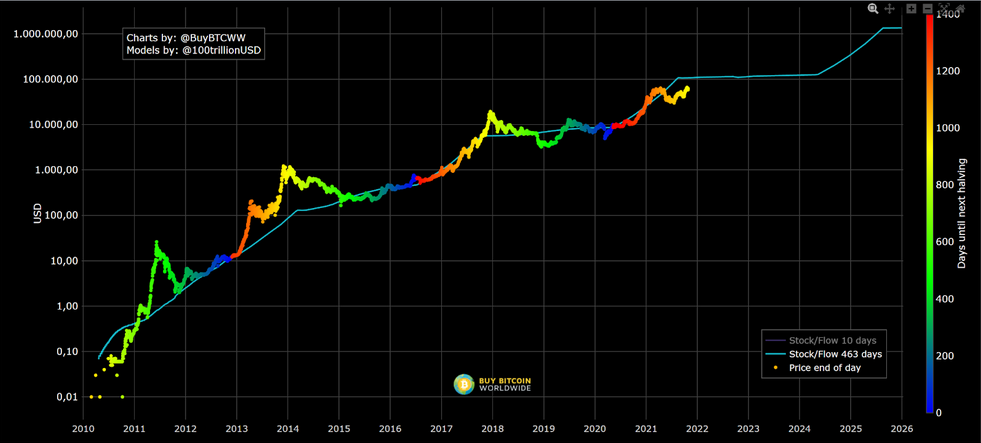 This diagram by BuyBitcoinWorldWide shows that, if the S2F model stands correctly, Bitcoin has both been undervalued and overvalued at times but has always stayed on track to be worth more than $1 million per coin.
And so, the best time to invest in cryptocurrency is often determined by correlation
Whether the S2F model is a decent measure for the crypto market's performance or not, it's important to clarify why we're taking a Bitcoin index as a measure of your timing to invest in crypto, or, in other words, the best time to buy cryptocurrency.
Being the "flagship cryptocurrency", always available in your crypto exchange of choice, it's no surprise that Bitcoin has a large influence on most altcoins' prices. Most good news for Bitcoin tend to translate in altcoins' prices as well, such as when cryptocurrencies are acknowledged by institutions or the approval of favorable legislation. This is often not guaranteed to apply to them, but investors tend to take a positive climate as good news, regardless.
In general, any rumor or news that Bitcoin may achieve greater price stability (or an increase) that may seem like its consolidation as "digital gold" in the public's eyes is received positively by the altcoin community. More so, price increases often translate directly to altcoin gains as investors tend to diversify their portfolios.
Speaking about correlations, in its past 12 years of existence, Bitcoin has generally been considered an uncorrelated asset. Its price fluctuations have been considered "purely speculative" and not tied to the performance of any group of stocks, not even to the world economy as a whole. This fact has, perhaps unsurprisingly, been recently changing. The culprits here may be institutional investors and the publicly traded companies who work with or hold Bitcoin.
Timing and Flippenings
We briefly discussed the unfortunate tendency of both crypto and non-crypto people to equate the industry's value to Bitcoin price in the Crypto Hot Seat featuring CEOs from Coinbase, Bittrex Global, and others.
Both the above correlations (or un-correlations) are necessary for you to keep in mind as you figure out the best time to invest in cryptocurrency, although they are not conclusive. As you might notice, so far, an "undervalued" period in S2F might mean that it's a good time to invest in cryptocurrency, particularly in Bitcoin. Similarly, a bearish time for stocks might mean the opposite for cryptocurrency.
However, as you can gather from both "correlations", there have been deviations from both means. And, like any model, these are non-conclusive. They represent tendencies that, over a more extended period, might be proven or disproven. A fun exercise to picture how long-term tendencies might become irrelevant is a life/death diagram. A human might have been not alive for a significant time, only to be alive suddenly. Similarly, you have lived for a great percentage of your alive time… until suddenly, you are not.
Another correlation to keep in mind when dealing with time sets is what's informally known as "the flippening".

As you can see, over its maximum time period and through spikes and valleys, Ethereum has historically over-performed Bitcoin.
Many people who understand the dynamics of frequently buying and selling digital assets, but lack in-depth knowledge of the underlying technology, wonder why Ethereum isn't more valuable than Bitcoin, both in price and market capitalization. After all, Ethereum has most of the same features plus smart contracts and faster transactions. The conceivable scenario of Ethereum overtaking Bitcoin (be it in network hash rate, volume or market cap) has been dubbed "The Flippening".
It is uncertain whether the flippening will happen at all. Those sporting the theory that it will occur cite the fact that the price of Ethereum has steadily grown against Bitcoin's, as well as its additional features. They also highlight the changes after Ethereum's London Fork, which burn the transaction fees making the network deflationary.
Those against the theory point out that Ethereum does not have a fixed supply (it is capped per year but not fixed) and has had episodes of what could be considered centralization in the past, such as the Ethereum's foundation response to the DAO hack.
Regardless of whether the theories are right and Ethereum overtakes Bitcoin or not, it is worth pointing out that Ethereum, while correlated to Bitcoin, tends to overperform it in the midterm. Whether this tendency will continue is a matter of speculation.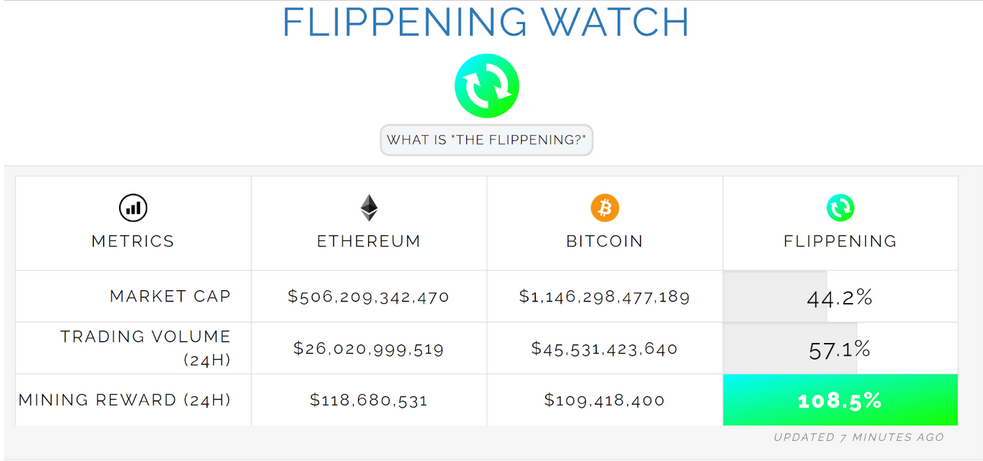 Some sites such as this one track "the flippening" over several measures.
Reacting to markets
Professional crypto project analysts (like Polkastater's Robin Ebers, featured on our podcast) tend to look for fundamental value rather than base their choices on technical analysis.
There are also several metrics that can help investors identify the way markets move to react to it. Markets are unpredictable (and some would say heavily manipulated), but many analysts use techniques like the Fear and Greed Index, Fundamental Analysis, Technical Analysis, and on-chain analysis to project the best time to buy cryptocurrency, or even to sell. We'll cover the first two below, briefly touch on the third, and leave the latter for another article since it's very complex and unique.
About technical analysis (too popular on the crypto markets not to mention here), we can only say that it is, at best, unreliable. Stock traders have used this tool with mixed results over the years, and many traders defend its validity. However, many critics point out that there is no scientific backing to these techniques and that, at best, the tool can be considered a way to find Schelling Points between traders.
Let us then talk about the Fear and Greed Index before going into investment strategies:
Crypto Fear and Greed Index
The Fear and Greed Index provided by Alternative.me gathers information from various sources to determine how the market's sentiments are leaning. Given how emotions can affect retail (and even "big money") investors, having an objective tool to measure the sentiment in the air is quite helpful, as buying Bitcoin is often a highly emotional purchase.
As Alternative explains on their site:
"The crypto market behavior is very emotional. People tend to get greedy when the market is rising which results in FOMO (Fear of missing out). (…) There are two simple assumptions:
Extreme fear can be a sign that investors are too worried. That could be a buying opportunity.
When Investors are getting too greedy, that means the market is due for a correction.
Therefore, we analyze the current sentiment of the Bitcoin market and crunch the numbers into a simple meter from 0 to 100. Zero means "Extreme Fear", while 100 means "Extreme Greed". See below for further information on our data sources."
Fundamental analysis in crypto projects
In our asset review series (here with David Lighton, CEO of Lithium Finance) we analyze the reports we put out about crypto projects directly with the people running them! This series is very special to us as an exercise in openness and transparency.
At D-CORE, we specialize in cryptocurrency fundamental analysis, so excuse us if this seems biased.
We believe that the best time to buy cryptocurrency is when you find valuable, possibly unique projects at an early stage. To do this, we rely on analyzing projects' teams, tokenomics, competition, stage of development, product-market-fit, etc. Our distributed team of researchers follows a distinct methodology to explore these projects to find tomorrow's disruptors. We have also written an in-depth Guide explaining these principles that you can download here!
If you're interested in learning more about analyzing crypto projects, we strongly suggest you look into our materials, including podcast and previous blog posts, to learn about how to analyze crypto projects. For now, we can tell you about a couple of key concepts you have to take into account in any fundamental analysis: Product-market fit and tokenomics.
Product-market fit refers to how well a project can sit in the existing market. This englobes whether they have something substantial to offer that their competition doesn't, whether the solution they offer is correct to meet the needs of their consumers, and whether their timing is right. Another key factor to gauge here is whether the project in hand uses blockchain technology correctly and if these technologies are needed to meet the project's goals.
Tokenomics, on the other hand, is one of those words that tend to mean something different to different people. But, even if this meaning is not always the same for them, its significance is widely recognized by all. If you go by etymology, you might notice the combination of crypto and Economics, which isn't far from the truth. Tokenomics englobes everything from supply and demand dynamics to the internal workings of the token in a project's systems.
It is undeniable that tokenomics is one of the most significant driving forces for a blockchain project to fail or succeed.
Crypto investment strategies
As you may have picked up, we are aware that we do not own the absolute truth, however. To wrap up this article (and while you consider acquiring D-CORE's services!), we'd like to leave you with three distinct investment strategies fitting different risk profiles:
Investing as a system with crypto Dollar Cost Averaging (DCA)
If you think the short-term price of cryptocurrencies is too unpredictable to try and guess the best moment to buy, you can follow the "Dollar Cost Averaging" method: buy a set "small" amount of cryptocurrency in regular intervals until you reach your desired total, minimizing risk and mostly cutting emotion off the equation.
DCA'ing cryptocurrency is the best strategy if you just want to be exposed to the general price trend of cryptocurrencies. While DCA will keep you from being hurt by the more violent downwards price movements over a long enough time, this system is not exactly the best to optimize your gains.
You can DCA Bitcoin, Ethereum (if you believe it will continue to outperform Bitcoin over time), or coins you consider "Stars" per the principle below.
A strategy that you could say complements itself quite well with what D-CORE does is the Star Principle.
You can apply the "Star Principle", which was designed for investing in companies but is easily transferable to crypto, to decide which one is the best crypto to invest in 2022. It defines a star venture as operating in a rapidly growing niche while being the largest participant in that sector. Such projects can quickly grow by merely maintaining their market share simply because they are in a favorable market and can take advantage of economies of scale to outpace their competitors.
Using the Barbell strategy in crypto
Cryptocurrency is full of high risk and high reward opportunities, but as any seasoned investor would tell you, balancing risk in your portfolio is always a must.
One strategy to follow is, instead of having low, medium and high-risk assets, to maximize returns, you only go after the extremes. Interpret this as you may: perhaps you'd choose to put 90% of your money in index funds while 10% goes into crypto. You could also be of the idea that a low-risk investment is Bitcoin itself, and you're ready to bet a lesser share of your money in new projects and low market cap altcoins with lots of (sometimes dubious) potential.
Curious to learn more about D-CORE? Click this button to speak with one of our specialists and discover how D-CORE's research can benefit your blockchain business.