If you've been around the crypto industry for longer than a few months, you probably understand the Bitcoin ETFs hype cycle. Usually, a well-known fund or capital firm announces it's either about to launch or apply for a Bitcoin ETF. This causes tremendous hype and excitement (particularly if the news come from the US of A) surrounding the announcement, Bitcoin prices seem to follow, and the whole thing amounts to… nothing.
So, if this is what usually happens, why are we writing this?
Well, because the United States' Security and Exchanges Commission (SEC, the entity often blamed on everything befalling the crypto industry) has just approved the first such instrument within the nation. Now, this isn't a spot ETF (which would require institutions to buy a significant volume of Bitcoins to secure their ETFs) but is still likely to kickstart a snowball effect for more institutions creating their own such products.
It is also worth noting that, for public perception, such approval would almost be equal to a thumbs up to Bitcoin from the most robust economy in the world.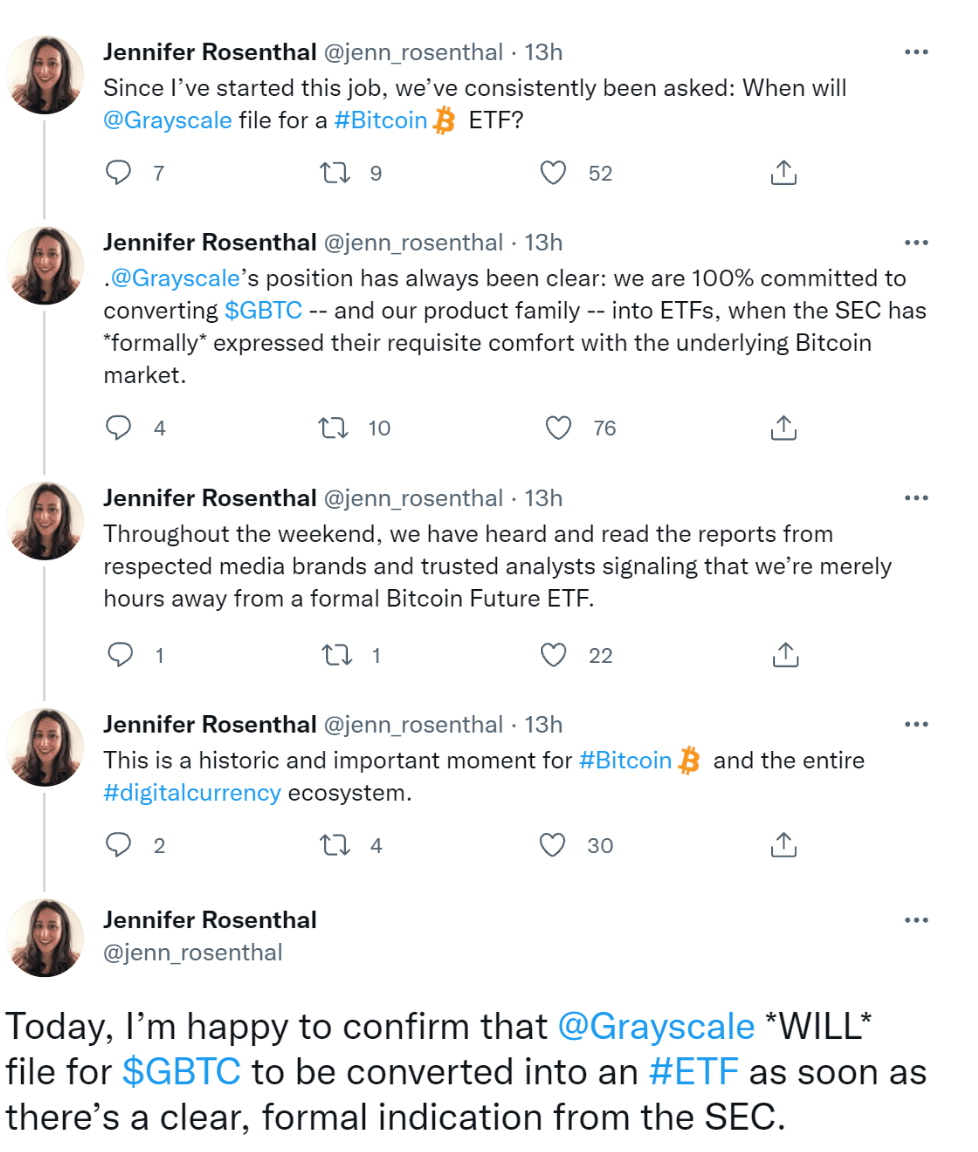 The communications director from well-known fund Grayscale reacts to the rumors surrounding a Bitcoin ETF approval by the SEC before the official launch. It could be expected for many funds to react in the same way.
But before getting too excited, let's slow down for the newbies. What is an ETF, and what does it have to do with cryptocurrency?
To begin, ETFs (Exchange Traded Funds) are investment funds whose shares are publicly listed on stock exchanges. To invest in an ETF, all you have to do is buy some shares and (hopefully) wait for them to rise in value , simple as that. An ETF can have underlying single assets (like BTC) or an index of a basket of several ones. ETFs can be bought and sold at any moment (during trading hours), sold short, tracked in indexes, and even added to the portfolios of other funds, just like stocks.
ETFs are a much newer type of investment than mutual funds, with the first ETF in the United States, launching only 28 years ago in 1993. ETFs became popular since, to operate, they do not require a fund manipulating and actively trading assets. Another distinction is that, unlike mutual funds, in most jurisdictions ETF earnings are only taxed when shares are sold, rather than every year. This makes things easier to manage and, in some cases, results in lower total taxes.
The majority of ETFs simply follow indexes and are not actively managed by a team of administrators who make decisions and try to outperform the market. ETFs are much sought after for their low costs, ease of access, high liquidity and relative simplicity to deal with. If an investor likes a particular economic sector or industry as a whole, the economic policies being implemented in a specific foreign country, a commodity or any basket of related assets, the easiest way to invest in it is by buying a corresponding ETF.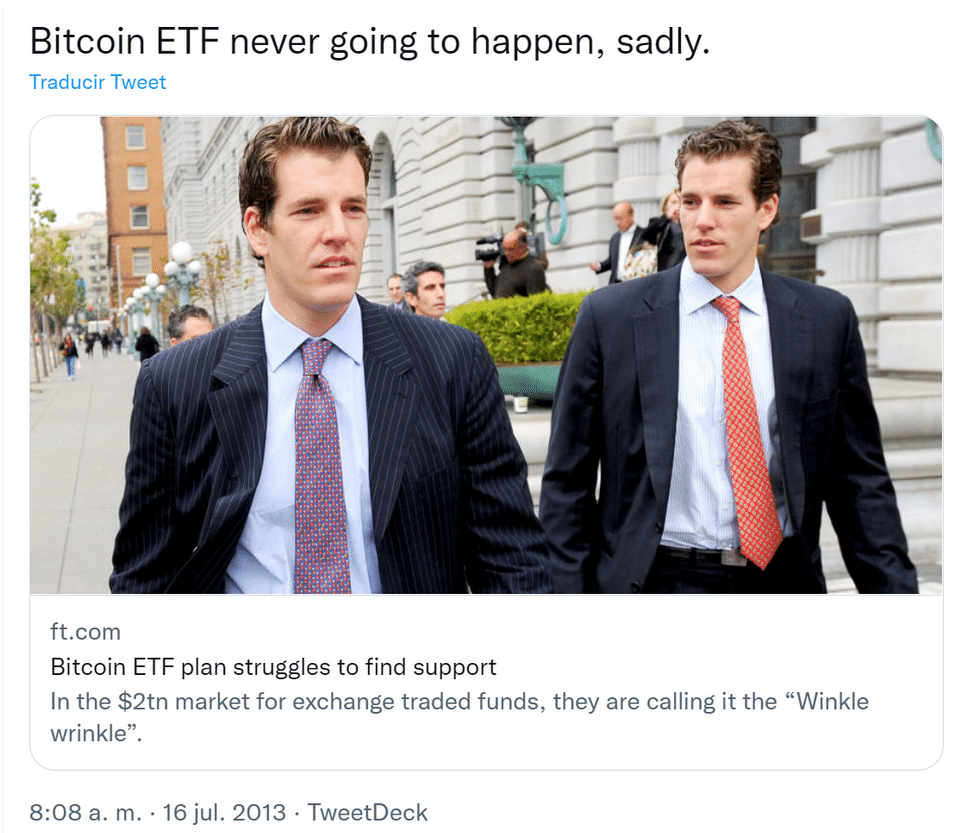 In other news, it's always fun to look at 2013 headlines.
From Indexes to the king of cryptocurrencies
Ever since ETFs became a reality, in order of appearance, first came ETFs that tracked the entire S&P index, followed by foreign markets, specific S&P sectors, small-caps, rule-based ETFs (which incorporate some mechanisms to react to the market without having to be actively managed), US bonds, commodities, ESG-focused and finally actively managed ETFs.
One point worth mentioning is that ETFs are unquestionably bullish for the asset they hold because they bring in new capital that would not have been able to invest in it easily otherwise. This is because, for an ETF to be approved, the fund offering it needs to own the underlying assets. Gold ETFs exemplify this, as they may have played a major role in gold's four-fold price increase in the ten years following the launch of the first one in 2003.
The twins
Discussions about Bitcoin ETFs have been happening since 2013. The first idea proposed was from Cameron and Tyler Winklevoss, at the time heavily invested but not yet Bitcoin billionaires, a status they've since managed to amend. Their proposal came to be evaluated by the American SEC (Securities and Exchange Commission) in 2017 and was denied because of regulatory uncertainty. According to the SEC's ruling, the asset was traded on unregulated exchanges and thus was too vulnerable to market manipulation, providing investors with little to no protection. Another ground for the denial was the inability to reach a surveillance-sharing agreement with a significant Bitcoin market. The Winklevoss twins tried again in June 2018 to get approval to the ETF but lost on a 3-1 vote with one commissioner abstaining.
The reasons given were clear indications that the issue did not lie with the specific way the Winklevoss twins' Bitcoin trust ETF was set up (which was heavily reliant on their exchange, Gemini), but rather with the general aspect of the way Bitcoin exchanges operate, which was deemed incompatible with the SEC's oversight requirements for the securities it regulates. Subsequently, dozens of proposals of Bitcoin ETFs made by the likes of Bitwise, Direxion, GraniteShares, Wilshire Phoenix and ProShare were denied by the commission with similar justification.
To help Bitcoin overcome the back-to-back denials, the market needed to achieve either organic growth and development to make it more resistant to market manipulation or sufficient regulation on cryptocurrency exchanges, something to be careful with. Another possibility was for these ETFs to be based on a different underlying asset linked to Bitcoin.
So, what happened on the road to 2021?
It also didn't hurt Bitcoin's case to be constantly in the eye of the media given the support it's received, as we explore in this clip from our podcast.
After the first denial by the SEC, many new developments changed how the Bitcoin market works. The launch of Bitcoin futures trading at the end of 2017 was a milestone, providing much-needed price stability assurance for those working with crypto payments and mining, as well as opportunities for investors to hedge in favor or against the market.
Futures attracted investors which didn't want to bother with securing private keys or dealing with unregulated exchanges, growing the market overall. At the time, the Chicago Mercantile Exchange, the world's largest futures exchange and first to list these futures, launched Bitcoin on its platform. The CEO of the Digital Currency Group, Barry Silbert stated that "this is going to enable finally the approval of Bitcoin ETFs and other digital currency ETFs, which is game-changing", at the time.
Multiple other nations also added to the pressure by greenlighting the launch of cryptocurrency ETF: Brazilian cryptocurrency asset management firm HashDex launched the first-ever Bitcoin ETF in Bermuda, followed by other products being approved to trade in Brazil, Canada, UAE, France, Switzerland and the UK. From these, the most accessible for Americans who wish to get exposure to Bitcoin in their investment portfolios is undoubtedly Purpose's Canadian Bitcoin ETF. This is worrisome for the SEC because American investors have fewer protections when they invest outside of their home country.
And so, for investors to stay, Bitcoin ETFs had to arrive
Despite Bitcoin's growth and undeniable status in the crypto world, many are of the opinion that it will have a hard time becoming adopted for payments.
The proposals projected for approval are for ETFs holding Bitcoin futures contracts. The SEC's Chairman Gary Gensler stated this to be the preferred way to introduce these products to the American market. According to him, futures are relatively well-regulated compared to exchanges and less exposed to momentaneous price fluctuations. Thus, they offer more protection to investors regarding market manipulation.
This is not as positive for the underlying price of Bitcoin as a traditional ETF. Buying Bitcoin futures is not the same as purchasing and holding actual Bitcoin. It has some significant disadvantages in terms of price correlation to the digital currency and additional fees and administrative costs incurred by dealing with futures. Nevertheless, the approval of these kinds of ETFs is the first step, allowing the SEC to probe how the market will behave regarding this new class of asset and hopefully approve spot Bitcoin ETFs similar to those already operating in Canada and Brazil.
Which leads us to…
The million-dollar question: What can this mean for Bitcoin prices?
You may ask what comes ahead regarding the short, medium and long-term price tendencies for Bitcoin. As with any news that could have a significant effect and that are announced ahead of time, the market is likely to be already pricing this in, which would explain the recent price rally. By the time an announcement is confirmed, it wouldn't be strange to see prices flow down rather than up, in a classic case of "selling the news".
However, long-term, this can only be positive for the most popular cryptocurrency. Other countries' regulators are likely to be already taking notice of what is to occur. More nations should follow the United States' lead soon, and we're surely going to see a surge in cryptocurrency ETFs in the coming year, including "true" ones.
If History repeats itself, we can expect this effect to compound with Bitcoin's other strong fundamentals… meaning that, should market cycles hold, we are in for a ride.
Curious to learn more about D-CORE? Click this button to speak with one of our specialists and discover how D-CORE's research can benefit your blockchain business.