It's almost the end of 2021. And, as we continue to see the tech world increasingly caring about and embracing the importance of blockchain technology, there is one need within our space that stands out: The call for interoperable solutions.
In particular, for blockchain solutions that interact with the real world.
Defining and limiting blockchain interoperability
Ever since blockchain technology broke out into the mainstream (some might say, thanks to the ICO boom), we have heard thousands of promises and hype around its potential use cases. And, for the most part, these are correct: Blockchain technology does have the potential to impact several aspects of our daily lives definitively.
However, it has become increasingly evident that two factors do not help blockchains reach their potential: The lack of interoperability across blockchains themselves (isolating each one of them) and other systems, which can be of any kind. This includes traditional IT systems, web solutions, and, of course, mobile networks.
Both of them are a piece of work in and out of themselves. Because of this, In this article, we'll heavily focus on the second type of interoperability. We'll make sure to cover the other one at another time if you're interested!
Let's get started: Is blockchain interoperability with other networks such a big deal?
In short, yes!
Without seamlessly exchanging data with other platforms, it is entirely impossible to implement blockchain technology in most areas. This is because of the oracle problem.
Blockchain oracles
Solutions that are sufficiently decentralized necessarily require connectivity to external data. If you're still unsure about the need for decentralized solutions, check out this clip from our podcast!
To illustrate what blockchain oracles are and the problem they solve, imagine that you want to create a DeFi system where users can, let's say, use their cars as collateral to obtain a loan. For this to work, you'd also have to create a decentralized price feed that calculates the price of every individual model of car.
This creates two types of problems on its own:
Since all the information is coming from a single feed, a possible attacker has a single point of focus. This makes your feed both easy to target and problematically centralized for the likes of the crypto community.
Even if your feed is not attacked, it'd be possible to influence it by external methods, a problem of centralization. This could be done using human influence, price arbitrage, etc.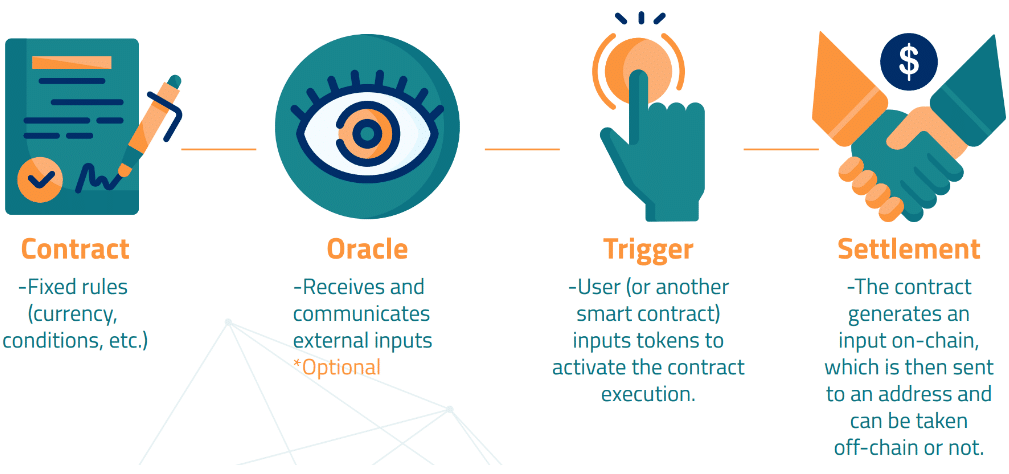 This diagram from the 2021 Institutional Blockchain Investment Guide we created for you details the role of oracles within smart contracts.
Because of the above, the best way for you to create a sufficiently decentralized, practical and secure feed in our automotive example is to capture information from various sources, including centralized ones, and averaging it. This way, you achieve both decentralization and security and reduce the impact of any probable attack, making them too costly to carry out. You and your cofounder can do a celebratory dance and leave the office early, since you can trust a third-party oracle.
However, oracles are not the only way to achieve blockchain interoperability. And, in fact, they might be the wrong solution for a variety of use cases. There are two types of interoperable solutions: Just-in-time and ongoing ones. They can also be direct or hosted by third parties (like oracles).
What are the other interoperability solutions?
While oracles remain, undoubtedly, the most popular solution at the moment, other less-hyped ways to achieve interoperability include:
Blockchain notaries
Notaries use one or more trusted nodes connected to both chains to trigger transactions on the different chains as response to triggers. When a transaction happens within the node, the notary makes the respective updates to both chains. The more trusted nodes a notary features, the more decentralized and therefore trustworthy it is.
You can think of notaries as having an accountant represent expenses and earnings in different columns of a spreadsheet.
Hashed Timelock Contracts (HTLCs)
In their most basic form, HTLCs are agreements that result in conditional transactions. This means that a transaction only occurs and gets settled if it meets a given condition, often expressed as a time or a deadline.
You can think of HTLCs as trustless escrow systems that vary from your typical P2P transaction. Users are required to provide cryptographic proof to the contract instead of going through an intermediary. If they fail to meet the conditions, the agreement is reversed in the contract and never gets executed in the main chain.
HTLCs enable atomic swaps, which are vital for permissionless inter-chain transactions.
In our first community special, we covered Monero DEX Haveno, which works using HTLCs and aims to enable atomic swaps between Monero and Bitcoin.
Sidechains and relay chains
A solution mainly used to achieve interoperability between blockchains. This model features a central chain that supports smart contracts to interact with and exchange information while connecting multiple other chains that interact through the central one. The most popular application of this method is, which also can lock assets from the other chains, creating interoperable tokens.
Abstraction Layer Adaptors
This solution works almost as an exact opposite of the way the relay chain model uses. It makes it ideal for communication between blockchains and external systems.
Abstraction Layers aim to create common Application Programming Interfaces (APIs) that represent blockchains and communicate with them. Blockchain-agnostic languages can be used in this case for existing and new blockchains to seamlessly plug into this layer.
Is blockchain interoperability a pressing need in 2021?
As we've established, exchanging data and value is relatively easy within a given blockchain. However, the way blockchains have originated and grown organically has made the industry have no interoperability standards. This is problematic in particular because every development increases the difficulty of interoperability, increasingly fragmenting the sector.
A valid argument you could raise at this instance is that the regulatory framework for solutions like the automobile-backed loans we proposed in the beginning of this article is far from ready. In fact, we might have to wait several years to see this kind of solution implemented.
Now that we have a gasp on how solutions can be applied, it'd be good to review some applications close to the cutting edge before closing.
Digital payments
It wouldn't surprise you to hear that, since the first use case for blockchains was monetary systems, some of the most pressing needs at the moment are around payments.
2020 and 2021 followed the common theme of social isolation and the subsequent boom of e-commerce, showcasing digital payments' limitations. These are often not limitations faced at a consumer level (we can't pretend that credit cards are not doing their job), but rather in the back-end of solutions, particularly with thriving digital products and international commerce.
The difference between payment network data standards and communication protocols (often developed in isolation) creates significant interoperability delays. There is a pressing need for faster, cheaper, and more efficient cross-border (and even domestic) payments, which has sparked Central Banks' interest in digital-native currencies.
At the moment, there are multiple sectors of our economies unable to interact with each other efficiently (or at all). Interoperability, therefore, would unlock the value in these chains and systems.
Digital identities on the blockchain
An obvious problem of the race to develop blockchain digital identities is that they are inherently flawed without interoperability. Digital identity needs both interoperability between blockchains and outside of them.
Supply chain management and tracking on the blockchain
One of blockchains' most hyped and expected use cases is to track supply chains. Of course, for this to happen, there is a need for interoperable solutions useful in all systems, whether in Argentina or Siberia. Since these solutions are often proprietary, the future of interoperability lies on the incentives and coordination and multiple actors, creating a (or several) chicken-and-egg problems.
Healthcare
In the healthcare industry, digital identities, medical records, general data and the interoperability of all the above are an ongoing challenge. Vendors, providers, regulators and patients often utilize different systems and rely on various proprietary solutions, creating a tremendous mismatch. This data is usually encrypted, and multiple blockchain-based solutions are both being implemented and researched. However, for these solutions to stand the test of time, there is a need for interoperability, as well.
Curious to learn more about D-CORE? Click this button to speak with one of our specialists and discover how D-CORE's research can benefit your blockchain business.