Crypto crowdfunding is hardly a novelty This trend, which started with the birth of the Initial Coin Offering (ICO) and has helped the crypto-punk of the world raise billions of dollars to fulfil their visions, is also projected to grow further in the next few years.
Thanks to the Internet, crowdfunding has been used to raise capital for all kinds of undertakings and ventures, from charitable causes to new businesses. However, cryptocurrencies, combined with definitions such as the ICO and the utility token, added an additional way for projects to legally raise funds that constitute an investment rather than a donation for users.
Crypto crowdfunding is international, simple, and (when done right) transparent and efficient. So, why has its popularity died down?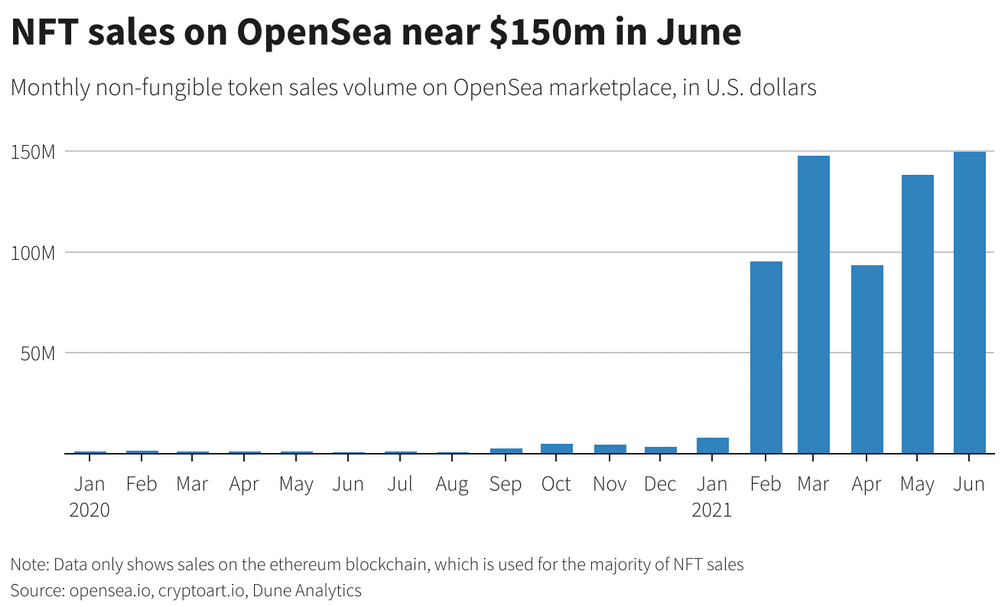 NFT token sales have also become important for crowdfunding.
As we mentioned, there are many pros to blockchain crowdfunding, especially when done right and by legitimate projects. However, the cons are still considerable, and they have contributed to make this practice less popular over time. From ICO risks to the wrongful perception of crypto equity, we can separate these distinctions as follows:
Pros of token sales and other crowdfunding mechanisms
The most obvious factor in favor of crypto crowdfunding is that it can almost in every case be done exclusively with cryptocurrencies. Therefore, every single crowdfunding that accepts Bitcoin accepts Ethereum, stablecoins, etc.
Another benefit of this is that companies rarely have to give away equity for this practice to be still considered an investment. Even if this is not ideal, a centralized corporation or entity can opt to mint tokens in a blockchain such as Ethereum's, and market their project as if their tokens (with some tokenomics help) were to increase in price due to the project's success.
Crypto crowdfunding regulation can be considered either an advantage or a disadvantage in these cases. When ICOs first made an appearance, their regulatory grey status allowed the pioneers of blockchain crowdfunding that proceeded with basic caution to, largely, go wild with their raised funds.
Nowadays, however, regulators have a better understanding of token sales and crypto funding rounds. This allows for a better system for honest players and rules out a great deal of scams… but also puts additional financial and management pressure on top of small teams looking to raise funds for small crypto projects.
Cons of crypto crowdfunding
While cryptocurrency scams become rarer as users get savvier, there have been legendary cases of problematic teams raising millions of dollars. One such case is OneCoin's, which we discuss in this clip from our podcast.
There are important drawbacks for project founders who opt for crypto crowdfunding to consider. One of them is the added difficulty of this model since investors are now savvier. While earlier ICOs had an easy time raising millions of dollars, this is no longer the case. Running a crowdfunding round requires international communication efforts, marketing, compliance, and sometimes offices or representatives in the ground.
The ways of marketing and promoting crypto projects are also quite specific and therefore entail a level of knowledge that most marketing teams don't have. For example, crypto investors demand (not expect) that a project publicly discloses how the project works, its roadmap and, most likely, the underlying code. This is often shocking for traditional operators, not used to the open-source nature of the blockchain industry. Regardless, acting in "stealth mode" and expecting to raise large amounts from the public in 2021 is simply not possible anymore.
On the other hand, the nature of the relationship between investors and crypto projects is often very different from what happens in TradFi. For starters, crowdfunding makes for a much weaker dynamic as compared to venture capital. A crypto crowdfunder might immediately sell their tokens for a quick return and continue unaffected by it, even if they "dump" a tremendous amount of them to other holders' (and the project's) detriment. This kind of investor also does not present crypto projects with the assistance benefits of "Angels", incubators, or Venture Capitalists.
Offering a token in an ICO, IDO, or an equivalent variant may also attract the attention of regulators under suspicion of money laundering, fraud, or simply conducting regulated activities without following the protocols, even years after the event itself. It is considered, in some jurisdictions, the easiest way to invite regulatory scrutiny. A suit by the SEC (similar to what happened to Ripple) is almost always a hard blow for projects, kickstarting a painful process that an undeveloped startup is unlikely to be able to handle.

Some of the crowdfunded crypto projects that have generated the greatest returns were funded in 2020 and boomed this year.
Token holdings are another matter of consideration. If a project keeps a percentage of their own (or their raised) tokens to further fundraising, those assets are innately volatile and vulnerable to pump-and-dump schemes and other market manipulation techniques.
It's also important to state that most investors will also have concerns regarding contributing to crypto projects, given the uncertainty and risk associated with exit scams and abandonment. A project needs to put great attention to make sure they don't "shoot themselves in the foot" by double-checking how much verifiable information they make available, when and how the team is allowed to cash out, if new tokens can be minted (inflating the currency), if deadlines are realistic and the proposed functionalities are even feasible, amongst other concerns. Since responsibility is still much more in the investor's hands than in regulators', investors are always likely to (very much publicly) frown upon a given project should they not meet their standards.
A minor risk, but also to be considered by projects looking to raise funds, is losing keys to their wallets, being the victim of attacks, or having partners act maliciously on them. This is always a possibility that comes with the ropes of working in public.
Can crypto equity replace crowdfunding?
The amounts of money raised amidst the ICO craze were a great topic of conversation within the Crypto Hot Seat, which we hosted with CEOs of Coinbase, Bittrex Global, Palm NFT, and CP.
Even though blockchain crowdfunding is not generating billions of dollars in funds raised anymore, this doesn't mean there is no more interest in funding this kind of projects. In fact, of the 12 largest crypto-investments in history, six have transpired in 2021.
"Crypto equity" can refer to many different things depending on who you ask, so let us underline the differences between these very different funding models.
Tokenized equity
It is clear why tokenizing traditional shares of a company (or issuing fully tokenized shares, what's known as an STO) can be particularly attractive in some cases. Security Token Offerings allow internationalization by default, increased transparency, a degree of decentralization, and a legal overhead significantly cheaper than the issuance of "normal" shares. The use of crypto exchanges to hold these offerings makes the process even faster and simpler, removing the project's need to handle the process directly.
However, investing in crypto equity is riskier because, in most jurisdictions, the agreement between the company and its token holders to deliver dividends and respect shareholder voting is unregulated. In a way, the company may not even have a legal jurisdiction at all. Therefore, shareholders can be completely unprotected. For these reasons,  investing in crypto equity requires due diligence and caution. Nevertheless, companies have been using this with a high degree of success, raising significant sums and – not always – managing to return dividends to those that bought their tokens.
If a company chooses to tokenize existing shares, it can even benefit from selling a large amount of them to a crypto exchange. The exchange would hold the voting power linked to the actions, allow users to trade them within its platform.
Venture Capital entering crypto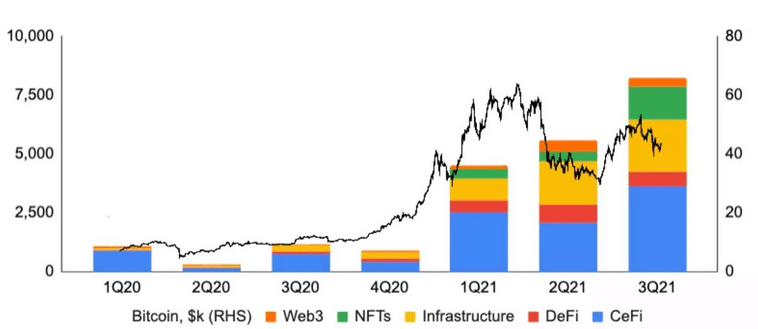 This graph details where Venture Capital investments (in $M) have been directed over the last year.
Crypto crowdfunding has opened doors and allowed initiatives to go live that would not have been possible otherwise. However, venture capital is still necessary for many crypto projects, initiatives, or even centralized businesses in their early phases to survive.
Large investors, the type that would participate in VC, have the resources to perform in-depth research, so their support is also valuable for projects to highlight that their initiative is serious and has a good chance of succeeding. In 2021, crypto crowdfunding is rarely the way for a successful project to get started: venture funding is more often than not preferred for its advantages.
For example, VCs need to develop a long-term commitment to the success of the project. They also actively look for this kind of deal, know how to scrutinize them, and set up key collaborations to empower their protegees.
Some might consider this model as "equity" since, as more projects push for progressive decentralization with the wide acceptance of DAOs, holding governance tokens is also an attractive proposition for VCs, as they can help steer the project even if the founding team happens to exit. This should be considered both a pro and a con of VCs participating in crypto projects, as some might point out that it creates an undesired level of centralization in "decentralized" projects.
Decentralized Venture Capital
Decentralized Venture Capital is considered a kind of crypto equity by some. However, this kind of funding is sparkled with a good amount of the crowdfunding spirit, which makes it more attractive from an ideologic point of view.
An interesting phenomenon in the crypto scene is the increase in the number of DAOs that act as Venture Capitalists to fund projects. For the sake of example, we'll illustrate this point by pointing out two notorious DAOs, although they are not the only players in this space.
DuckDAO: Ducks coordinating over… Telegram?
DuckDAO is in part a VC, in part an incubator, in part a social experiment. In TradFi, incubators are essential to the startup culture by securing partnerships and connections, providing expertise and avoiding common mistakes, and this couldn't be any different in crypto. Community-powered incubators have a unique twist: Decentralized autonomous organizations run through rules applied to a stakeholder token. They invest and work towards the success of the projects the community of token holders decides to back.
DuckDAO's Marketing Officer, Zoran, was also featured on our podcast. Check out this great chat on the human implications of Decentralized Autonomous Organizations!
A great example of this is DuckDAO, which was crucial in the growth and fundraising of dozens of blockchain projects throughout 2020 and 2021. Thousands of "ducks" communicating over Telegram work together to build networks for crypto projects instead of a small team in a traditional incubator. The DAO funds and helps these projects, making it more than attractive for them to allow "ducks" special deals.
DuckDAO also provides a launchpad platform and a cross-chain bridge between BSC and Ethereum. It is permissionless to join, featuring tiers of membership divided by the amount of governance tokens they hold.
Metacartel Ventures
The Metacartel is another DAO with a slightly different approach. It has two arms, one of them a non-profit DAO that provides small grants (no strings attached) to early-stage projects. The other arm is a for-profit investment DAO (the Metacartel Ventures DAO) for collective venture capital investments in dApps. Unlike DuckDAO, the Metacartel works as a closed investment club – you'd have to be voted in to participate.
This DAO is greatly focused on finding very early-stage projects. Their practices are welcoming of remote teams, anonymous founders and pre-business models. Incubation is a secondary concern, but their "mages" work to counsel and make connections favoring the projects they invest in.
Since a DAO would also often play a part in the governance of a project (much like a regular VC, although the decision power would be kept more decentralized), this can be considered a kind of crypto equity.
One of Clipper's (the world's cheapest decentralized exchange) developers also visited our podcast. Clipper was partly funded by the Meta Cartel DAO! We discuss this, and other topics regarding building crypto infrastructures in this episode.
Our best take? Mixed is always best!
It is unlike us to end an article giving advice but, if you're a crypto project, your best bet (asides from getting D-CORE to help you achieve your goals!) is to go for a mixed model.
There are clear benefits to being funded by DAOs and VCs. Still, both solutions might result in a degree of centralization that is undesirable for a project trying to succeed in the long run in the hearts and minds of the crypto community. Therefore, projects can aim to have the best of all worlds by using the initial investment of private capital firms and DAOs to run a public offering. Several projects that have succeeded in the past year have taken this route and have achieved good results.
Regardless of whether you're planning to launch a centralized, decentralized, or mixed (that's also possible!) project, a great option is always to get a D-CORE report to help you spot your strengths and weaknesses. D-CORE reports are created by a distributed army of professional researchers, which collaborate following a scientific-level methodology.
Nowadays, going for a crowdfunding round requires projects to ensure that every bit of public information about them points towards success. This, of course, is not only a marketing effort but a matter of sensible project design. If a project is flawed, either in its tokenomics, product-market fit or team, this will impact its chances of success.
In 2021, crypto crowdfunding is about how a project is structured, including the amounts of money they raise from prominent institutions.
And, of course, while picking a strategy to go for this, it's always useful to know the panorama! We hope that this article has helped you do this. If so, please consider picking up a free copy of our 2021 Institutional Blockchain Investment Guide.
We'll see you around!
Curious to learn more about D-CORE? Click this button to speak with one of our specialists and discover how D-CORE's research can benefit your blockchain business.