South African scientists took the world by surprise this November 24th, announcing that the recent rise in COVID cases in the country was due to a newly identified COVID strain, the now called "Omicron" variant.
As with all new variants, all that was known at the time was the virus' transmissibility rate, in this case, higher than known strains.
And, of course, financial markets approve of anything but COVID and uncertainty.
The announcement of a new, more contagious COVID strain was enough for the Dow Jones Index to plummet by 3% between Thursday the 24th and its lowest point two days later. Simultaneously, oil prices crashed by up to 13%, while gold and the Japanese yen, considered safe havens by most investors, appreciated significantly against the dollar. 
Since the announcement, positive developments in the story have partially helped recover world markets. Most asset classes bounced back as new findings point out to the fact that the new variant seems to be significantly less dangerous, although the "discounts" remain, as expectations of new lockdowns and restrictions on economic activity, especially tourism and commerce, forecast a potentially slower economic recovery.
So, is the cryptocurrency market crashing?
In short, this topic can be answered from different angles, some more correct (or "less wrong") than others.
Yes, cryptocurrency prices are going down. However, unlike other times (remember the infamous Elon Musk saga?), the dips we're witnessing are not starred by Bitcoin and other cryptocurrencies. We see most kinds of assets falling, with those known for their high volatility (such as altcoins) taking a harder hit.
As the heavy correlation shows, this is a symptom of a worldwide economic trend. Therefore, while crypto believers are fast to assign (sometimes even real) causes to price fluctuation, this time Omicron-related panic seems to be a clear cause for the dip we're witnessing.
Unexpected consequences of the cryptocurrency market crash
Similarly to what happens outside the crypto markets, investors searching for exposure to cryptocurrency prices are seemingly flocking to the "safest" assets. In fact, this time around we've seen Ethereum gain terrain against Bitcoin, with the smart-contract chain staying near all-time-high prices while Bitcoin takes a fall.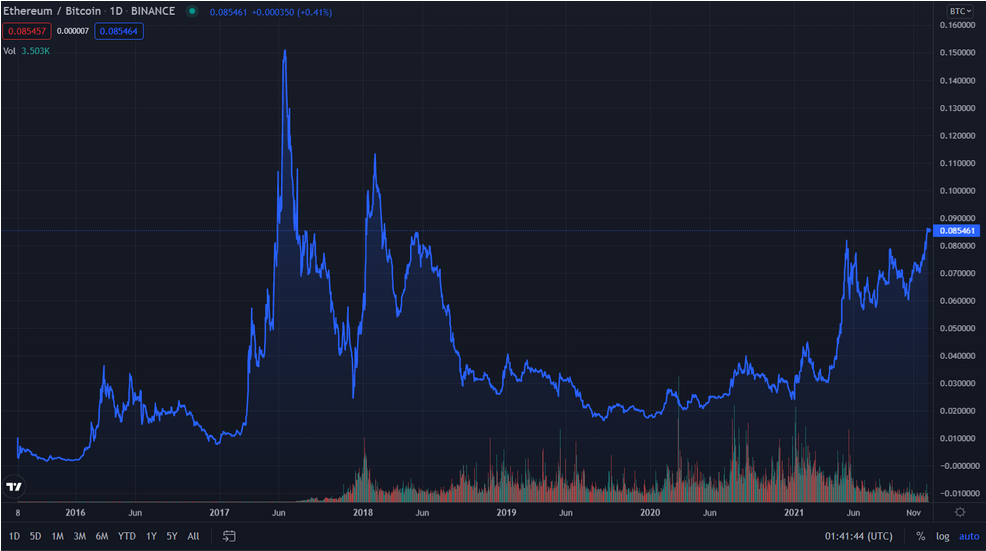 While Ethereum's previous periods of dominance were retrospectively short-lived, the coin seems to be gaining permanent terrain against Bitcoin's price.
Ethereum has historically been a good performer against Bitcoin, and it seems like investors are highlighting their trust in the smart-contract/DeFi ecosystem by remaining faithful to Ether. As the picture above shows, this trend seems to be solidifying rather than dying down, which seems to be, at least at a glance, confirmed by Bitcoin's failure to recover against Ethereum during this crisis.
Why hasn't the crypto market recovered?
As we've pointed out, based on the limited information currently available, the Omicron variant does not seem too dangerous. Then, why haven't the markets fully recovered?
The markets' reluctance to fully bounce back from this dip is not exclusively about the new COVID variant itself: The periodic emergence of dangerous and somewhat mysterious new COVID strains serve as an ongoing reminder that, while life has gone to what seems like normality, this could always change.
Even though vaccines, certain restrictions and lifestyle changes have helped the world temporarily get ahead of the virus, returning to the "old normal" is far from guaranteed. Reminders of this, such as Omicron, serve to trigger uncertainty, "defensive" moves and, therefore, kickstart ripple effects devolving the economic conversation back to a "cash is king" mentality.
In this kind of panorama, it's understandable (although it might seem unfair to some investors!) that assets that occupy the smallest shares in capital institutions' sheets, such as cryptocurrencies, are the last to recover.
How does the Omicron influence look like in the medium term?
An interesting episode of our podcast featured the founders of Wabi, a China-based project that has had quite a journey through the pandemic.
The better news is that, unless something entirely unexpected occurs, there's no strong reason to assume that Omicron is changing the medium-term economic landscape. However, what remains to be determined is which jurisdictions will take actions against it and what the economic consequences of this will be. Central banks quickly find something to blame inflation and slow economic recovery, and, as the meme goes, it would not be wholly unlikely that the "money printing machine goes brr". Inflation, as such, is not to be thrown entirely out of the window as a possibility.
Omicron has been detected in dozens of countries from every continent, with evidence of community spread seen in multiple European and some American countries. Travel bans in most countries remain unlikely, although, if they happen, they might feed the sentiment of uncertainty.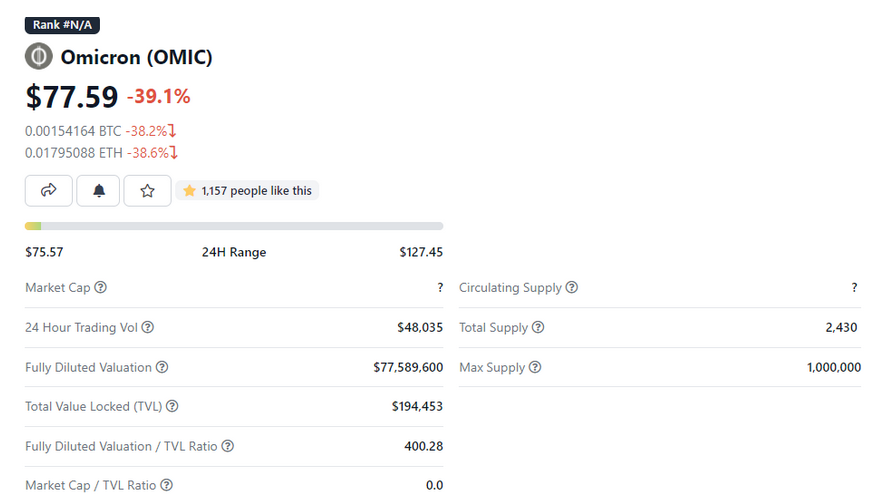 And, of course, since meme coins rule the world, somewhat listed an Omicron-themed coin, which managed to perform a 10x without crashing back in price.
It's important to also point out that cryptocurrencies performed remarkably well, overall, through the pandemic. This should not be taken as a current bullish indicator but it could showcase that, as the economy goes progressively remote, adoption of crypto technology grows, and interest rates plummet, capital going digital seems like a trend likely to continue.
In summary, volatility is part of the game
Seasoned crypto investors know better than to panic whenever they wake up to see double-digit red numbers across the board. However, this does not mean this sensation becomes any more pleasant as time goes by.
Losing money hurts, and you don't need any crypto research firm to tell you so. You also don't need us to tell you (but we'll do so anyway) that you're most likely than not to lose money if a worldwide adverse event goes down, regardless of whether you think of cryptocurrencies as a hedge or not.
However, by crafting a long-term crypto strategy, knowing how to evaluate blockchain projects, and knowing the industry and its community, you can learn to assess whether a given coin is overvalued, undervalued, or has long-term potential. This skill set is the pillar of a body of knowledge that can help you forget negative short-term price action. Hopefully, by using it, you might turn chaos into opportunity!
Please feel free to check out our comprehensive Asset Research Reports if you enjoyed this article. Also, sign up below if you'd like to join our newsletter!