Did you ever hear about the cypherpunk manifesto or the crypto community's values? Did you ever wonder why most people in the crypto industry fit a similar profile?
For an outsider, it's easy to think that the blockchain industry, originating thanks to cryptocurrency, is mainly about money. And for some people, this might be true: We won't deny that there are opportunities to make substantial gains in crypto.
However, there is more to it.
Cryptocurrency believers often have their own "language", common online hang-out spots and share common stories, values and philosophies. And, if this is so, it is because we all originate from the same bloodline, so to speak. To showcase this fascinating history, in this article, we'll cover cryptography as a science, the beginning of its social implications, and more.
First of all, the importance of cryptography
Cryptography (or cryptology) refers to the study and practice of techniques to surpass adversarial behavior (such as eavesdroppers and nefarious third parties) in communication. This, naturally, has evolved into the development of methods to create protocols that achieve the same purpose. Modern cryptographers rely on mathematics, computer science, public-key cryptography (an important piece of the Blockchain proof-of-work concept and pioneered by Withfield Diffie, Ralph Merkle and Martin Hellman), electrical engineering, communication science, and physics to accomplish this purpose. The applications of cryptography range from e-commerce to military communications.
A common misconception is that cryptography is as recent as computers. However, there are registries of Ancient civilizations using it, from the Romans to the Persians. In particular, cryptography served militaristic purposes in those days. And, in fact, the attempts to decode encrypted Nazi communications in WWII led scientist Alan Turing to develop the work that would give birth to the first computers, not the other way around.
.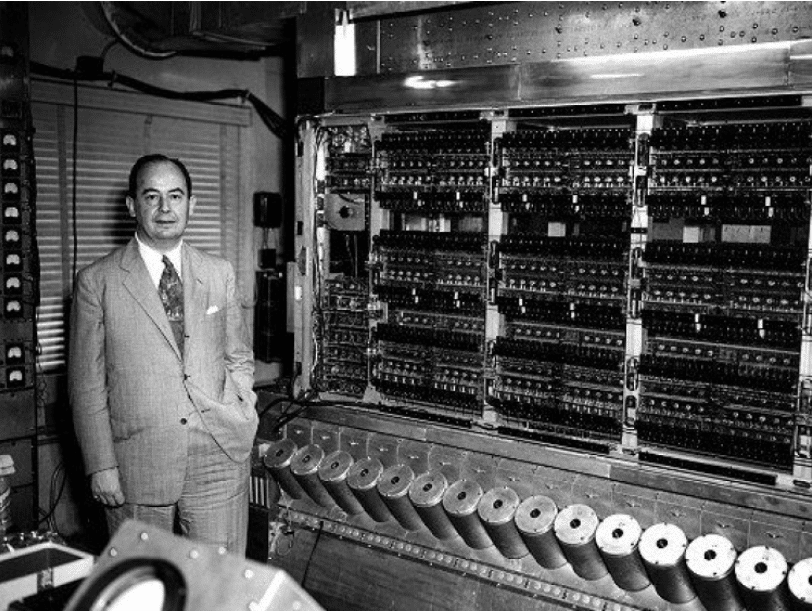 John von Newmann realized Turing's vision of a "universal machine".
You can see by now that cryptography, at its core, aims to create privacy: The right to communicate and exist without being observed and disturbed by others. This human right, particularly hard to exercise in the presence of asymmetric power systems (that, for example, can know more about you than you can know about them), gave birth to the cypher punk movement.
The Cypherpunk Remailer, Cypherpunk Manifesto and Cypherpunk… Money?
Anish Mohammed, a guest on our podcast and founder of Panther Protocol, was one of the earliest adopters of cryptography, advising Ripple and collaborating with Ethereum at early stages.
Some say that the technical origins of the cypherpunk movement begin with a paper by David Chaum titled "Security without identification: transaction systems to make Big Brother obsolete". Whether this is true or not, it seems to have been an inspiration for Eric Hughes, Timothy May author of the Crypto Anarchist manifesto, and John Gilmore. As the tale goes, in 1992, in San Francisco, these three started a group to discuss cryptography and its social applications.
Now, as this meeting group increased in size (and due to cryptography enthusiasts'… erm, love of the written word), a mailing list, their day and age's top tech, was quickly proposed. The implementation turned out to be an experiment in decentralized governance. The re-mailing list, hosted initially on Gilmore's domain, soon migrated to various cross-linked mail servers to become a distributed venture.
The Cypherpunks quickly developed an identity and ideology, publishing the Cypherpunk Manifesto, an Eric Hughes design, in 1993. The manuscript, which you can find here, can be considered a criticism towards institutions, governments, the media, and other entities that, the cypherpunks felt, stripe individuals from their privacy. Therefore, the document concludes, technically savvy cryptographers have a duty to implement these technologies to kickstart social practices that aren't controlled by centralized entities.
As the 800-something word document concludes:
"(We) cannot expect governments, corporations, or other large, faceless organizations to grant us privacy … We must defend our own privacy if we expect to have any. … Cypherpunks write code. We know that someone has to write software to defend privacy, and … we're going to write it."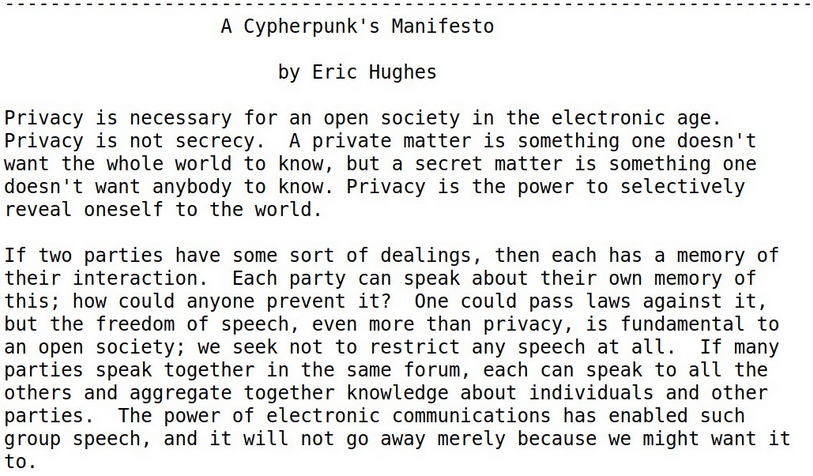 The Cypherpunk manifesto touched on privacy, independence, open society, individual freedoms, society in the electronic technologies age, and other topics that remain as relevant as ever.
The cypherpunk mailing list quickly grew in popularity, reaching the number of 700 members by 1994. One of the achievements attributed to this community would be the Canadian e-wallet MintChip, an early precursor of bitcoin.
Digital cash as a means to continue the cypherpunk fight
The creation of digital "native" money was a means to take the issuance of currency away from the hands of governments. This aimed to solve fractional banking (which Nakamoto himself frowned upon) and remove centralized authorities from a position of power in an era of digital currencies.
Although Bitcoin was (and still is) a great innovation, the giants upon which shoulders Satoshi Nakamoto stood on are seldom acknowledged. Cryptographers Cynthia Dwork and Moni Naor were the first originators of the idea that computational puzzles could be attributed value in 1992. This was rediscovered by Adam Back (who some prominent names in the industry believe to be the original Satoshi), who went on to develop Hashcash, a proof-of-work system meant to fight spam, in 1997.
Some, like podcast guest Evan Ratliff believe Satoshi Nakamoto was an outlaw cyber-criminal by the name of Paul Le Roux. Definitely cypherpunk, although on the rogue side!.
Other proposals built upon existing creations without arriving at a complete model of what Bitcoin currently is. Wei Dai's b-money and Nick Szabo's bit gold both conceptualized the design of immutable digital cash. However, none of them solved the problem of making their projects sufficiently resistant to cyberattacks. Hal Finney, one of Bitcoin's earliest adopters (perhaps the earliest) developed a reusable proof-of-work (RPOW) mechanism using hashcash.
As you can see, there were several milestones to be achieved to make Bitcoin a success: The creation of a system that minted digital assets that couldn't be replicated ("copy-pasted"), the development of a security system that protected said assets, and the integration of proof-of-work to mine said currencies, introducing skin in the game for network participants to coordinate.
Way beyond the Cypherpunk Manifesto: Staying true to the philosophy in 2021
Despite Bitcoin continuing to succeed (to some level) at its purposes, being adopted way beyond the expectations of many, few would consider that the cypherpunk mission, as far as currency goes, is completed. Chain analysis tools and the pseudonymous nature of Bitcoin and other popular Layer-1 blockchains represent an obstacle to the complete privacy and empowerment of users of digital currencies.
Podcast guest Justin Ehrenhofer, a heavy advocate for privacy, also has a thing or two to say about the dangers of DeFi composability.
There are currently multiple risks for users of these currencies. They present cypherpunks with challenges that they need to solve to give cryptocurrencies a chance to fully fulfil their purpose to empower individuals.
They are:
Censorship-resistance: An oppressive regime could deem the use of specific cryptocurrencies illegal, even retroactively, which would then put anyone using these technologies at any point at risk. This is an ever-present hazard, particularly for users of controversial currencies (such as privacy coins), but also for those using other more socially accepted ones, such as Bitcoin. In theory, given Bitcoin's transparency, an innocent user's Bitcoins could be traced to illegal activities, meaning, at best, that the funds could be confiscated. And at worst, that the individual themself could.
Intellectual property and spionage protection: Transparency also renders difficulties for individuals in their private matters, in particular with DeFi protocols being composable. This composability means that neither transactions nor data computed by decentralized protocols are fully private. Private data, trading strategies, financial activities and usage history can all be exploited by third parties for competitive advantages at best and for criminal targetting at worst.
Giving sovereignty to users over their data. Right now, through a mere P2P transaction, a user might disclose their whole financial history, as well as some private data. This puts them at danger and creates problematic precents which, if Web 3.0 is fully implemented, can create an even greater surveillance problem that what we currently experience and fear.
In Summary: It's all about privacy.
As we learned today, the Cypherpunk philosophy can be summarized as a strive for privacy, and this is likely to be an ongoing fight for the foreseeable future.
The current blockchain panorama features some Layer-1 protocols that are inherently private and others that feature privacy as a possibility. However, a definitive solution hasn't been found, although there are some interesting proponents. It is in the hands of the community to both create systems that make these protocols compliant and that give users the possibility to conform to law enforcement when prompted, but without making themselves targets for others through total transparency.
As the old cypherpunk saying goes, users should be citizens, not suspects!
Curious to learn more about D-CORE? Click this button to speak with one of our specialists and discover how D-CORE's research can benefit your blockchain business.