Why don't we have a decentralized social media platform already?
Whenever we hear about the latest deplatforming on Twitter, abuse of power by Facebook, or unfair rule upheld by Youtube, we know that the armies of crypto enthusiasts will utter a cry to get a decentralized version of the same platform up and running. However, once you think about this issue in-depth, you realize that achieving this is a lot more complex than it seems.
There are a few problems at hand:
Existing blockchains aren't scalable enough to support the extremely high input a decentralized social media platform would require to run efficiently.
It's considerably hard to coordinate masses of people to migrate their centralized social networking platforms of preference simultaneously, and the network effects of existing platforms are too strong for a domino effect to do its job.
The incentives to run and attract users into new platforms aren't completely aligned yet.
But, perhaps most importantly (and this is the topic we'll cover for the rest of this article), there are two pieces that tend to go unconsidered and that stand in front of every decentralized platform aiming to rise above the noise: Governance and policing.
Is policing the greatest problem with decentralized social media?
In this clip from our podcast, we examine whether Reddit's initiative to introduce a crypto-based rewards system was positive for its ecosystem. Our guest was none other than Justin Ehrenhofer, moderator of Reddit's cryptocurrency community.
If you start thinking about it (and Satoshi knows we have!) decentralized social media sites' most significant problem is avoiding collusion from users, which can ruin the platforms for everyone. Adding cryptocurrencies to the mix just makes this harder. Think about what could happen in a decentralized platform if…
…users would run rampant, posting inappropriate (or worse, illegal and actively harmful) content.
…a group of users found ways to coordinate to game the system and absorb all the rewards for themselves.
…the new platforms turned around to enforce a different set of values than traditional platforms, but resorted to censorship and silencing to impose their creator's opinions.
And so, we arrive at the quid of the matter. If policing to any degree is necessary, then who does the policing? And who mediates between users and the platform in case there is a disagreement? Who appoints moderators, and how can the rules be enforced in a way that's better than what established platforms offer?
Well, it turns out that decentralized justice solves all of this
Another guest in the Blockchain People podcast was Federico Ast, creator of decentralized justice platform Kleros.
Decentralized Justice is perhaps one of the noblest use cases for blockchain technology. Just a few of its possible applications are:
Solving international disputes.
Protecting personal data, privacy and free speech.
Executing and applying for insurance.
Decentralizing tech giants and making their systems fairer.
Protecting freelancers.
Enabling permissionless token listings.
Moderating and policing decentralized social networks.
Solving Intellectual Property claims without the need to train and maintain AI for it.
Of course, these are all pretty big claims, and we're talking about decentralized social media. So, for the sake of simplicity, we'll stay on this specific use and try to build from there to explain how decentralized justice works. You can then take this logic and apply it to the rest of use cases. For in-depth explanations, you can go to the whitepapers of Kleros or Jur, the two biggest competitors in this space.
Why is decentralized justice needed in the first place?
An uncomfortable truth of blockchains that we learned the tough way is that smart contracts, in and out of themselves, are not enough.
In blockchain land, we love to pretend that everything's going to be solved by decentralized machines running automated programs based on cryptocurrency. And, for the most part, this actually holds up! Some applications of the technology have shown that smart contracts are great for implementing near-perfect efficiency in markets and in anything that we can automate. And, with oracles taking care of feeding the machines more and more data, we will likely be able to expand what we can automate further and further as years go by.
However, some things machines are just not good at. A machine can beat you in a finite game with well-defined rules and a limited number of possibilities (even if they seem far too great for your human mind), such as chess, but it has trouble noticing whether the furry mammal sitting on your lap, meowing, and that eats cat food, is a cat or the latest physical print of David Foster Wallace's Infinite Jest. It takes tremendous effort, development, and it is crazy expensive to develop AI to do things that humans can do in seconds, such as:
Detect whether a face with a shadow or reflection projected over it is actually human.
Assess evidence to determine whether one party of a freelancing contract was treated poorly or received low-quality work.
Determine whether a picture posted on Twitter should be classified as mature content or not.
Figure out whether you're committing intellectual property theft upon covering a piece of music.
Hence, companies (and even governments) have no other option but to hire humans to perform these tasks.
And, sadly, humans hired to solve disputes tend to like to stay employed
If a company hires an arbitrator, chances are that they will have their employer's interests in mind above fairness.
Now we've gotten to the juicy part. Just as you suspected, the billionaires and centralized systems of the world hire people to police their platforms. And, these people, in fact, have mouths (including their own) to feed, so they rather stay out of trouble by not going against their employer's wishes.
More so, arbitration systems tend to have several failures of their own:
They're inefficient.
When's the last time you heard about a company hiring more employees than necessary to make sure they'll be able to keep up with support tickets? What often happens is that these tickets will create a queue that can span for months on end (just go to r/Binance if you don't believe us!)
They're biased.
We covered this before. In a dispute that's a close call between who's right, you or Amazon, an Amazon arbitrator has an incentive to benefit their employer, a central authority.
They're overly bureaucratic.
Arbitrators are often incentivized to enforce the playbook to its every word, not to exercise common sense.
It's reliant on human failure.
When you only have one arbitrator, he or she could be having a bad day, misjudge, or not like you and err (incorrectly) against you.
We know what you're thinking now: That's all (for the most part) reasonable, but how does crypto solve this?
Now that you have all the core concepts, it's time for you to learn about the real applications of Decentralized Justice.
Back to our social media platform, let's say we, D-CORE, come up with an idea for a decentralized video website to combat the censorship of the single mainstream solution. Yay! We build our platform to be blockchain based, and call it D-Tube. Let's assume that, for the most part, our policies are identical to Youtube's, which you already know. And, since we realized that the problem of moderation is troublesome enough for us to tackle, we decided to plug into a decentralized justice platform.
Within this platform (with hybrid rules in between Kleros', Jur's, and others').
Users have to purchase the fictitious platform's token, $GOV, to be able to become jurors in disputes.
They need to select their areas of speciality, or "courts".
They as well need to stake their GOV tokens to be able to participate in disputes.
Now, let's suppose that within D-Tube, which is reasonably populated and successful, a user chooses to upload a cover of a Justin Bieber song. Their cover sounds eerily similar to the real thing, enough for some users to suspect OP's (Original Poster) use of playback. Now, within Youtube, this content might have been immediately flagged as copyright infringement by an AI that's fueled by the technology and logs of record labels. After all, it is in their best interest to protect their assets from plagiarism. Let's say, for simplicity's sake, that the same happens on D-Tube. The process that would ensue looks as follows:
After the AI flagged the content, D-Tube would (temporarily) take down OP's version of the song. They would be able to contest the takedown if they choose to. To do so, OP would have to purchase a small share of GOV tokens and enter them into a contract. This step has an immediate effect: Users who are blatantly plagiarizing or misusing the content have no incentive to continue pursuing the process. They know they're breaking the rules and will lose, so they are not willing to put their skin in the game.
Since the AI that flags content associated it with a particular record label (e.g. Sony), Sony receives a notification about it. Now, it's up to them to enter the dispute. If they do not respond within a certain time frame, they will be penalized, and their penalization fee would go back to OP. The song would also be reinstated. This creates an incentive for labels to engage with users directly instead of silently and unilaterally policing the content in platforms.
Should Sony choose to engage, they'd enter GOV tokens into the same contract as OP. They would go to a court of people that have chosen to specialize in this kind of matter.
The system would randomly select an odd group of jurors and present them with the case.
The selected jurors would then vote on who they think is right in the dispute. If opinions are misaligned (some vote OP, some vote Sony), the majority's rule will prevail. The users that voted the "wrong" way are penalized, with the rest splitting the penalty fee. This incentivizes jurors to think in second-order effects, be mindful, and be honest.
Let's say OP wins. In this case, they would be entitled to having the song reinstated in the platform and a share of Sony's GOV tokens from the dispute.
If Sony doesn't like the outcome or has a feeling that OP somewhat manipulated the votes, they can contest the decision. They'd now enter more tokens into the contract, which this time will draw an even bigger (but still uneven) number of jurors to the case. Sony can choose to pursue this procedure as many times as they want… until there are not enough users in the platform to continue expanding. In that "mega-trial" case, any decision will be final and upheld by the platform. However, note that the procedure disincentivizes this by presenting Sony a greater cost each time they re-contest for an unchanging gain (since OP doesn't have to continue entering tokens). Thanks to this, Sony should either be 100% sure about their claims or abstain from issuing statements they don't think anonymous jurors would back.
So, why is decentralized justice not implemented more broadly?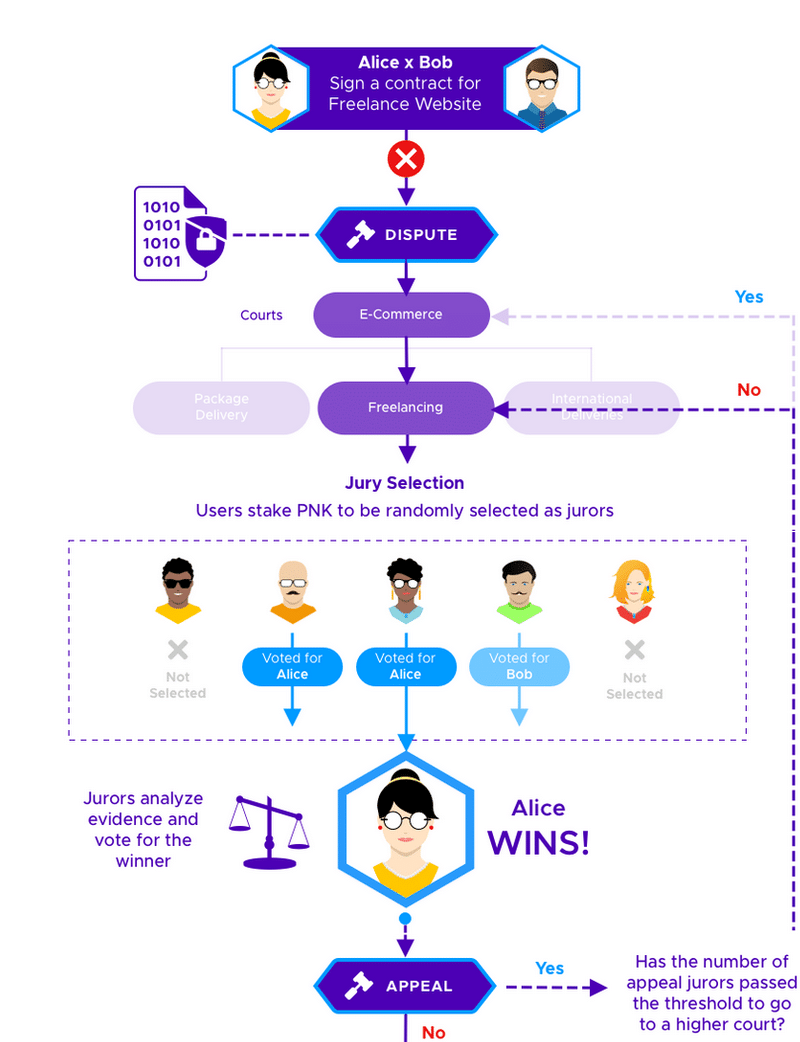 This diagram from Kleros illustrates how their system would work to solve a freelancing dispute.
We talked about scaling at the beginning of this article, so we're not about to repeat ourselves by stating the obvious: Decentralized social media cannot happen until scaling meets this need. However, policing will become the next big issue when it does so, and we're happy that there are systems in place to cover this need.
Let us, then, close this article by leaving you with a question: Should all things stay the same… Do you think the average, ambivalent-to-crypto users would have an incentive to jump into a decentralized platform? Do you think this is a value proposition strong enough for users to mass-coordinate into a new, unknown platform?
If your answer is a "no" or a conservative "I don't know" (remember, it's millions of people we're talking about here!), then it's time to start wondering. Ask yourself: What use cases and unique applications can blockchains have within decentralized social media to make it worth the change for everyone, from your local waitress to a Polish musician to the founder of Polkadot, Gavin Wood? It is likely that the first successful platform is something entirely different, as opposed to a spin-off of what we already know.
We hoped you enjoyed reading this as much as we did writing it!
Curious to learn more about D-CORE? Click this button to speak with one of our specialists and discover how D-CORE's research can benefit your blockchain business.