It was just about time we started hearing of something relatively novel such as Decentralized Finance reaching a "DeFi 2.0" stage. After all, what's a better incentive to innovate than having money pumped left and right into your industry?
As a term at least, DeFi 2.0 makes sense
Ever since the creation of Decentralized Finance platforms, even the top DeFi projects have been criticized for their less-than-friendly user interfaces, usual operational issues and the… ehrm, surprising lack of professionalism they sometimes showcase.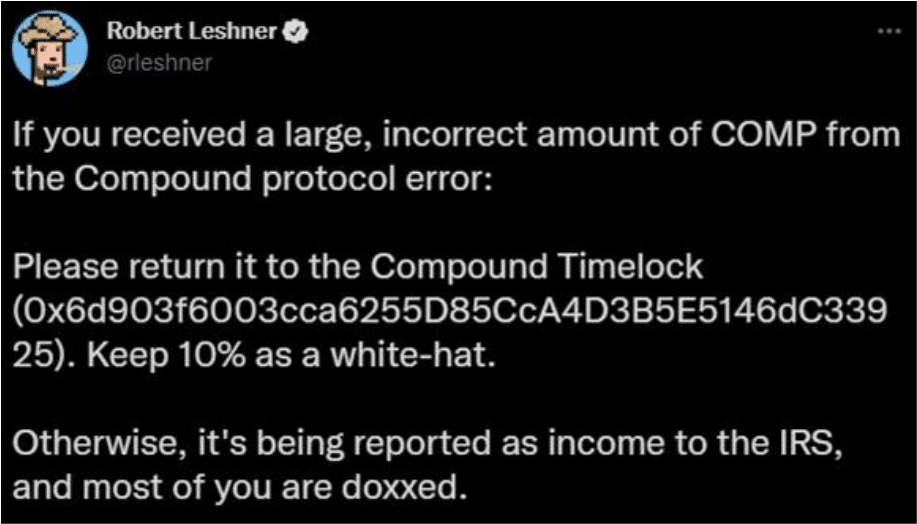 Even the creator of Compound, one of DeFi's most successful projects, has been guilty of a lack of awareness of the professionalism a mega-organization such as his' requires.
We could all use to see more professional DeFi projects that are less clunky, expensive, and have better interfaces. But, as you'll see, this is not precisely what DeFi 2.0 means
So, where is the main innovation happening? In DeFi liquidity, of all places.
Rising new DeFi projects are putting a particular emphasis on yield farming and liquidity pools. To make these protocols work in a decentralized manner, projects often employ liquidity mining as a reward strategy, allowing them to offer high (and sometimes very high) Annual Percentage Yields, a.k.a "tha gainz" or APYs to attract liquidity providers and yield farmers.
Liquidity mining continuously increases the supply of the protocol's governance/utility token and uses newly minted tokens, or tokens from reserves, to reward liquidity providers. These rewards are often proportional to the funds they lock onto the protocol. If this sounds like liquidity mining is often only temporarily attractive for users that tend to then shift to other programs, well, you're correct.
Liquidity mining is not very sustainable. Inflationary assets tend to decrease in value, especially if those receiving newly minted coins are quick to sell. After all, they often acquire very volatile coins, so they have an incentive to. Contributing to Pools, in particular in Automated Market Makers (AMMs), also means users have to try their best to avoid impermanent loss, that is, losing money by the depreciation or opportunity cost of locking their assets in pools.
And this is not just theory.
The behavior we mention is, in fact, backed by statistics compiled by nansen.ai on the loyalty of users of popular yield farming contracts, revealing that only two out of five users stays for more than 30 days on the same contract. Some of these protocols add a vesting period to their liquidity mining rewards, but this works to disincentivize liquidity providers and doesn't tackle the fundamental issue at play, just postpones it for a few more days.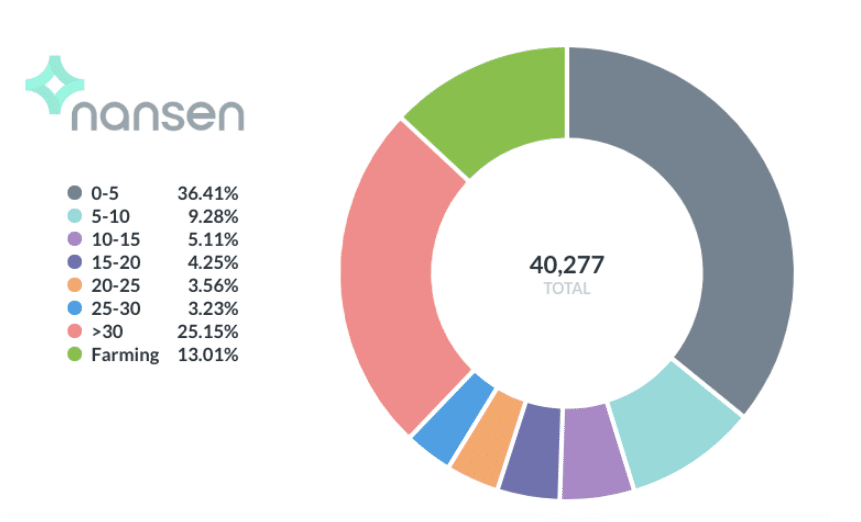 Who knew that users looking for rewards are more loyal to their wallets than to the projects providing them?
Another fact is that liquidity mining can undermine the long-term success of a protocol. Projects often reward users with their own tokens, and a devaluating governance token seems like a sign of a failing project, which then detracts investors and becomes a self-fulfilling prophecy.
How does DeFi 2.0 work for liquidity mining, then?
If you remember, what we now know as a very wide panorama full of projects of all kinds, DeFi, started with lending and stablecoin minting. The same happens with DeFi 2.0: Nowadays, there are a few groundbreaking DeFi projects which seek to solve the liquidity mining problem of users dumping their reward tokens and bailing out soon afterwards. The solutions work through different means, such as with the Liquidity as a Service (LaaS) model and separating liquid asset (ETH, DAI, USDC, etc) contributions from volatile tokens (eliminating the impermanent loss factor).
Therefore, let us quickly touch on the specifics of some of the better-known projects:
OlympusDAO (OHM): What is Olympus DAO and Liquidity as a Service?
OlympusDAO (OHM) is a decentralized "stable" currency protocol that instead of being pegged to some other asset, maintains a treasury which backs its token. The value of OHM is freely fluctuating, but Olympus' reserves establish a minimum reasonable price floor. To regulate its price, Olympus has three complementary mechanisms: bonds, buybacks and staking.
With wETH, DAI, or other reserve assets, a user can buy an OHM bond, which gives them the right to purchase a set amount of OHM at a discounted price and a vesting period of about a week. This process fills Olympus' Treasury with liquid assets, which the DAO then uses to earn fees in OHM liquidity pools.
Bond issuance can only be done when OHM is above its price floor, equivalent to one DAI. If OHM's market cap is lower than its backed reserves, the OlympusDAO buys back OHM and burns it, assuring the asset price rebounds to normal levels. Olympus is collateralized several times over this price floor.
Olympus also includes tokenomics features to help this solution become more attractive. OHM staking reduces the circulating supply while using the newly-acquired liquid assets to mint corresponding new OHM and rewarding stakers. The incentives are laid out, so users are interested in continuing to stake and provide liquidity instead of dumping the token. OlympusDAO has exported the "own your liquidity" approach to other projects through their Olympus Pro bond marketplace, open to partners pre-approved by Olympus.
Tokemak (TOKE): What is a Tokemak Reactor?
Tokemak (TOKE) is another solution to direct liquidity. It presents a single-side staking solution that accepts staking ETH and USDC individually. Tokemak applies these assets to voting pools, in which TOKE (a token collateralized by the liquidity in the platform) is paired with other volatile tokens selected by TOKE holders. These pools are called "Reactors". Reactors negate potential impermanent losses for liquidity contributors using the fees earned by the protocol and distribute the remaining yields according to token emissions. It's worth noting that new TOKE tokens are minted if fees aren't sufficient to cover impermanent loss, thus giving responsibility to token holders.
New blockchain projects that wish liquidity provided to their token can attempt to convince TOKE voters to activate a corresponding liquidity reactor and provide some of the liquidity available to the protocol to the project. Tokemak also includes incentives for stakers in the form of TOKE. Since TOKE is inflationary but limited, the DAO will be responsible of crafting a solution for the project to continue rewarding users after emissions are over.
Ondo Finance: Fixed yields in DeFi.
Another solution that tackles the impermanent loss issue is Ondo Finance. Their solution is to offer deposits for liquid swap pools, separating assets into two classes: A primary asset that receives a fixed yield and a volatile asset with a variable but higher APY, both with compounding by default.
The amounts deposited by users in Ondo's pools are adequately matched before being sent to AMMs in Sushiswap or Uniswap, and if there is a mismatch the remaining funds are returned to the users that deposited last. The liquid asset's yield is prioritized, impermanent loss is negated and all the remaining yields go to volatile asset contributors.
DeFi 2.0 self-repaying loans: Abracadabra and Alchemix's solutions.
Decentralized stablecoins are a critical piece of the DeFi ecosystem. One way to implement decentralized stablecoin protocols is by collateralized lending, pioneered by MakerDAO: Users deposit an accepted collateral asset (e.g. Ether) and can take a loan in DAI for a percentage of its total value, which is subject to a fixed interest rate continuously deducted from the collateral until the loan is repaid. If the ratio goes below an established amount (e.g. 77%) in any moment, any other user can liquidate the loan and get a share of the liquidation penalty fee, while the remaining Ether is given back to the loan issuer.
DeFi offers the possibility of doing things in many different ways, and Clipper Exchange showed this in our podcast. For example, one of their developers explained how they leveraged decentralized exchange aggregators to become a Top 5 DEX near-immediately!
Some new stablecoin protocols build upon MakerDAO's ideas with new mechanisms to mitigate (or completely eliminate) liquidation risk, remove the need for charging an interest rate and solving the opportunity cost issue from all the idle collateral. Two projects that stand out are Abracadabra and Alchemix.
Alchemix offers a mechanism for users to take collateralized loans with no interest (up to 50% of the collateral value) in their USD-pegged token, alUSD. While users can spend and exchange their borrowed funds however they want, the collateralized amount accrues interest from being used on yield farming protocols of the likes of yearn.finance, which is used to pay the loan and progressively free the deposited capital. There is no liquidation mechanism: Depreciation of the collateral asset only delays the full repayment of the loan. The borrowed principal can be further added to their staking pools for returns paid in the protocol's governance token, ALCX.
Abracadabra is a bit different from Alchemix in some aspects, but the mystic ambience is a common note. They take deposits of interest-bearing tokens from other DeFi protocols (e.g. yvUSDC or xSUSHI) to use as collateral for self-repaying Magic Internet Money (MIM) loans. Unlike in Alchemix, the loan can be liquidated if the deposited assets' prices fall below a rate. Nevertheless, the most unique functionality of Abracadabra is automated leveraged yielding positions. When setting up a loan, the protocol can swap and reinvest the borrowed amount into the principal up to 10 successive times, increasing the amount that's accruing interest and thus boosting APY.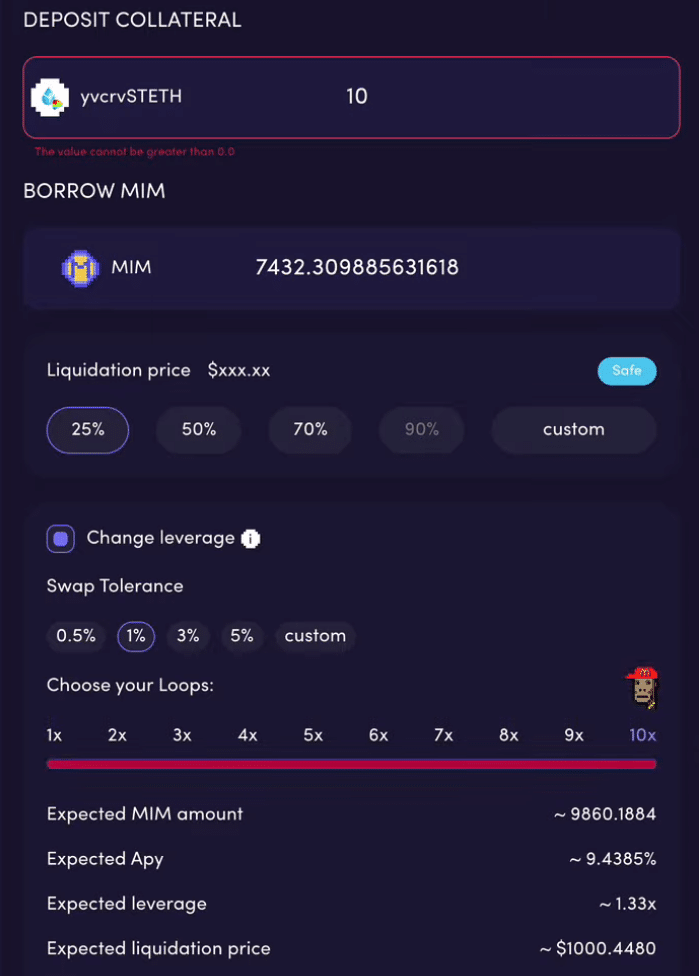 Example of an Abracadabra screen borrowing MIM.
Second-order protocols: Does DeFi yield farming stop anywhere?
With never-ending opportunities for yield farming in DeFi and various protocols offering solutions, it'd be foolish to think no one has thought of creating protocols aiming to optimize across others.
Network fees can be expensive, and active farming management can take up a lot of time, so some innovation vectors towards DeFi are projects like Popsicle Finance, Convex Finance and Pickle Finance. These add incremental functionality to other underlying protocols in a "Layer-2"-like manner. Some of the solutions they offer can include auto-compounding, reward token recycling and even complex cross-chain yield optimization, all using existing protocols (like Curve, Uniswap, etc.) to generate yields.
This is, in many ways, a demonstration of the importance of composability in DeFi: Thanks to the added functionalities of second-order protocols, underlying ones do not lose market share but instead are improved in functionality, operational costs and convenience in a symbiotic way.
A kind of solution that is missing in DeFi is one that infuses existing protocols with default privacy. Why? Because having all data be transparent can cause endless problems for users.
Is DeFi innovation growing, or is it all a fad?
It's easy to see how the approach followed by the most creative projects improve upon current DeFi solutions. However, it's also easy to wonder whether they really constitute innovation or are only expanding on what some consider a "decentralized casino".
The gains offered by DeFi lending, staking and other applications are already quite attractive to cryptocurrency users. However, most solutions are still unpolished and convoluted, keeping out a share of potential entrants from TradFi. And, of course, of everyday users that could use an improvement from their bank accounts.
We need to point out, therefore, that DeFi 2.0 represents two key victories:
Victory #1: DeFi primitives used as base layers.
On one side, DeFi 2.0 cements the utility of some applications and, in some cases, invisibilizes them for the better. By this, we mean that, while there is known utility in protocols such as Curve, Uniswap, yearn, and others, the next logical step is to have these protocols' "primitives" (that is, their underlying smart contracts) running in the background without users directly interacting with them.
This is important because using solutions such as the above as base layers allows for creating better centralized or decentralized protocols that can offer better results, functionalities (as we have described throughout this article) and, especially, interfaces. It is a common saying in DeFi that all systems need to be secure and have suitable interfaces for mass adoption to happen. Taking protocol infrastructure as given and building upon them is ideal for achieving this.
Victory #2: Decentralized, composable professionalism.
It is also remarkable that high-end solutions that have not yet been possible in TradFi are happening through DeFi. Concepts like Tokemak of which any user, anywhere, with almost any amount, can participate, are unthinkable in the legacy world, even for the wealthy. In a traditional setting, the bar for entrance to a solution like this would be high, time-consuming and full of bureaucratic and legal concerns.
It's also important to mention that, thanks to having such innovations in the crypto space and with its standards, these solutions can be copied by competitor projects, improving the ecosystem overall. One such example is Proof of Stake, first used by Peercoin, subsequently implemented and popularized by Cardano and now in the last stages of adoption in the largest smart contract network, Ethereum. Of course, pioneering projects gain prominence and become market leaders, and that's why some of these DeFi 2.0 protocols can potentially attain multi-billion dollar market capitalizations. Still, there is always leeway for users wanting to fork away.
In Summary
Yield farming and other first-wave DeFi applications already offer outstanding returns compared with the world of fiat currency and traditional banking. Still, the improvements designed by the newest generation of projects, including zero-interest collateralized loans, fixed rates, cryptocurrency bonds and liquidity-as-a-service, are taking the DeFi space to the next level and rightfully warrant the label of DeFi 2.0.
Every time we write an article such as this one, we are reminded of the diversity and complexity of the growing DeFi ecosystem. There is almost a never-ending stream of new projects and utilities being created and sparking from every conceivable place. Sometimes, these projects take advantage of composability and introduce new ways to use or improve protocols. Others, we see highly-funded teams create products that their institutional backers can instantly use. And, of course, this is blockchain; so many other times, projects are born out of garages and Internet forums.
If you enjoyed this article or learned something from it, we'd advise you to grab a copy of our Blockchain Guide below or stay tuned to our exclusive investment reports.
As a crypto investment and research firm, it takes a significant amount of time to discover tomorrow's disruptors, but we continue to do it gladly and put information out for free because we believe that this is what can set us apart.
DeFi is for everyone and, in the end of the day, so should be the education to learn how to use these tools. Not financial advice, of course 😉
Curious to learn more about D-CORE? Click this button to speak with one of our specialists and discover how D-CORE's research can benefit your blockchain business.