DeFi (short for "decentralized finance") refers to financial services that are fully decentralized, i.e. constituted of code on public blockchains, the main one of them being Ethereum. We are still in DeFi's infancy, which is palpable through the growth level of basic tools such as DeFi lending platforms, DEXs, payment systems, etc.
Despite the incredible level of growth that the industry has met, it is safe to consider that it is still a dwarf compared to the traditional financial environment. DeFi lending still have lots of room to grow.
Is DeFi set to replace traditional finance (TradFi)?
With DeFi, users can do most of the things that banks support —such as earning interest, borrowing, lending, buying insurance, trading derivatives, assets, and more —with several key differences:
DeFi perk #1: Speed
The speed that DeFi and blockchain-based solutions bring to the financial ecosystem is one of the reasons why modern banks, such as EQIFi (featured in our podcast!) are embracing it fully.
DeFi lending platforms and other services are as fast as the networks they operate on, which, depending on many factors (such as their interoperability, scalability, etc.) can be either moderately fast or instantaneous. Compared to the average time that banks and other TradFi institutions take to process transactions, this is a major leap forwards, regardless of the network.
DeFi perk #2: Permissionlessness
The main reason why DeFi platforms face regulatory scrutiny, and one of the greatest innovations of DeFi systems. DeFi platforms, being decentralized, do not require users to upload their identity documents, get special permits and jump through the many hoops TradFi presents. On the contrary, anyone can utilize any (simple or complex) service, from DeFi lending platforms to debt financing, insurance, etc.
DeFi perk #3: Trustlessness
When we say DeFi is trustless, we don't necessarily mean that everything in these networks should be used without a second thought. We, however, do mean that, when done well, DeFi platforms' code is transparent and open for anyone to see, meaning that users do not need to take their claims at face value. With sufficient knowledge (which often relies on third-party audits and examination), any user can determine whether a platform can deliver its promises. Thanks to this, it is also easy to know whether one is interacting with "true" DeFi or with a centralized entity.
DeFi perk #4: Composability
DeFi is composable. This means that, since every platform is basically an interface connecting multiple smart contracts on the blockchain, anyone can build new interfaces that use the same contracts. Thanks to composability, a user can take, for example, the contracts of DeFi lending platforms, and aggregate them on one single interface for users to utilize right there, right then. Or, taking advantage of DeFi lending platforms' contracts, the builder of said interface could create a new contract that generates one (or several) additional movements on top of the first contract's.
DeFi perk #5: Automation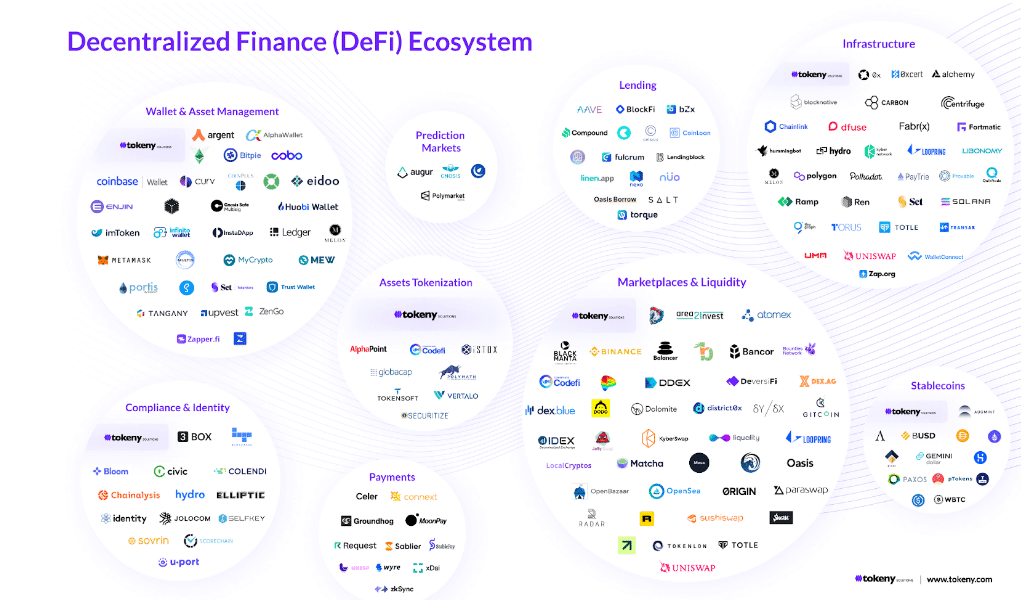 The growing DeFi ecosystem is varied and features projects of all types and styles, as you can see in this diagram by Tokeny.
DeFi does not require offices, employees, management, and document-signing. When a smart contract is deployed to a blockchain, it will be a part of it forever and no one can censor it or change it. This makes DeFi an ongoing race to innovate and improve upon itself, and makes every innovation more or less "final". It also makes products try to aim and create different solutions that stand out for themselves and build upon others. This does not mean that the ecosystem is without change: DeFi contracts very much need each other so, for example, a decentralized exchange cannot thrive with decentralized liquidity providers.
The cherry on top of the cake is that, apart from the 5 perks we just described (and greatly because of them), DeFi lending rates, due to their sheer demand and little supply, are much better than those of Traditional Finance.
Milestones and most important moments in DeFi History
Before looking at the top DeFi lending platforms, assets, DEXs, and payment systems, it's always good to take a look at the History of this movement. One could claim that DeFi began in 2009 with Bitcoin. BTC was the first peer-to-peer digital currency, as well as the first blockchain-based financial application.
However, the debut of MarkerDAO in December 2017 was the watershed moment for financial applications that allow users to do more with their money, instead of simply transmitting it from one point to another. MakerDAO was the first such protocol running on Ethereum, allowing users to utilize digital assets as collateral to generate a cryptocurrency ($DAI) tied to the value of the dollar at a 1:1 ratio. Anyone could then effectively borrow the DAI stablecoin against ETH via this approach. This made it possible for anyone to get a loan without depending on centralized entities, what we call DeFi loans. It also produced a digital asset tied to the U.S. Dollar, similar to USDT, BUSD, and other stablecoins, but without requiring anyone to custody dollars with a bank.

If you'd like to learn about DeFi insurance, you can watch this episode of our podcast with Michael Beck, founder of UNION!
The name DeFi was coined in a Telegram conversation in August 2018 involving entrepreneurs and Ethereum developers. This conversation included Inje Yeo from Set Protocol, Blake Henderson from 0x, and Dharma's Brendan Forster. They were debating how to call this movement of open financial applications running on Ethereum. "Open Financial Protocols", "Lattice Network", and "Open Horizons" were among the available choices. "DeFi", according to Henderson, worked better, since it sounded just like "DEFY".
DeFi began to grow shortly after the 2017 ICO bubble, once the capital raised by the multiple financial offerings of the year had a chance to mature and blossom into a new financial ecosystem. This hasn't been without scares, one of the most prominent ones being the "flash loan" incident, when a trader fraudulently profited $350,000 in ETH from bZx, a DeFi lending platform, by artificially inflating asset values on the exchange that bZx depended upon for tracking prices. This, among other incidents costing millions of dollars, has painfully taught users to distrust anything seeming too good to be true.
DeFi protocols were backed by around $1 billion in cryptocurrencies in December 2019. By August 2020, the value of only Ether and Bitcoin locked in these platforms was already close to $5 billion. Today, the amount of Ether alone locked in DeFi has reached more than $55 billion.
The Best DeFi Platforms In 2022
Of course, when it comes to comparisons, you do everyone a disservice if you attempt to compare apples to papayas, or worst, to DeFi yield farming platforms. It's only fair to talk about the existing players of the ecosystem based on their individual merits, so let's break them down into categories.
The main categories in DeFi are:
Greatest DeFi Lending Platforms.
One of the main perks of DeFi lending platforms is that, as opposed to banks or centralized lending options, one can earn interest and incentives every minute, rather than once a month, lending out cryptocurrencies (often stablecoins).
Crypto-financing enables investors to borrow assets in cash or cryptos by pledging their crypto holdings as collateral. The lender retains ownership of the crypto asset when using crypto lending. During the duration of the loan, however, the crypto supplied as collateral cannot be moved. The process to use these platforms is relatively straightforward:
A user lends cryptocurrency, often stablecoins, to a platform without the need to file paperwork. They earn interest by doing so.
A borrower makes contact with the cryptocurrency lending platform and requests a loan.
The borrower pledges cryptocurrency as security for the loan. The loan is accepted and the collateral is attached by the crypto platform. Before taking back the collateral funds, the borrower must repay the full amount.
Should the user's collateral drop below a certain range, the platform will liquidate his loan into stablecoins. This is to maintain the collateral's value over the loan's value.
Top DeFi lending platforms
One of the most discussed matters in the crypto lending platform field, is the "Aave vs Compound vs Maker" scenario, which we'll be explaining in detail furthermore.
Aave. (Token: $AAVE)
The Aave Protocol is an Ethereum-based open-source, non-custodial and decentralized liquidity platform that allows users to supply and borrow crypto assets while also earning a return on the assets they offer to the protocol. The yield on any crypto assets given adjusts dynamically and algorithmically in response to supply and demand in the protocol.
To begin using it, you can connect to the Aave protocol through any of the other 100+ integrated onramps. To find which assets are supported, you can access aave.com or app.aave.com.
Aave has a total value locked (TVL) of $18.44B. It's regarded being one of the best lending protocols as well as one of the most secure DeFi platforms, with multiple audits and tests conducted upon it by third parties. Certik gives it a 95 Security Score. 
Maker (Token: $MKR)
MakerDAO is an Ethereum-based decentralized credit platform that issues Dai, a USD-pegged stablecoin. Maker lets anyone create a Vault, deposit ETH, BAT, USDC or other accepted assets as collateral, and generate Dai as debt against that. A stability fee (i.e., the loan's interest) is charged on Dai debt and is paid upon return of borrowed Dai.
Maker has another token, MKR. Holders can vote on governance issues on the system, such as adjusting the stability fee and other risk parameters. If a black swan event occurs, these token holders are the ones with the ultimate power to take corrective action.
Maker has a TVL of $15.74B. With an 85 Security Score,  it is considered a very secure platform,
making it one of the top DeFi lending protocols, as well as one of the most relevant Aave competitors.
Instadapp is a smart wallet with a straightforward UI for managing assets, built on top of prominent DeFi projects such as MakerDAO, Compound, Uniswap, and others. It's designed to be easy to use regardless of users' technical or financial knowledge. Users may view all of their DeFi positions in one place using the dashboard.
With INST, Instadapp's governance token that was created in 2021, governance of the Instadapp protocol was given over to the community. The token holders are in charge of the platform's underlying contracts and future improvements.
Instadapp has a TLV of $12.5B. Although the project does not have an official security score, there have been public audits by third parties performed on it.
Compound, an Ethereum-based algorithmic money market protocol, allows users to earn interest or borrow assets in exchange for collateral. Anyone can contribute assets to Compound's liquidity pool and start earning continuously, compounding interest right away. Automatic rate adjustments are made based on supply and demand.
cTokens are representations of the underlying asset that generate interest and serve as security for supplied asset balances. Users can borrow up to 50% to 75% of the value of their cTokens (varying according to the underlying asset's perceived quality). Funds can be added or removed anytime, but other people can liquidate the debt if it becomes undercollateralized; as an incentive, liquidators enjoy a 5% discount on liquidated assets.
Compound has a TVL of $11.48B. It is regarded as one of the most secure DeFi platforms, with a 95 Security Score.
Liquity is an interest-free, collateralized borrowing protocol that autonomously administers its own stablecoin, with novel instant batched liquidations. It is governance-free (completely immutable), and its minimum collateral ratio is just 110%. To create a "Trove" (a collateralized debt position), an amount of ETH is used as collateral (with a small percentage fee) to issue an amount of the LUSD stablecoin. LUSD can be deposited to the Stability Pool where it's used to adjust supply and demand when troves are liquidated, earning some of the liquidated ETH.
Liquity has a TVL of $2.11B. It features a 96% Security Score according to third-party audits.
and according to all that, makes it one of the most relevant Aave competitors as well.
Best DEXs (Decentralized Exchanges)
Clipper, a top-5 DEX in number of users was just featured in our podcast! Check out our interview with one of their leading developers here.
A decentralized exchange (or DEX) is a marketplace where cryptocurrency traders can transact directly (peer-to-peer) with one another. DEXs enable one of crypto's most important features: facilitating financial transactions that aren't mediated by banks, brokers, or other third parties. The Ethereum blockchain is used by a number of major DEXs, including Uniswap and Sushiwap. DEXs, unlike centralized exchanges like Coinbase, do not allow for fiat-to-crypto conversions; instead, they only swap cryptocurrency tokens for cryptocurrency tokens. If you want to trade fiat for crypto, or the other way around, a centralized exchange (or CEX) is necessary.
There are several models for DEXs. The most popular ones are:
Top DeFi decentralized exchanges
Curve.fi is a well-known yTokens (see "Yearn Finance" below) integrator, forming an AMM (Automated Market Maker) between yUSDC, yDAI, yTUSD, and yUSDT that earns both lending and trading fees. They function as a decentralized exchange liquidity pool running on the Ethereum network that performs optimized stablecoin trading and lending with low slippage and low fees.
Currently, there are dozens of Curve pools, with the biggest ones being trycrypto2, steth, lusd, mim, Y, ren and 3pool, performing swaps for a wide variety of stablecoins and assets.
Curve's TLV is of $14.4B. There are at least three public third-party audits for Curve.

Diagram by Uniswap showcasing how Pools work.
Uniswap is an Ethereum token exchange mechanism that employs liquidity pools instead of order books. Anyone can easily convert ETH to any ERC20 token or earn fees by providing any level of liquidity, and by contributing an equivalent amount of their token and ETH, anyone can start a liquidity pool. Multiple markets for the same token are not allowed: once a market creator establishes an exchange rate, it will begin to  fluctuate according to Uniswap's "constant product market maker" mechanism. The price changes as a trade diminishes one side of the pair's liquidity relative to the other. This mechanism encourages arbitrage, which fosters trading and overall liquidity.
Liquidity pairs on Uniswap don't have specific tokens assigned to them.  Instead, each liquidity pair is represented by an ERC20 token that is unique and easily transferable.
Uniswap has at least five public third-party audits. Its TVL is 7.43B
Sushiswap is a decentralized on-chain protocol for token exchange using automated market-making (AMM), operating with 'liquidity pools' instead of order books. The system allows making new liquidity pools by supplying an amount of ETH and the ERC-20 token. Sushi has recently launched BentoBox, their new lending platform.
Its token ($SUSHI) is used to distribute the transaction fees paid by users and to give voting rights in platform governance issues.
Uniswap and SushiSwap have striking similarities, although SUSHI has several unique perks, such as a yield farming platform and bonuses for token holders, whereas UNI manages a larger trading volume and has been operating for longer. The similarities aren't accidental: SushiSwap is a forked project from Uniswap's code with some lesser modifications. The UI is based on a sushi menu and features some interesting gamification aspects.
SUSHI was launched in August 2020 by "Chef Nomi" (whose identity is unknown), and this event quickly caused a lot of drama between him and Uniswap's creator Hayden Adams, who was… unhappy about billion dollars in staked liquidity being "stolen" by a mere imitation of his project practically immediately after launch.
The TVL of Sushiswap is 4.57B. The DEX is given a 6.4 Security Score by cer.live.
Balancer, which runs on Ethereum, is a "n-dimensional automated market-maker". Its pools differ from "conventional" AAM models in that they are made up of multiple tokens with adjustable weights and trading fees, rather than a single ETH-token pair. An interesting analogy is with ETFs: users set a desired weight for the assets in their portfolio and traders –rather than fund managers– rebalance it continuously in pursuit of arbitrage opportunities.
The Balancer protocol has great composability and allows a few pool configuration options:
Private Pools, allowing only the owner to update their parameters and inject liquidity.
Shared Pools, where after creation the parameters can't be changed by anyone, not even the creator. Liquidity can be injected by any user, and to keep track of liquidity shares a custom token is issued: the Balancer Pool Token (BPT).
Smart Pools, a hybrid of the previous two: rules are specified using a smart contract, allowing for arbitrary restrictions on how pool parameters can be updated, who can contribute and how liquidity will be tracked.
Cer.live gives Balancer a 6.35 Security Score. The total TLV in the protocol is of $2B.
Best DeFi payments platforms
DeFi also includes payment systems with specific features geared towards efficiency or additional perks. Some of the most popular ones are:
Top DeFi payments solutions
Chargebacks and unexpected reversals are eliminated with Flexa's digital network to enforce merchants' confidence. All payments are 100% guaranteed from the time they arrive at a POS.
Flexa works with a number of processors, middleware providers, and cloud POS to connect directly to existing payment infrastructures. Flexa payments are extremely fast and secure because they are entirely digital. Flexa uses digital authorization codes and an account balance model that converts currencies as needed.
Tornado Cash is a protocol providing private transactions, completely decentralized and running on Ethereum. It severs the link between source and destination blockchain addresses, to improve transaction privacy. It makes use of a smart contract to take ETH deposits that can be withdrawn from a separate address. A relayer can be used to withdraw to an address with a 0 ETH balance in order to maintain privacy. Within Tornado, there is no way to link the withdrawal to the deposit when ETH is withdrawn from the new address, assuring complete privacy.
The Tornado Cash protocol is completely decentralized and community-owned: Tornado Cash's creators don't have any control over it nor over any servers.
Best DeFi Asset Management Platforms
DeFi also creates mechanisms for users to manage their assets, increasing their value or helping users access complex financial tools with ease. Some of the most popular asset management platforms in DeFi are:
With little effort, Convex Finance allows Curve.fi liquidity providers to earn trading fees, claim boosted CRV and liquidity mining rewards without having to lock any CRV.
Through a very intuitive interface, users can stake Curve LP tokens on the Convex Finance website.
TVL: $7.7B. Convex also has a 70% Security Score.
yearn.finance is a decentralized platform of aggregators that maximize token lending using loan services like Aave, Compound, Dydx, and Fulcrum. When a user deposits tokens with yearn.finance, they are converted to yTokens, which are then rebalanced on a regular basis to select the most profitable loan service(s).
Any updates to the yearn.finance ecosystem are always made via on-chain proposals and voting, as it is a genuinely decentralized protocol.
Yearn does not have an official Security Score, but there are several public third-party audits to this protocol. It has a TVL: $4.93B
Curious to learn more about D-CORE? Click this button to speak with one of our specialists and discover how D-CORE's research can benefit your blockchain business.