If you're somewhat new to the crypto industry, knowing the involvement of Tesla's CEO in this space, you might have at some point thought that there must be an Elon Musk cryptocurrency, that is, one created by the rocket man himself, out there.
Upon looking, you may have then realized that, although the Tesla, SpaceX and Neuralink CEO, as well as the founder of The Boring Company, Zip2 and PayPal, hasn't produced a cryptocurrency of his own, there is no lack of "tributes" around. Memecoins, opportunist projects, copycats, and even protest tokens all use the name of the multi-billionaire for impact.
In today's article, we want to provide you with a bit of background to the activity of the so-called DogeFather in the cryptocurrency scene. We will also dive into the variety of coins that have sparked around Musk's figure and how others, like the digital currency created by Billy Markus and Jackson Palmer: DogeCoin, benefit from his online and offline activity.
Is all Elon Musk DOGE imagery a meme? Is there something to it? Can the billionaire Elon Musk cryptocurrencies get somewhere? Well… read on to find out!
How did the Elon Musk Cryptocurrency saga begin?
Elon Musk rose to fame not only due to his status as the richest man in the world with a $70B lead against the next contender but also as a consequence of his companies' tremendous successes. The names we listed above, as you know, are known as some of the most disruptive in their respective industries, which is often credited to Elon's hands-on leadership approach.
Elon Musk has also benefited from being the most outspoken advocate of the "multi-planetary species" thesis and transhumanism as a science. His gradual ascent as a key industry player in cryptocurrency began with a podcast, where Musk stated his opinion that "paper money is going away and crypto is a far better way to transfer value". At the same time, in a less famous phrase, Musk expressed that it wouldn't be a good use of Tesla's resources to get involved in crypto.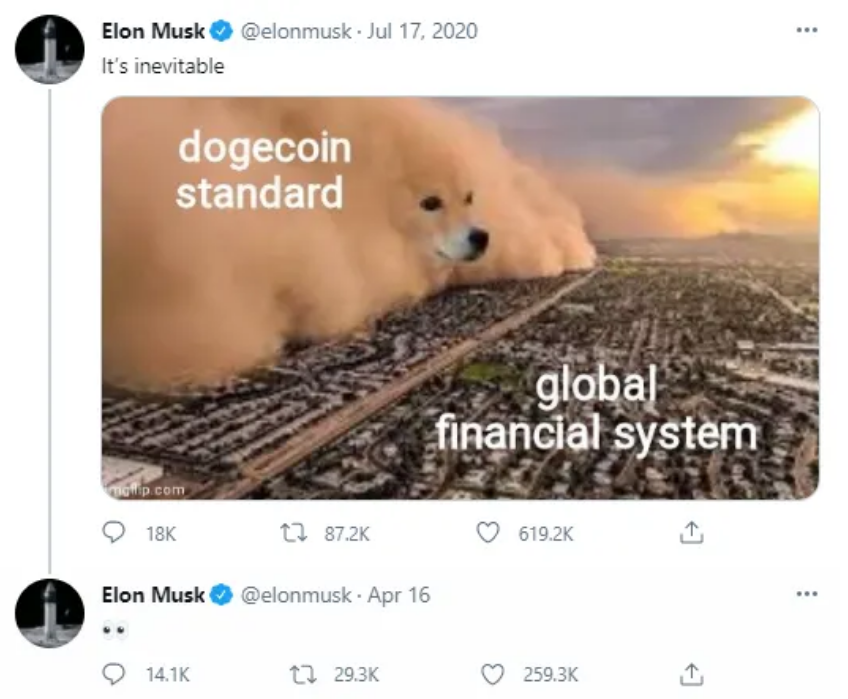 As you know, the ongoing Elon Musk Dogecoin cryptocurrency promotion has been picked up by the media on more than one occasion. We won't share any opinions on the quality of the memes… but they sure have caused waves outside the crypto industry.
Elon continued to talk about and drop hints regarding his own cryptocurrency interest. However, the relationship between his name and digital assets wouldn't be cemented until February 2021, when Tesla announced the purchase of $1.5B in Bitcoin. Two weeks before this, Elon had added "#bitcoin" to his Twitter bio, and the purchase was the first public action beyond memes and passing comments.
Even though these moves have been largely credited with triggering as much as 20% increases in Bitcoin's price, there would eventually be a negative development to the story.  The Elon Musk DogeCoin saga had already tired many investors, which pointed towards the possibility of market manipulation, and this would take a turn for the worse. Two months after announcing via tweet that "You can now buy a Tesla with bitcoin", the company decided to halt accepting the cryptocurrency as payment, citing concerns regarding the use of fossil fuels for Bitcoin mining and transactions, which sent the cryptocurrency's value down by 15% overnight.

Elon Musk cryptocurrency recap: From a net positive to a perceived negative
As we mentioned, between Elon's first contact with decentralized ledger technology and finally making his most valuable company get invested in the king of cryptocurrencies, his Twitter feed was from time to time graced with memes about Dogecoin, Bitcoin and other cryptos. Many blockchain enthusiasts saw this pattern as, perhaps unintentionally, putting crypto on the minds of his non-crypto versed followers.
However, Musk's influence became much more powerful and concrete after getting Tesla into Bitcoin. Any tweet by him, even if just a meme (or sometimes just containing a crypto-related keyword), was taken as an indication for an upcoming move by his companies either to invest or accept payments in a specific cryptocurrency.
All these factors come together to explain the "Musk Effect", the name chosen by the blockchain community to describe the way influential individuals can cause rallies in the price of crypto assets.
We featured StopElon on our podcast, a highly ambitious project to try and turn token liquidity into Tesla stock to fight Elon's alleged market manipulation.
Some existing projects, like DogeCoin, Bitcoin, and to a lesser extent, Ethereum, were "adopted" by Elon Musk, now strongly associated with the billionaire entrepreneur. In particular, Musk seems to have taken a genuine interest in green Bitcoin mining and re-kindling the DogeCoin foundation to continue and develop the cryptocurrency beyond its meme status.
The Elon Musk Cryptocurrency: DogeCoin sequel, and the spark of even more memecoins
Sometimes referred to as a Meme Lord, Musk doesn't shy away from humor and internet trends in his Twitter account. As soon as he began to pay attention to Bitcoin, DogeCoin, a clone created as a joke in 2013, started to appear on his radar as well. Elon went as far as saying that "DogeCoin might be my favorite cryptocurrency" because "it's like the people's crypto", even once calling himself the The DogeFather. Tesla currently accepts DogeCoin as payment for merchandise items, but not for all of them. With DOGE, you can buy Tesla merchandise such as the Giga Texas Belt Buckle, which costs 835 DOGE, and a whistle for 300 DOGE. Elon himself, has revealed to own some DOGE, alongside Bitcoin and Ethereum.

However, it isn't all a honeymoon for Bitcoin and Musk: On may 8, 2021, he appeared on Saturday Night Live after months of tweeting about the coin. Since his appearance, the digital currency is down nearly 80%, a disappointing ending to the hype that ensued after Musk announced his participation on the show.
This has created plenty of room for opportunist cryptocurrency developers to begin creating "memecoins" whose names contain keywords associated with Tesla's CEO to leverage the Musk Effect. Below, we've compiled a list containing the most important of these projects and a summary of their main characteristics.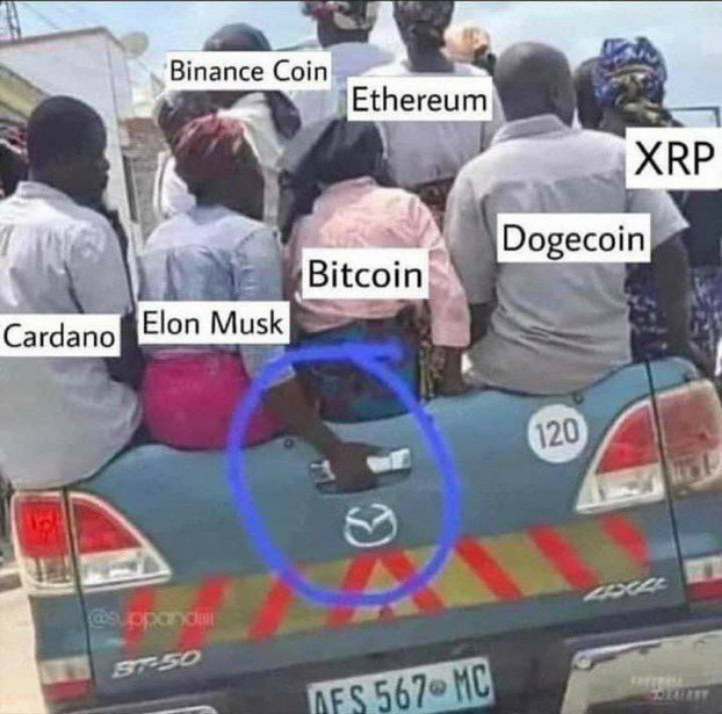 Ok, we might have gotten caught up looking at memes for this article. Who can blame us? We're talking about the meme coin man, after all.
The top Elon Musk crypto homages and communities
Shiba Inu ($SHIB): Shiba coins to compete with the DOGE
The meme that inspired the creation of Dogecoin features a Shiba Inu dog, a fact leveraged by "Riyoshi", the pseudonym of SHIB's creator. Shiba Inu was from the start intended to "dethrone DogeCoin", a goal heavily dosed with irony after DOGE's most recent rally in August 2020. $SHIB was an exemplary specimen of the "shitcoin" kind: A ridiculously low per-token value (thousands of a cent), random supply burns to simulate scarcity and the leverage of trendy keywords to bring profits to holders.
At first relegated to be forgotten as just another altcoin with no purpose and no real value, Shiba holders got lucky when Elon Musk tweeted "I'm looking for a shiba pup!". This was interpreted by some as a change of allegiances by the entrepreneur, abandoning DogeCoin in favor of the "younger and hotter" alternative. Almost every tweet by Musk containing the keyword "Shiba" after this day was responsible for a huge upswing in the currency's price and trading volume, carrying the purposeless (although with a strangely ambitious roadmap) token into a top 10 spot amongst the highest market cap cryptocurrencies, even surpassing DogeCoin for a brief period.
Floki Inu ($FLOKI): With a new pet, Floki Inu price spikes are almost a given at this point
A couple of weeks after this tweet revealing the name of Elon's new dog, Floki Inu was launched on Ethereum and BSC using the same "we will dethrone Dogecoin and Shiba" rhetoric. It was perhaps the first coin created directly because of an Elon Musk tweet, achieving impressive success despite the lack of an actual value proposition. Its developers are active in bringing new stuff to its "ecosystem", such as partnerships with the likes of Kimbal Musk (Elon's brother), Metaverse and NFT-related projects and even a platform for crypto education.
Baby Shiba Inu, Baby Floki, Shiba Floki, Musk Metaverse, ShibElon, Bitshiba, Dogelon Mars… and dozens of others
A storm of new crypto tokens has been launched attempting to capitalize on Elon Musk related keywords. Popular buzzwords in the crypto word itself such as "deflationary", "moon", "mars", "rocket", "staking" and even, for some reason, "cum" (not our fault, we report on facts, we are professionals) are used to make it seem like these coins bring something of value (even if just hilarity) to the cryptocurrency market. The developers behind these coins make promises to build extraordinary ecosystems that will get their coins, purchasable at billions per dollar, to replicate DOGE and SHIB's success.
Should you, then, try and profit from Elon Musk cryptocurrency gimmicks?
Somewhat predictably, Elon Musk's overall effect in the crypto market seems to have died down over the last months. There is no way to realistically measure the possibility for investors to make quick gains thanks to a dog-related tweet or market move by Musk.
We do not dive into the financial advice realm. However, on this occasion, we'd exhort crypto investors to avoid trying to profit, directly or indirectly, from Musk's actions in the markets. As Musk himself would say, the alternatives that tend to pay off in the longer terms are rarely those focused on strategic profit-making.
In the crypto markets, it's often better to bet for projects that aim to build infrastructures that realize crypto's principles and goals, from decentralizing financial systems to creating better, more efficient governance solutions. Should blockchain-based alternatives fulfil their mission to insert themselves into every area of our daily lives… well, you know what to expect!