It has been a great week for one of crypto believer's favorite currencies. In fact, it very well could be that the History books in the Ethereum future will recap some of the latest happenings as foundation-building.
While some crypto community members remain skeptical about whether Ethereum has a future at all, this week we've seen giants such as Twitter, TikTok, and Visa announce Ethereum integrations.
In short, these announcements were as follows:
TikTok: NFTs of the moments that broke the Internet
TikTok announced that it will be launching a "Top Moments" NFT collection, to be issued on the TikTok.Immutable platform. This will use ImmutableX, a Layer-2 Ethereum solution, aiming to reduce the transaction fees users pay to help the platform go mainstream. In its official announcement, the company stated:
"Inspired by the creativity and innovation of the TikTok creator community, TikTok is exploring the world of NFTs as a new creator empowerment tool. NFTs are a new way for creators to be recognized and rewarded for their content and for fans to own culturally-significant moments on TikTok.The creation that happens on TikTok helps drive culture and start trends that impact society.TikTok will bring something unique and groundbreaking to the NFT landscape by curating some of these cultural milestones and pairing them with prominent NFT artists. Now, you can own a moment on TikTok that broke the Internet."
With this, TikTok is facing a new industry (one that also has a simpler revenue model) with open arms. This will, without a doubt, lead to greater adoption of the network, and likely to TikTok exploring more decentralized avenues in the future.
Twitter: Finally embracing Ethereum through… you guessed it, NFTs.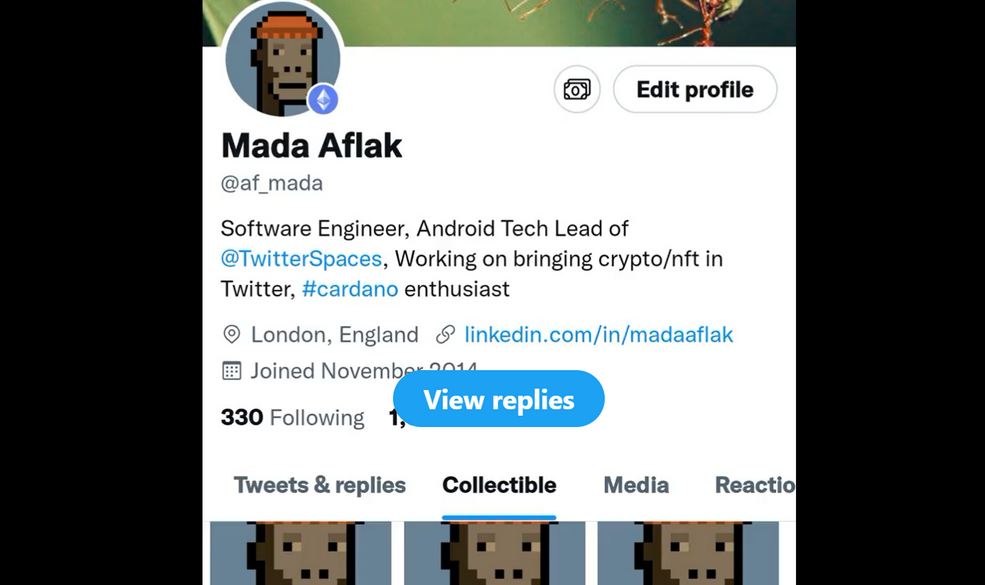 Should Mada NFT this iconic moment? We think she might as well!
Earlier this week, Mada Aflak, software engineer at Twitter, showed the world a video of how an NFT integration in the platform would look like. This is in response to the community's culture of users featuring the NFTs they own in their profile pictures, which they'll now be able to do by directly showcasing them from their wallets. Through the feature, users will both be able to prove that they own the artwork on their wallets and seamlessly select pieces from their collection.
As some have pointed out, this measure is more symbolic than useful, since there will be nothing preventing users with plagiarized pieces from featuring them. However, we can consider this as an olive branch from Twitter towards Ethereum, a network that could become incredibly useful to them in the future.
Visa: Making its whole company into an NFT! Just kidding, building a payments network.
This is not Visa's first interaction with the Ethereum network. The company famously purchased a CryptoPunk NFT recently… which hilariously backfired. We'll leave you to look that one up on your own.
Visa, a world leader in the payment processing industry, is not willing to forfeit its business to decentralized alternatives. The network, in fact, is starting to explore integrations through central banks via crypto. This is particularly of interest to them since several countries, including the USA, UK, and China, are currently preparing to launch Central Bank Digital Currencies.  Visa's first public smart contract on the Ethereum network is a payment channel, which accepts Ether and USDC, a stablecoin in Ethereum.
Visa also stated its interest in creating a "Universal Payment Channel" to interconnect all CBDCs.
With the world's giants more interested than ever in experimenting with the most important crypto smart contract chain, it looks like the first stone in the road towards Ethereum adoption isn't likely to be the last. However, to understand the future, it might be worthwhile to take a look into the past.
Is Ethereum the future? Let's take a look at its origins.
It is perhaps impossible to explain the current crypto markets (as well as the sheer number of crypto assets in circulation) without talking about Ethereum and its creator, Vitalik Buterin. The fact that Ethereum is, and has been for a long time the #2 cryptocurrency in market capitalization has turned Vitalik, only 27 years old, into one of the highest figures of authority in the blockchain world.
Vitalik conceived Ethereum while still a teenager, and he was perhaps the first to understand the true potential of combining blockchains and smart contracts. A smart contract is, simply put, code on the blockchain (therefore stored in a decentralized manner) that anyone can execute. Ethereum pioneered smart contracts and is therefore the main blockchain used for decentralized applications (dApps), which are based on smart contracts.
Another guest from our podcast that has built something incredible taking advantage of the Ethereum network is Federico Ast, founder of Kleros, a decentralized dispute resolution system. We cannot recommend this episode enough!
Since smart contracts are public and impossible (in theory) to tamper with, being hosted in a blockchain, they can be used to honour transactional agreements and execute all kinds of simple and complex operations. This makes them a powerful tool to eliminate the need for trust within parties in any context, including legal systems. For example, thanks to smart contracts, artists can sell tokenized concert tickets and profit from any subsequent resale automatically, without the need for lawyers or labels to enforce this rule. They can also be used to raise funds, reward people for performing tasks, create monetary pools, and an endless list of possibilities.
Everything above gave birth to the idea of the Ethereum Virtual Machine: A 'global supercomputer' (and its upgrade to Ethereum 2.0) where anyone could program dApps for users to do anything they wanted, from collecting digital action figures to issuing their own cryptocurrencies.
And so, with programmable money, DeFi begins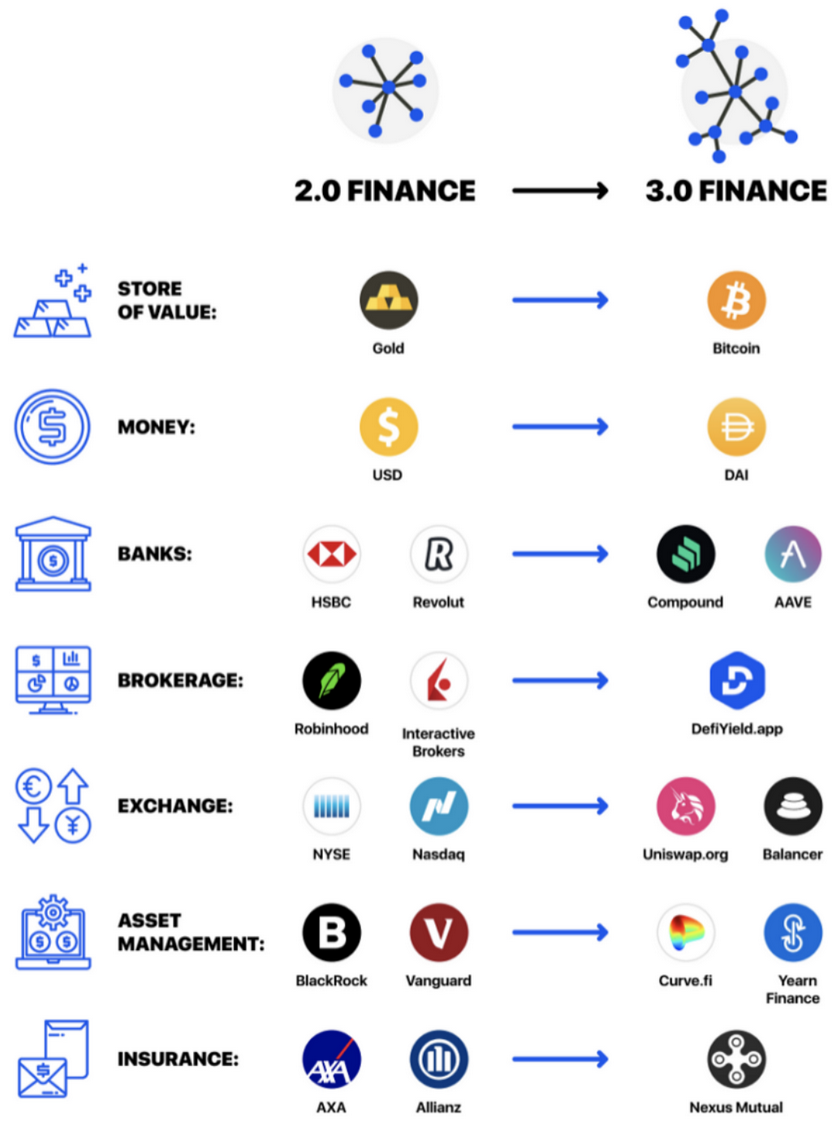 DeFi is growing into a complex, rich environment (image via DeFiYield).
Decentralized Finance (DeFi) relies heavily on smart contracts. DeFi attempts to create an environment that eliminates all the intermediaries and trust within financial systems, passing the benefits onto its users. The ability to program money and systems that operate with it is the cornerstone of the innovation of blockchains and is facilitated by smart contracts. Therefore, Ethereum logically pioneered this field as well.
We won't go on a limb talking about how DeFi works (we have a whole article about that) but, at a high level, we can say that DeFi proposes the creation of a financial environment without any central bodies governing it. Instead, DeFi proposes mechanisms that are open-source, permissionless, and on the blockchain (hence decentralized). A common misconception is that DeFi is limited to cryptocurrencies, which is only true in the traditional sense: Thanks to growing innovations on the asset digitalization field, all valuable assets can be put on a blockchain.
DeFi has clear advantages over traditional finance (TradFi), including an extremely low overhead, with no employees, offices, bonus payments, fines, or permits. It is also incredibly adaptable and flexible, which makes the system easily able to "stack", connecting to multiple components in its environment. Thanks to this, projects can help each other leverage their multiple strengths.
And, while DeFi is exciting, innovative and groundbreaking, it is only the tip of the iceberg. The EVM aims to change how we think about technology completely.
If you're already investing in Ethereum, you could potentially stake it to contribute to its future! We recently discussed staking with Dmitri Tsumak, founder of Stakewise, in our podcast.
Ethereum has the potential to change everything. And yet, there is a "but".
In our article about the future of blockchains, we described how this technology is poised to revolutionize many industries and fields, including the arts, healthcare, government, and gaming, among others. The ability to have decentralized institutions and operations can transform the underlying system below anything using the Internet, completely changing the way we interact with technology.
And, as an industry pioneer, a semi-consolidated player in the tech field and having withstood (to a degree) the test of time, Ethereum seems poised to host these solutions.
However, given the fact that blockchain and cryptocurrencies (the good ones anyway!) are open-source, and although it's highly unlikely without a major reason, it's possible for whoever wishes to create a decentralized protocol to compete with Ethereum to do it. Similarly, projects that wish to can migrate away from it, should they find a better alternative.
This eliminates single points of failure, makes the crypto environment competitive, richer and stronger. It also allows blockchains that have a different set of values to launch and compete in a "fair" environment. For example, Polkadot and Tezos are two blockchains created by former Ethereum co-founders with different angles and focus points. While Polkadot centers around the interoperability of different blockchains, Tezos cares the most about scalability and speed.
And Ethereum's threats are not only other blockchains: They might also come from the outside.
What else stands between Ethereum and success?
As a first-mover, Ethereum is likely to absorb most of the (known) risks facing the blockchain ecosystem as a whole. This makes the network highly likely to be the wall against many proverbial balls are bounced before blockchain makes its way into our daily lives.
The factors that could lead to Ethereum's failure are:
Privacy for users
Regardless of how enthusiastic we are about Ethereum, it's important to acknowledge its flaws. In this clip from the Blockchain People podcast, Justin Ehrenhofer discusses why built-in privacy is crucial for Ethereum.
There is a consistent issue with the most popular blockchains, and it is that, since the masses haven't adopted them, they do not represent a significant privacy threat for most users despite handling their data poorly. This, however, is a problem that gets significantly worst as DeFi and the Ethereum network grow, given that:
As the network grows, the underlying issues get harder to fix; and

Growth also makes the info stored in the very much transparent Ethereum network compound over itself, revealing more and more from users.
Privacy issues can result in several problems, ranging from traders being front-run by competitors to dictatorships incarcerating users. There are proposals to implement privacy at Ethereum's second layers and create DeFi networks that are intrinsically private. However, these solutions are far from becoming a reality.
Regulation and response by governments
The existing regulatory frameworks for blockchains are, to say the least, patchy. Until recently, few laws have governed digital assets and currencies, and regulators are increasingly paying attention to them. Some countries have taken action against digital asset issuers, ranging from China and Hong Kong to the United States and Australia. This response, however, hasn't been uniform since some countries (like Nigeria) have stated their indifference and lack of interest in regulating cryptocurrencies.
Crypto, blockchain, and digital assets regulation varies from country to country. However, as you might expect, the countries with more power in the global scene have been more stringent about reviewing both the possibilities and threats that these technologies pose to their regimes. This results in uncertainty, and bans on the use of certain types of networks could put a dent in Ethereum's adoption. 
Cybersecurity and intrinsic vulnerabilities
Although the Ethereum blockchain is safe, has been tested against attacks and survived, and uses asymmetric keys to encrypt and decrypt content, nothing guarantees its perfect future safety. Hackers continue to exploit protocols in the industry, taking advantage of issues of all kinds, which can cause legal and community repercussions. It's unclear what could happen should Ethereum face a significant attack, both in terms of trust and loss mitigation. 
Should something significant happen to the network, it wouldn't be an overstatement to say that it could set the industry back by years.
Ethereum's community must continue to build a rigorous system to maintain the infrastructure supporting the network and any protocols within it that find success. This is because, regardless of the underlying network's security, should a well-known, highly-used system face an issue, its consequences could ripple through the ecosystem.
Impediments to transformational change (by those most in need of a transformation)
Blockchain adoption will make a wide array of existing centralized applications obsolete, most of which have reigned happily over many years (the Facebooks and banks of the world, as to speak) and still underpin strategic revenue lines. Furthermore, an enterprise's culture can also present significant resistance to blockchain implementations as employees and clients stick to their old working methods. 
Talking about reluctance to change is not a minor thing. It has taken 12 years to get the blockchain industry to the point it is, both in terms of general knowledge and users.
Lack of infrastructure
The blockchain industry, its assets and standards rarely apply through the global financial and legal frameworks, and so on. Investors rarely have receive protection towards their holdings as they participate in DeFi, for example, which makes participating in the decentralized economy a risky business.
Only time will fix the lack of infrastructure, although there is a need for resources that fund these developments.
Malicious users 
This is not the same as the security problem, since users could take advantage of the "rules of the game" to twist it in their favor, which is not the same as attacking the network. It is up to the community itself and its rules to ensure that malicious actors cannot take control of the network or its consensus mechanism.
For example, users could orchestrate a 51% attack on the network, breaking down the consensus mechanism and assuming control over the blockchain. By launching such an attack (which we're oversimplifying here for the sake of example), users could manipulate and modify the blockchain information, reverse transactions, initiate double-spending attacks, and exclude or modify transactions, impacting miners' operations, and impede the confirmation process. 
If you found this interesting, take a second to learn about us
At D-Core, we specialise in analysing companies and issuing recommendations. Because of this, and in partnership with scientists with University College London, we created a unique distributed organisation to seamlessly produce a high volume of easy-to-consume insights on the cryptocurrency and blockchain industry through detailed reports. 
UCL partnered with D-CORE to offer Blockchain Expertise and Senior Advisor services and guidance to our team, creating a successful composition, mixing D-CORE's capable distributed network of researchers with UCL's scientific approach.
Curious to learn more about D-CORE? Click this button to speak with one of our specialists and discover how D-CORE's research can benefit your blockchain business.