Pride month is here and the NFT market is creating a diverse and equitable space for the LGBTQ community. On that note, this month kicked off with the launch of the world's largest collection of LGBTQ-inspired NFTs. (Non-Fungible Tokens)
One such artist is a 19-year-old transgender Victor Langlois, who has earned $50 million selling his NFT artwork in a period of little over a year. The trans teen earned his fame last year when his NFTs and physical artwork were sold for $2.16 million at the Christie's auction in New York. The collection was titled "Hello, I'm Victor (FEWOCiOUS), and This Is My Life."
Last April, he sold his artwork worth $20 million in just 24 hours according to a report it was the third-largest sale of NFTs in the history of the Nifty Gateway marketplace. As per the report, Langlois stated "It's been hard for me to process, to be honest," saying he would invest earned money for the further creation of digital artwork. "The dream isn't to relax and do nothing; the dream is to draw."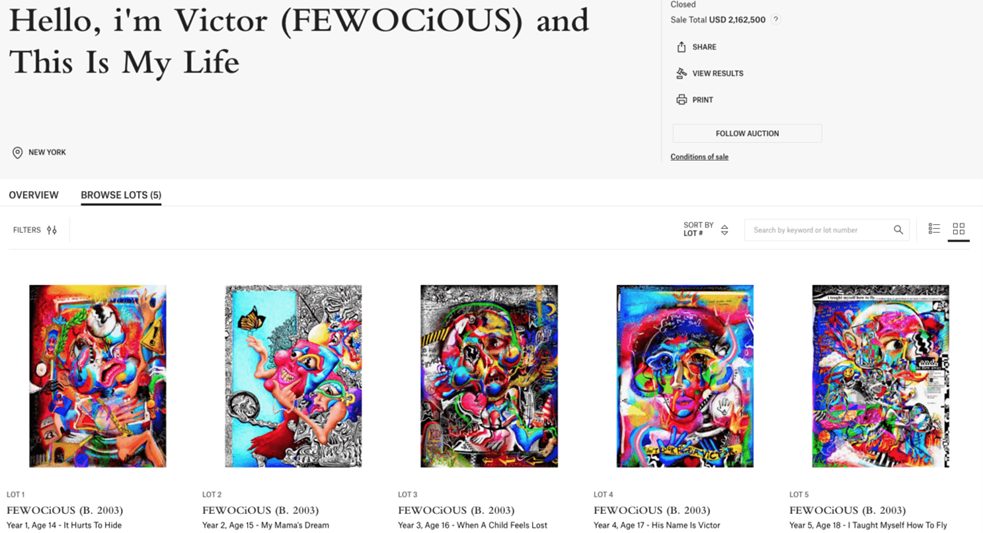 Who is Victor Langlois?
Victor Langlois is one of the most successful members of a crypto artists community in the NFT market space.
By 2020, Langlois had earned just under $18 million. His digital artwork "The Everlasting Beautiful" sold for a staggering $550,000. He was the youngest artist ever to be featured by Christie's and the first to crash its site.
The series that caused Christie's to crash is called "Hello, I'm Victor (FEWOCiOUS) and This Is My Life." It documents Langlois's difficult childhood and gender transition across five digital and physical paintings.
Importance of NFT artwork in the life of Langlois
After becoming famous in the world of NFT art, Langlois, who is also known as FEWOCiOUS, has been achieving more success and sales of his digital artwork. Coming from an abusive family, the collection named "Hello, I'm Victor (FEWOCiOUS), and This Is My Life" explored his life as a trans teen from 14 to 18 when he shifted to his grandparents in Las Vegas when he was only twelve.
Last year in June 2021, during an interview with the American men's magazine Esquire, he stated, "I thought I would be safe, but they were just as mean" He added: "I think she fought so much that she just wanted protection. To see me wanting to move forward in art, she was like: 'What? Be a lawyer. what I understand. But it hurts when she says, 'Your art is ugly and that's why you can't do it."
Now that Victor has achieved some success, he does not plan to stop. According to him, the NFT trade has taught him that art is not just still painting.
Needless to say, there are many other NFT artists from the LGBTQ community that we can support this pride month.
Curious to learn more about D-CORE? Click this button to speak with one of our specialists and discover how D-CORE's research can benefit your blockchain business.