Great minds are walking the Earth right now, believing that blockchain technology is the most significant innovation seen by Humanity ever since the Internet itself. Some think that the future of blockchain technology is the future of all of Humanity and that it's just a matter of time until we all use it in some way, shape or form.
To others, the idea of the mainstream tech industry being dominated by blockchains in the same way it nowadays is by Internet-bound devices seems as unlikely as it's optimistic. For various reasons, they don't see how something they see as inherently flawed can become widely adopted aside from a handful of use cases.
At D-CORE, we're hardcore blockchain believers. However, we understand both sides of this particular argument. We've written this article to help you explore how blockchain technology might change our lives (and in which ways), what the future of blockchain is, and, to be completely fair, what its current impediments are.
Can blockchain fail? If so, it'd be because of this.
First of all, a bit of blockchain History
Before explaining how we could wind up using blockchain technology in the future (or why we might not), it's important to be mindful of how we got to where we are now.
You have mapped out the concept of Bitcoin and how it got to where it presently is, but, at a macro level, that milestone is just one of the many foundations of blockchain technology. Other significant moments in blockchain History are:
1991: The first academic trace of the idea of what would later become blockchain technology. This happened in a paper written by Stuart Haber and W Scott Stornetta.
1998: Computer scientist Nick Szabo (which some believe to be Satoshi Nakamoto) conceptualizes 'bit gold', a digital currency incorporating a structure similar to Bitcoin. bit gold was never implemented.
2000: Stefan Konst publishes a theory of cryptographically secured chains, plus ideas for its implementation. These ideas paved the way for Bitcoin to become the first application of blockchain technology as we know it in 2008.
2008: Satoshi Nakamoto publishes the Bitcoin whitepaper after registering bitcoin.org as a web domain. Bitcoin went on to become… well, Bitcoin. You know what Bitcoin is.
2014: A crucial year. For the first time, we see blockchain technology separated from its application as currency. Ethereum marks the beginning of blockchains being used to execute computation in the form of transactions. This gives birth to Blockchain 2.0, a phase we're still currently in.
In this clip from our podcast, Panther Protocol founder Anish Mohammed talks about refusing to be paid by industry disruptors such as Ripple and Ethereum to help design their Blockchain 2.0 protocols
The second generation of blockchains has particularities, including their ability to host "altcoins", meaning tokens that can seamlessly be used within the chain. Blockchains' abilities to process computation receive the name of "smart contracts" and are what sparked the attention of corporations such as Microsoft, BBVA and UBS in blockchain technology
Blockchain 3.0
To some, the third generation of blockchains is to be marked by the completion of the transition of the most popular smart contract chain, Ethereum, into proof-of-stake (PoS). PoS does not rely on energy to verify transactions like Bitcoin's proof-of-work does. The creator of a new block is defined by their stake, meaning that the network rewards users for participating in confirming the work of dApps, rather than solving puzzles to secure cryptography.
And so, as we blaze through early stages, challenges arise
Blockchains' detractors pinpoint several issues that need to be solved before the technology can fulfil its promises of greatness. Whether you're on the team that thinks these can be solved and it's just a matter of time, or on the one spousing that we should be focusing on re-inventing centralized solutions altogether, it's good to go through these objections quickly:
Blockchain problem #1: Trust issues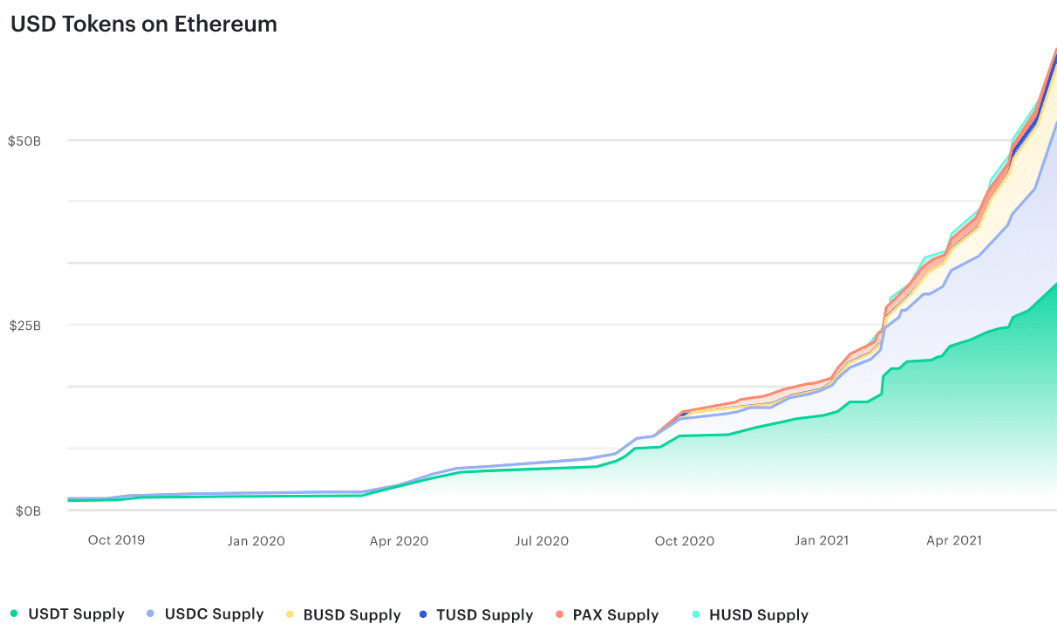 Ethereum-based stablecoin issuance. A non-fun thought would be to ponder what could happen to these billions of dollars given smart contract failure. Source: Dune Analytics @danner_eth.
The trust problem with blockchain technology originates in its very nature.
There are nearly 170 million unique Ethereum addresses, and this number will only grow through time. Several billions of dollars are locked in DeFi protocols, which increased in individual users (wallets, not people) by almost 65% just in the second quarter of this year. DeFi addresses only represent 1.81% of all existing Ethereum addresses, suggesting a possibility for great expansion.
And, along with this spectacular growth, we've witnessed hundreds of millions of funds being stolen, lost, or locked forever because of hacks, theft, rug pulls, and system failure. About $120 million were stolen from DeFi platforms in 2020, which creates an aura of lack of security surrounding the industry. Despite the fact that blockchains aim to be trustless networks, users still need to trust them to do their job securely.
This issue becomes particularly relevant as blockchains' future lies in handling sensitive data and information. And it doubles in importance once you consider composability, meaning that multiple solutions stack on top of the same contracts.
Blockchain problem #2: Costs
The decentralized nature of blockchain solutions makes it hard to create systems that enable proper funding mechanisms. Gitcoin, featured on our podcast, has created a unique solution to this
A problem with blockchains in general, as we mentioned above, is that they're extremely expensive, whether in their development,, maintenance, the energy required to run them, etc.
In cases of low adoption and growth, the hidden costs of blockchains become problematic in proportion to factors such as tokenomics and consensus mechanisms. This then makes it less safe and practical. This problem is exacerbated by the fact that, if they remain decentralized, the routes to monetization and profit for blockchain systems are often obscure.
In a sense, we could compare blockchain (and blockchain-related) funding, when truly decentralized (in its ideal state), to the funding of other public goods, such as roads. You can imagine how something like this would look like without central governance and mainstream awareness of the need for funding.
Blockchain problem #3: Centralization
When talking about blockchains, we often refer to them as completely decentralized, which is, in some cases, simply not the case. And, in reality, even when they attempt to be 100% decentralized, social dynamics, network effects and other forces at play can slowly cause them to centralize.
For example, Bitcoin might theoretically be the gold standard for decentralization, but one organization (Bitcoin Core) is in charge of its open-source development, which to some might seem problematic. One might consider, as well, that mining organizations such as the recently established Mining Council also lead to centralization.
The fact that most users and their coins can be found in a handful of popular platforms also contributes to the fact, according to detractors. The centralization of the production of most mining hardware also raises an issue.
Having said all that… here's the scope of the future of blockchain technology
If you didn't appreciate the long introduction (it's a nuanced world, after all!), you might as well do the fact that it's over.
You now know the issues preventing blockchains from reaching what some think is their ultimate destiny. And we've taken a good hard look at where we are in the grand scheme of things. We now can talk about how blockchains are meant to impact a variety of industries in the future. Aside, of course, from the obvious financial implications.
Some of these industries are…
Video games: Blockchain games and blockchain in the gaming industry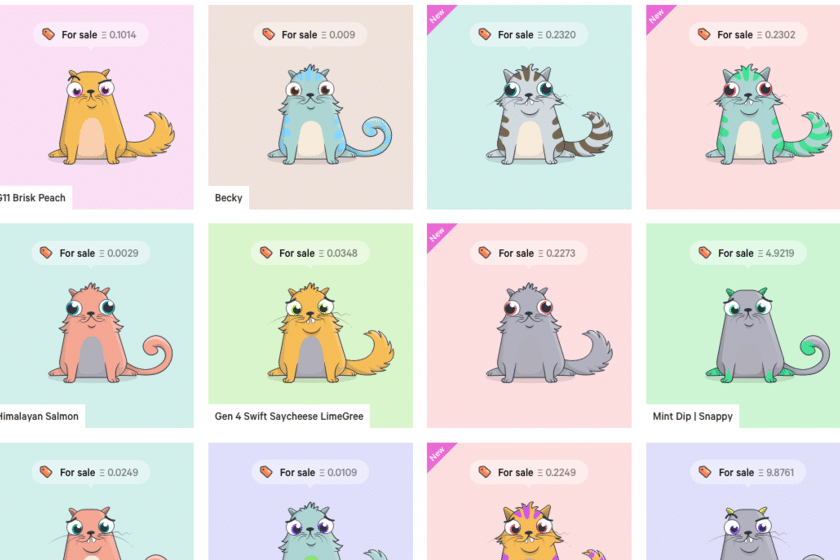 Although they might sound similar, both concepts in the previous subtitle are not the same thing. Blockchain games happen (exclusively or partly) on-chain, while blockchains could, without a doubt, find use cases in the videogame industry. Both of these are attractive applications that could signify something, so it's worthwhile to take a look.
Josh Chapman, MP of Konvoy Ventures, a firm dedicated to esports and gaming, has said about this: "Gaming does not need blockchain; blockchain needs gaming. Blockchain will only see mass adoption and mass application once it provides significant value to the video gaming ecosystem." And, indeed, one of the very first iterations of NFTs (and some would say, major use cases for Ethereum) happened thanks to gaming: CryptoKitties – a Tamagotchi-like game centered around breedable, collectible, cute creatures called CryptoKitties. Thanks to its blockchain presence, a kitty is always unique, unreplicable and indestructible.
Other exciting use cases for blockchains in the video game panorama are to create financial ecosystems and transactions within videogames, and integrate interoperability with NFTs and elements from other games. Interoperable solutions can give birth to what's known as "the metaverse", especially when combined with Virtual Reality.
Blockchain technology is also expected to help create and distribute reward systems for gamers. This includes platforms where, for example, event organizers and advertisers can reward viewers of a tournament.
Blockchain in energy trading
According to Wikipedia, Peer-to-peer (P2P) energy trading is: "a novel paradigm of power system operation, where sellers can generate their own energy in dwellings, offices and factories, and share it with each other locally."
Blockchain technologies can make the current markets more efficient in the future and disrupt and open these markets in new, not considered ways. By tokenizing these economies, energy products and other commodities can become digital assets, increasing providers and further competition among small players. This can also cause the existing markets to optimize for different asset classes (e.g. solar energy) instead of others.
There are currently companies pioneering these use cases, such as RENeW Nexus, allowing consumers with rooftop solar systems to sell their excess electricity to other local consumers across the electricity network in Australia. Another is Tata Power Delhi, an Indian company that launched a first-of-its-kind peer-to-peer solar energy trading project in Delhi.
Blockchains for supply chains
If you're interested in this particular use case, you might enjoy this episode we did with the founders of WaBi, a company driving the adoption of blockchains in China!
Blockchains can allow for greater supply chain transparency and reduce costs and risks across all the steps of said chain. This can help authenticate products (from pharmaceutical goods to jewellery) and fight counterfeit, using blockchains to record transactions, track assets and preserve transparency.
Since blockchains are immutable, some organizations such as the Dutch Standardisation NEN, use blockchains to authenticate certificates. Nike also issued a patent for its blockchain-compatible trainers, named CryptoKicks. The patent uses a unique system to attach cryptographically-secured digital assets (basically, tokens) to a product.
Blockchain healthcare applications
Studies and tests are currently carried out to implement blockchains for a wide range of purposes and uses in healthcare. This aims to facilitate the secure transfer and use of medical records, manage the drug supply chain (see above) and help healthcare researchers in various issues such as unlocking genetic code.
Healthcare insurance can also benefit from this technology. In China, blockchain integrations have been used to reduce payment processing times. Estonia also uses blockchain technology to secure healthcare data and process transactions, with all of its healthcare billing hosted on them. In this country, 95% of health information is now ledger-based, and 99% of all prescription information is digital.
Blockchain and the music industry
You're likely aware of the NFT mania, and the use cases for blockchain in music aren't limited to artists issuing collectibles. Blockchains can solve some of the most critical problems within the music industry. The technology can improve royalty payments for artists, allow venues and records to track their distributions and settle payments, even for micro-contributions.
Some existing players in this regard are Vezt, a music rights marketplace for music fans to fund the artists directly, including songwriters and producers. Thanks to this, fans can also receive royalties earned from their favorite recordings. MediaChain is also a P2P, blockchain-based platform for sharing information related to music across different applications and organizations.
The future of blockchain technology… in Hollywood?
Blockchain-based crowdfunding can be beneficial for movie creators and producers. Similarly, the ledgers' properties can help record and authenticate content in a blockchain network to avoid piracy and identity theft. And, as it happens with music, it can help share loyalties and profits on the blockchain, promoting transparency within the industry.
There are also compelling use cases for NFTs and interactive blockchain-based features within movies.
Blockchain's role in data storage
Blockchain storage services haven't taken off to their full extent, and they are without a doubt a trend we'll see grow in the future. Users can save data in decentralized networks, renting out space to others. There are multiple ways in which these new systems can be organized.
For example, 0chain is a free, decentralized cloud storage solution aimed at app creators. Transcodium, on the other hand, allows users to rent unused hardware from other participants and use the computing power to get their job done.
Should you invest in the future of blockchains?
If you're interested in entering the crypto and blockchain world, we might have something of interest to you.
Unicorns are constantly born in the world of blockchain. In a space experiencing an exceptional rate of innovation and disruption, the DeFi movement has created completely unprecedented ways of raising and growing capital. Projects that manage to leverage the opportunities in this emerging ecosystem, along with the technological advancements of the last years, find themselves uniquely positioned to take off, something that all investors haven't fully been able to gasp.
To help investors tap into these opportunities, we have developed a proprietary methodology and become professionals in Institutional Grade Project Examination of blockchain projects, crowdfunding rounds, and their inner workings.
D-CORE is the professional solution to this problem, combining academic efforts and quantitative research tools to create the most reliable and objective reports in the blockchain industry. Our methodology and research engine design allow us to produce objective research for your specific needs. Thanks to this, you can plug into a system built to spot disruptors, streamlining and accelerating your operation!
If this sounds interesting to you, make sure to get in touch.
Curious to learn more about D-CORE? Click this button to speak with one of our specialists and discover how D-CORE's research can benefit your blockchain business.