Figuring out how to invest in DeFi is on top of every investor's 2022 goals, and this is for a good reason. Amongst fears of inflation, low interest rates and the ghost of COVID-related economic hits, it doesn't seem like the interest in trustless, permissionless platforms that leverage both "sound money" assets like Bitcoin and Ethereum, as well as highly volatile altcoins, will die out.
DeFi is not only a trend, and 2021 has confirmed it. A DeFi investment means a possibility to put stablecoins to earn interest, invest in tokens with a high chance of growth, and access tools previously unavailable for your everyday user.
In this article, we'll cover three ways to invest in DeFi, as well as five key factors you should look out for when analyzing where to put your DeFi investment. So, without any further ado…
How to invest in DeFi? Tip #1, look at the stars!
We had a very interesting conversation about building DEXs, a pillar of DeFi, with Mark Lurie, head of a DEX development firm.
A good way to invest in DeFi is to look for DeFi platforms and projects that are able to lead their respective niches. Whether these DeFi projects already spearhead their respective segments or are strong enough to create a new segment of their own, the mere fact that they exist in the DeFi realm suffices to make them star ventures, should they become leaders.
A star venture, you might know, is a venture that leads a high-growth niche. Due to network effects, superior cash flow and access to resources, momentum, and an X Factor, star ventures are often able to continue dominating their niches for prolonged periods of time.
To spot a star, you might look for those creating a new niche in DeFi or at those clearly dominating theirs'. To drive this point home, let's look at a case study from DeFi's Paleolithic age: 2020.
Liquidity mining makes waves across DeFi TVL
Let's look at the last couple of years to see how this has played out in reality. Without a doubt, the end of 2019, 2020 and 2021 were tremendously eventful for DeFi's history.
First, the pioneering concept of liquidity mining, a concept created by Compound Finance, triggered what we now call the "DeFi Summer of 2020". This was a period of previously unseen growth and development in DeFi, culminating with the industry's TVL (Total Value Locked) growing from $800M to $10B between April and September 2020. And, of course, Compound's investors fared well throughout this process.
2021 was another excellent year for DeFi. The following graph –which demonstrates the change in share of TVL in DeFi applications each blockchain holds– showcases how DeFi's early years were mostly limited to Ethereum-based dApps (the likes of Maker, EtherDelta, Synthetix or UniSwap). However, in 2021, a number of new sub-niches were born, namely in upcoming blockchains wanting to participate in the trend.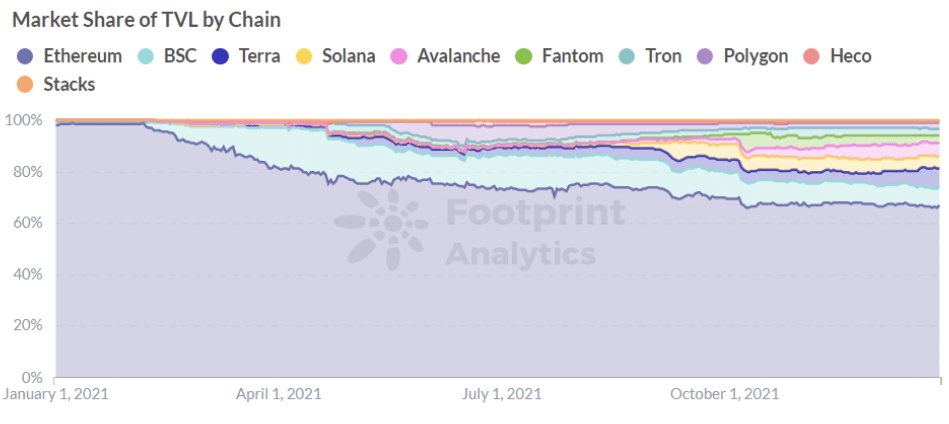 In this chart by Footprint Analytics you can clearly see how Ethereum's DeFi experienced a sudden surge of competition through 2021.
In 2021, Ethereum ceased being the only option for those looking to get into DeFi. Nevertheless, even while losing market share, Ethereum-based DeFi grew by more than 6-fold over the year. This demonstrates the star principle at work and, perhaps ironically, gives foot to another approach to invest in DeFi.
Tip #2 to start investing in DeFi: Explore new ecosystems
As you'll see throughout this section, our tips on how to invest in DeFi rarely collide: Rather, they complement each other.
The share of TVL in DeFi per blockchain as 2021 comes to an end shows a clear trend: Ethereum is losing market share –most likely due to its expensive gas fees that prevent those without sizeable funds from participating.
It'll be interesting to see whether the terrain that Ethereum has lost to alternative blockchains continues trending in the same direction after Ethereum's proof-of-stake merge. In the meanwhile, faster blockchains such as Terra and Binance Smart Chain have had a chance to dispute a sizeable second place. Solana and Avalanche have also absorbed market value taking advantage of this, as demonstrated below: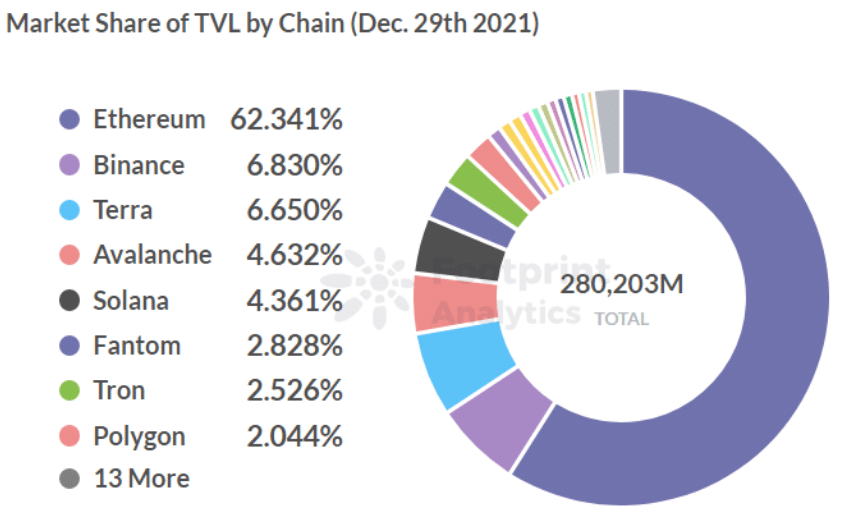 Another diagram, this time looking at the DeFi market share of each blockchain with more depth.
This opens interesting possibilities for investors, as it seems like, with TVL up for grabs, investing in newborn DeFi ecosystems might be an interesting bet. Should we consider each new blockchain a niche of its own, then the star system holds true: Yes, the world's leading DeFi 2.0 liquidity platform would be a star in and of itself, but also the leading Fantom 2.0 liquidity solution would be a star within its niche. Your DeFi investment, in this regard, can be chain agnostic.
DeFi protocol abundance per chain does not equal TVL
Looking at it from another perspective, current data illustrates that TVL doesn't escalate linearly with the number of protocols of an ecosystem. For example, while BSC has more than half the number of protocols in Ethereum, its market share barely breaks the 10% threshold. The number of protocols is nevertheless somewhat important as a benchmark of how diverse and well-rounded an ecosystem is, presenting many distinct opportunities.
Furthermore, DeFi is composable, which means that multiple protocols can be brought together as underlying mechanisms leveraged by others. In essence, sheer numbers are an asset, but do not tell the whole story.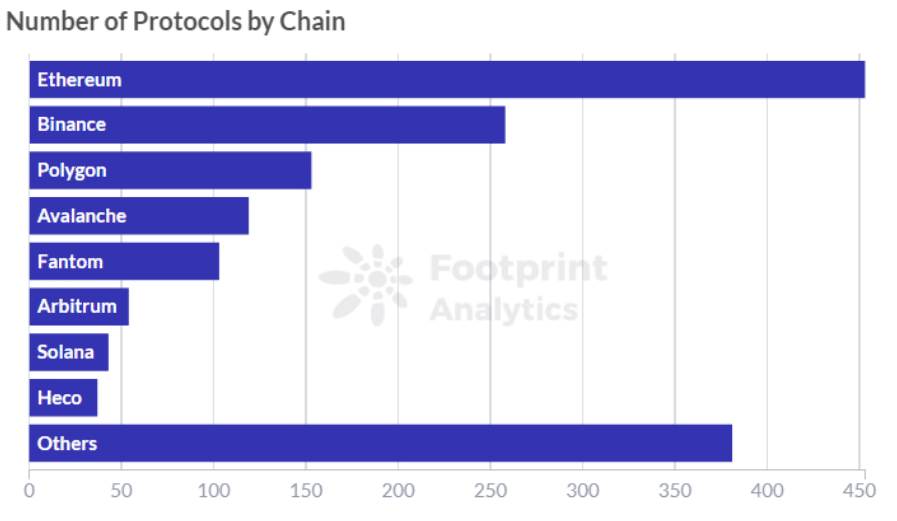 It's not how many protocols you have, it's how successful they are. As we see, the number 3 chain in TVL, Terra, does not rank among the top 8 protocols when it comes to development.
When investing in a new DeFi ecosystem, it's essential to keep in mind that certain kinds of protocols are more likely than others to accrue TVL. Breaking down DeFi dApps into categories, lending and decentralized exchanges tend to attract more value. This is no surprise taking into account that these were the earliest types of DeFi applications to emerge in the Ethereum blockchain.
Furthermore, the DEX category has a hidden metric that highlights its importance: The volume of funds that interact with their contracts on a daily basis, which equals more than a trillion USD in 2021. Some services pertain to multiple categories, such as lending coupled with algorithmic stablecoins (Maker and Abracadabra are good examples) or DEXs where IDOs happen, asset management protocols that manly move funds between DEXs, etc. Hence, some subcategories might be deceiving and/or underrepresented in the chart below.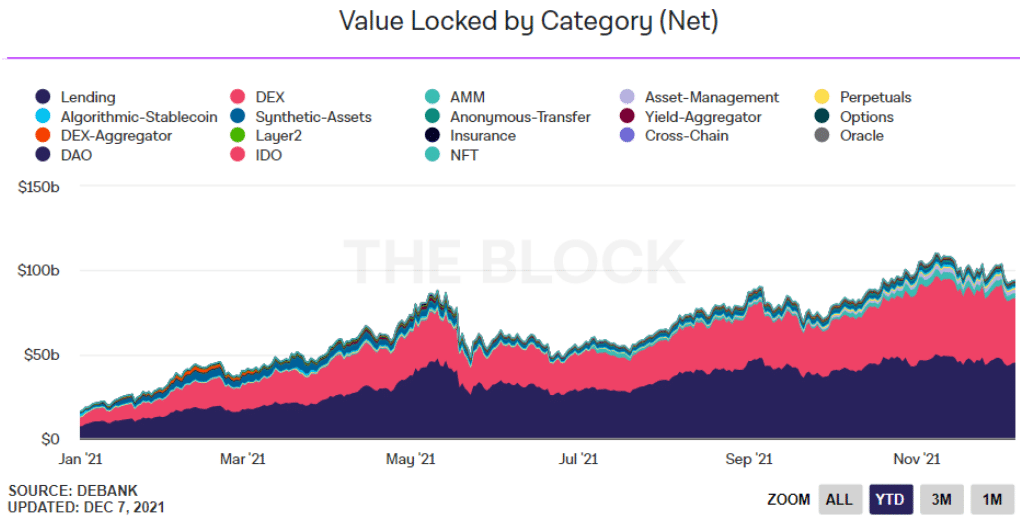 Among other things, in this chart, we can see that Automated Market Makers are in a growing trend.
How to invest in DeFi: Tip #3, consider a data-driven approach
The charts in this article are taken from Footprint Analytics, with whom we did a podcast episode. Meet Bernie from their team here!
A user can consider several factors when analyzing how to invest in DeFi. Data is everywhere, sometimes contradicts itself and, in all honesty, can be quite confusing sometimes. However, according to statistics, if you manage to find a project that meets the below five requisites, you'll know you're on the right track.
Factor #1: Stable growth of Total Value Locked
Total Value Locked signals how confident investors are when putting their assets into the custody of a protocol. In DeFi, exploits, rug pulls, and bugs in smart contracts are ever-present threats, so investors always try to remain vigilant and take security audits very seriously. For this exact reason, a steady TVL growth is a positive signal.
Note that we are saying steady as opposed to fast. Continuous capture of TVL tends to be preferable to rapid, intense spikes, which often come with proportionally larger dives in the medium term.
It is easy for you, as an investor, to FOMO into buying projects with a 50%+ TVL increase in one week. This, however, is definitely not a successful strategy. In all cases, a stable line up signifies that a project has managed to make its way into earning its TVL without hiccups for investors.
Also, when considering TVL, it's always smart to compare its growth to Bitcoin or Ethereum's. This way, you might uncover that a purported killing spree in which TVL went up by several percentage points was just a result of the two most popular cryptocurrencies driving the tides higher.
Factor #2: Middle-of-the-pack TVL
When analyzing the investment potential of any blockchain project, it can fall into any of the following categories:
Unclear growth potential (significantly over $20 million in TVL).
Too new and too risky ($15 million and under in TVL).
Projects with clear growth potential (around $20 million in TVL).
This measure isn't perfect (no one data point is), but, in general, projects in the first category have already succeeded to the degree they were meant to. This means that, while they have a chance of being stars, they aren't at an optimal point for potential growth. They might accompany the crypto/DeFi market as it grows (which is not bad in and out of itself!) or, if better, more innovative competitors arise, shrink.
Now, you might notice that this touches on every investor's risk preference. Some might try and aim for home runs, while others aim to ride the DeFi wave, which certainly has some way to go.
Now, the second category encompasses projects so small that there simply isn't much information to determine if they have a good shot into becoming top performers in their market. It's important to note that these projects are, on the other hand, ideal for institutional investors or VC funds with unique insights and privileged information. However, data points out that, for the retail investor, these bets might be a bit risky, particularly at times in which unaudited DeFi protocols are a dime a dozen.
Factor #3: A high MC/FDV ratio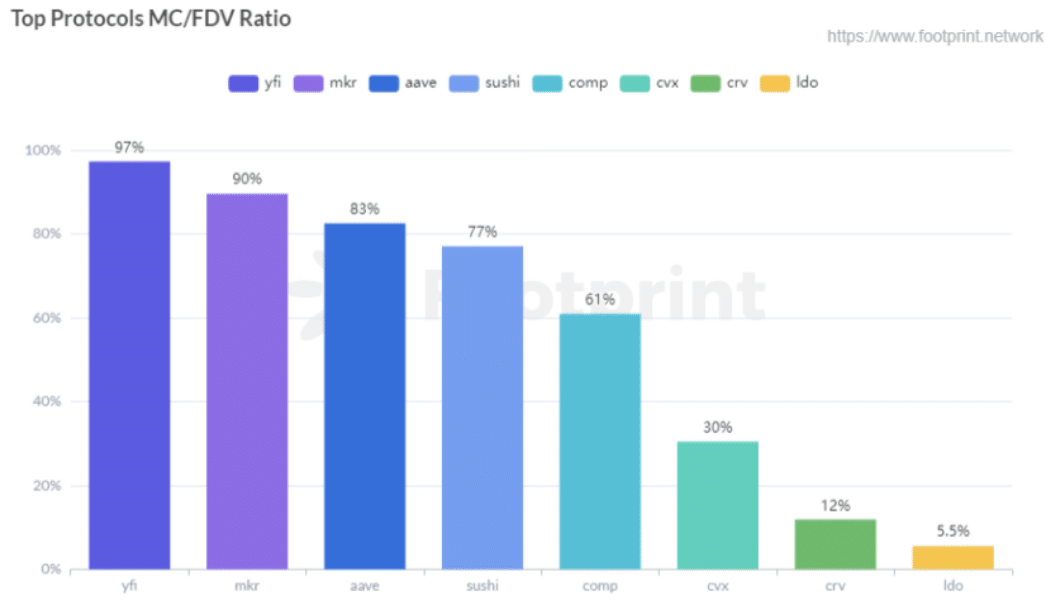 A comparison of how some of the top, established protocols in DeFi fare in this metric.
FDV, or fully-diluted valuation, represents the theoretical market cap (MC) of a project, considering the current price and the maximum supply of the token. That is, when 100% of the tokens are finally mined/minted/released. The MC/FDV ratio measures the percentage of tokens already in the market.
When this proportion is too low, the constant flow of new tokens will inevitably outpace the growth of the protocol, and its price will most likely fall from current values. When it's close to 1, further supply growth is unlikely to significantly impact the token's price, which will closely mirror the protocol's TVL growth. A low-but-reasonable MC/FDV ratio is at least 0.05 (or 5%) for projects with high growth potential (see the point above) and more for already established ones.
Factor #4: A lower MC/TVL ratio
We have already established the importance of TVL as a sign of trust from investors in a protocol. Therefore, if the market cap represents the value that investors see in a project, it's logical for it to follow the TVL closely.
Virtually all DeFi projects have some level of governance by token holders. Thus it wouldn't make sense to purchase tokens that have a say in what happens to locked funds at a price too close (or even higher) to the TVL.
You could even consider this metric the closest way to value a DeFi protocol's pricing. An MC/TVL ratio equal to or higher than 1.0 would signify that the project is either fairly or overvalued, meaning that the token price can only reasonably be expected to go down. A ratio smaller, correspondingly, than 0.5, should signify good news and might indicate a wave of growth that hasn't already been priced in.
Factor #5: Token price stability
You might feel a pull towards shiny 20%+ rallies. Still, sudden price jumps like these most of the time are signs of unhealthy market reactions and malicious pumps, especially in low/medium market cap tokens that are more susceptible to price manipulation.
A negative factor in the DeFi market is that, while cryptocurrencies have democratized access to financial instruments, most of the content online is produced or aimed towards unsophisticated investors. This kind of investor operates in a very highly-sensitive time frame, which makes them prone to make errors of judgement.
Many DeFi investors look at the short term performance of a token before buying it, and after that, they look for reasons to justify their impulsive acquisition. Abstracting away from looking at price variations, aside from looking at performance against BTC and ETH, the standard deviation is a good measure of price stability. A lower value shows a steady growth/decline, which is a more robust sign than large but unstable hikes. It's an excellent final step of screening when used with the other factors we detailed in this article.
In Summary: Decentralized Finance trends come and go, but fundamentals stay
Are the formulas that we presented in this article infallible and going to make you into a billionaire overnight?
No, there is no such thing in crypto or life. However, as a research firm, we strongly believe in the importance of research, and the tools presented here are designed to help you research more effectively and find ways to analyze projects on your own.
If you'd like to learn more about how to research crypto projects, make sure to check out our Institutional Blockchain Investment Guide below, at https://d-core.net/guide, or to check out the comprehensive crypto reports we put out. Make sure to also pay a visit to our podcast on Youtube or all audio platforms.
We'll see you around!