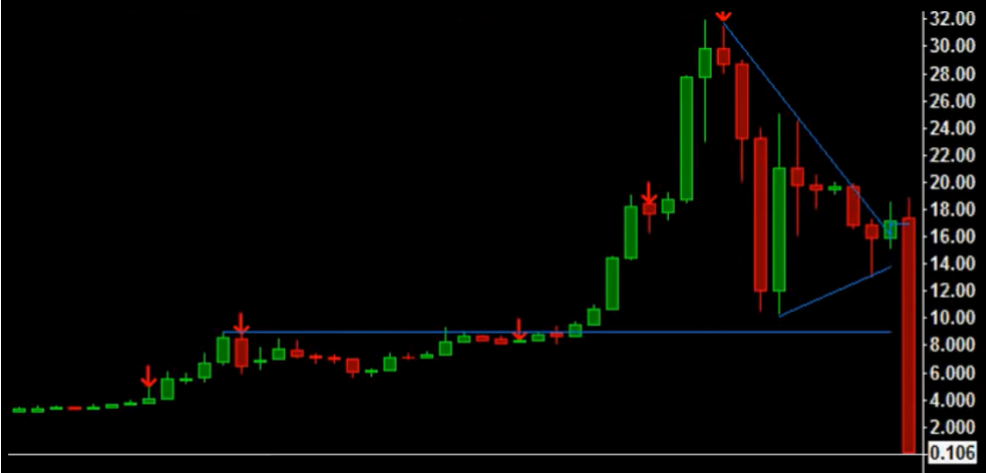 Your hopes and dreams in one picture. So far, however, Bitcoin has always recovered! (Picture from Bitcoin's 2011 flash crash.)
A crypto crash is nothing to be afraid of. Ever since 2012, when dinosaurs roamed the Earth, Bitcoin has crashed by at least 80% on three different times. In fact, the most popular cryptocurrency has gone down significantly a number of times, taking the crypto market along with it.
But, have you ever stopped to consider why, in a "free" market, one asset struggling is so important for the crypto market? Spoiler: It's not just because we all love Bitcoin so much.
Understanding why Bitcoin crashing is so important for the markets
Bitcoin is not only the poster child for the cryptocurrency industry and market: It's the most important asset in it, acquainting for over 40% of the total capitalization. It's also the gateway to cryptocurrency as a whole, making it the single point around which regulatory focus, institutional investment, media attention and trading activity cluster.
As such, even though some assets, particularly the ones that act within their own blockchains and are therefore separate from Bitcoin (e.g. Cardano, Ethereum, Ripple, etc.) should in theory be considered in their own grounds, this rarely happens. In fact, these assets are heavily correlated with Bitcoin's price, often with added volatility.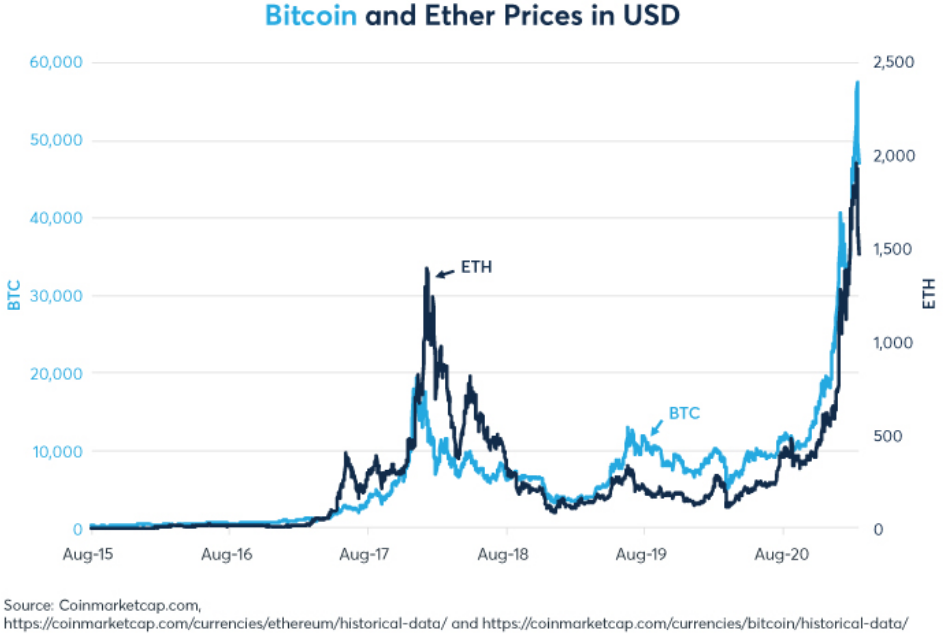 The correlation between Bitcoin and Ethereum's (60% joint market cap.) prices, as you can see, is undeniable. If you account that this is so for most cryptocurrencies, you understand Bitcoin's importance.
Many enthusiasts of non-Bitcoin blockchains have cited their wish to have their favored assets decouple from BTC's price. However, until this happens, it's a reality that:
All cryptocurrency prices, to a greater or lesser degree, are dependant on Bitcoin's momentum.
Therefore, Bitcoin might be the only asset one needs to keep a track of to understand the crypto market's movements.
Which leads us to the main point we're trying to make here: Bitcoin, for the better or worse, is tremendously important for the overall crypto market (in case you hadn't catched up to that). And, in general, if the market crashes or succeeds, it has something to do with Bitcoin. These correlations, of course, aren't at all absolute, but they are one of the top factors you should keep in mind when investing in crypto.
Now, if you're here to figure why Bitcoin crashed, need to gain some perspective, or just want a trip down memory lane, it makes sense to remember previous crashes. Some of the most memorable ones have been:
June 2011. The infamous Mt. Gox saga that (for real) almost killed Bitcoin.
2011 started with Bitcoin enthusiasts ecstatic. This was the year in which BTC reached the same price as an ounce of silver. The cryptocurrency, many thought, had made it and was on its way to becoming the world's currency.
It took only six months to crash that dream into pieces.
On June 19, 2011, the largest Bitcoin exchange in the world, Mt. Gox, revealed that cybercriminals had hacked hundreds of accounts, taking millions of dollars worth of Bitcoins with them. That day, Bitcoin price fell all the way to $0.01, its most dramatic crash to in History.
In this crash, Bitcoin's value fell by more than 99%. This was considered by many as a flash crash, but it certainly shook the very foundation upon Bitcoin's legitimacy stood.
August 2012: A Ponzi scheme (predictably) ends up in disaster.
If you're a fan of Ponzi stories, you cannot miss this tale about OneCoin and its founder's disappearance from our podcast.

More than a year had passed from the Mt. Gox disaster, and things, for better or worse, seemed to be flowing along for Bitcoin once again. It was in August 2012 when Bitcoin Savings & Trust, an "investment service" promising large returns for investors in exchange for holding their Bitcoins, went down, taking the crypto market with it.
Bitcoin Savings & Trust's operator, Trendon Shavers, ended up in jail for stealing 700,000 Bitcoins, a large gap from his original promises of delivering investors yields of 7% per week. A tough lesson for Bitcoin believers, that wouldn't have to wait a whole year to see their favorite coin come crashing again.
The total price loss from Bitcoin on this occasion was of 56%.
April 2013: The second greatest crypto crash ever… You again, Mt.Gox?!
It only took three days, and an old friend, to take Bitcoin down by 87% between April 10 and April 12, 2013. This crash, however, had a different component to it.
Mt. Gox, the now infamous crypto exchange, was back up and running after facing issues and incredible pressure from the community. It was the height of a new bull cycle for BTC, and trading activity was soaring. Good times?
Well, not so much for Mt. Gox. When the exchange wasn't able to handle the volume the market required, hackers took advantage to make the most out of this vulnerability. This forced them into an unprecedented shutdown. Since over 70% of the total Bitcoin transactions happened through the exchange (more than any other, ever), this caused the community to understandably start jumping ship.
Bitcoin crashed over 85% in this period, from nearly $260 (want a time machine yet?) to $50.
December 2013: Nothing like a good old China ban to send Bitcoin down.
If you're reading this article, you likely stumbled upon it because of a crypto crash and, in this day and age, there's a high likelihood that it was caused by China. The Eastern nation has enacted measures against Bitcoin and cryptocurrencies in at least eight times, which tends to have an impact on prices.
It's particularly interesting that China Bitcoin bans often seem timed to meet the market at moments of high demand. However, regardless of whether this is coincidental or not, the question of why these movements continue to have an impact on the markets remain.
When China issued a ban on Bitcoin at the end of 2013, the price fell by 50% overnight, a nightmare for investors. It was then that crypto believers would meet what would become one of their greatest enemies.
December 2017 – December 2018: THE crypto winter, THE bear market, the mother of all periods of crypto despair.
Some, like Dr Brian of London, believe that Facebook and other tech giants are to be held responsible for this particular crypto crash. Brian is even running a Class Action against Mark Zuckerberg for this! An entertaining podcast episode, to say the least!
2017 was a dream come true for crypto investors. Smart contract and ICOs allowed anyone to raise funds in the millions of dollars to build the Internet of the future. The markets were soaring, Bitcoin broke all its previous records, and the altcoin market became a sort of economic miracle that, for better or worse, generated billions of dollars in value. Bitcoin also took a massive sprint, going from $1,000 in early 2017 to new highs of $20,000… Only to then quickly fall back to $12,000 as investors cashed out their gains.
However, this could only be temporary as the market's momentum continued to raise, right? Sadly, no.
There are many theories as to what caused the famous 2018 bear market, which stretched into 2020, none of them definitive. Some blame major hacks in Japan and Korea, as well as these countries' intentions to ban Bitcoin. Others blame governments, the Illuminati, Facebook, Google, the Washington Post, lack of investor confidence, centralized exchanges, Ponzi schemes, irresponsible ICOs… and others say that this is only an intrinsic characteristic of Bitcoin cycles, starting with every four-year period after a halving.
In reality, what caused this Bitcoin crash, which registered lows of around 84%, was likely a combination of all the above factors, as well as the first correction in response to the boom of a nascent industry. It's safe to say that, in this period, the crypto industry cemented itself as a cornerstone of the tech field after being tested by a mainstream scene surprised by its irruption.
Podcast guest Robert Forster from Armor.Fi surprisingly shows a tone of nostalgia around 2017's bear market. In Robert's opinion, it was through this period that legitimate crypto firms could silently work in improving their technology.
March 2020:  Everything comes down, including Bitcoin. But what goes down comes back around.
2020 was a complicated year (you know, with that whole COVID thing), and the world's economy felt it. While the markets readjusted to a new reality, it was only natural to see Bitcoin come crashing as well. Our dear BTC lost over 50% of its value in just two days, and more than 60% in the months between February and March.
For some, this meant the final nail in Bitcoin's coffin. It was clear, endless Twitter threads went, that the industry would never recover from this blow, which only could show that 2017's bull market was nothing but a bubble. This, depending on the person, extended to Bitcoin itself, a well.
This crash would do nothing but make what was about to come become a lot more surprising, in retrospect. It was at this point that Bitcoin, to many analysts, began a new bull cycle.
May 2021: A bloody April for Bitcoin… and Elon Musk's popularity.
And well, here we are. It's 2021, and Bitcoin is still alive, but the challenges don't seem to stop coming.
2021 was a fantastic year for crypto, that's without question. We witnessed El Salvador become the first-ever country to declare Bitcoin legal tender, adoption from tech giants including Visa, Twitter and (feels weird to say it) TikTok, with Tesla going as far as to start accepting Bitcoin payments. Amindst this excitement, Bitcoin reached new all-time-highs of $66,000 per coin.
Now, again, Bitcoin's fall of over 53% at the height of this could be blamed on yet another China ban (this time on mining), but some believe this would have been inconsequential should Elon Musk not announced that Tesla would stop accepting Bitcoin due to its environmental impact. This started an unprecedented discussion and pushback against the currency and its proof-of-work consensus mechanism, sprinkled with a bit of virtue signalling and just enough self-righteousness from critics.
Many investors dismayed seeing BTC go against the mainstream once again. However, this time around, there's enough past information and solid enough grounds for the currency to feel less threatened than ever by the circumstances.
Should you, then, not worry at all about a crypto crash in 2021?
There are more than enough reasons to consider that, should Bitcoin's price (which, as we stated, is a major indicator of the state of the crypto markets) suffer again in 2021, this would be as inconsequential as the crypto crashes above.
Why? Because fundamentally, adoption is stronger than ever. It only takes a quick look into who is holding most of the Bitcoins in the world to understand that (again, for the better or worse) the world's most powerful interests are vested in Bitcoin succeeding, therefore lack of capital (or interest) isn't likely to starve out the crypto ecosystem.
In particular, two types of crypto adoption are predominant in 2021:
Institutional holders
Bitcoin adoption has transcended the times in which the currency was mostly in the hands of retail investors. Nowadays, institutions and companies are focused on amassing incredible amounts of the currency, which, due to its inherent scarcity, utility, and decentralization, they believe to be superior to gold itself.
The list of institutions holding Bitcoin reserves includes:
MicroStrategy Inc. a Virginia-based business intelligence, mobile software, and cloud-based services firm, which now holds at least 114,042 Bitcoins, worth several billion dollars.
Tesla, which, despite the unfortunate saga we recapitulated above, holds at least 43,200 Bitcoins. The company has stated its intentions to continue to purchase Bitcoin and eventually accept payments in the cryptocurrency again.
Square Inc., a digital financial services firm founded and owned by Twitter's founder and CEO, Jack Dorsey. Square also holds around 8,027 Bitcoins, a sum they are expected to further increase. Twitter has also rolled out a Bitcoin tipping feature, showcasing Dorsey's interest in the cryptocurrency.
Marathon Digital Holdings, a Bitcoin mining company, which is one of the largest companies involved in Bitcoin mining in the US. This company holds around 5,700 Bitcoins according to some reports.
Centralized exchanges, such as Binance and Coinbase, which deal with and hold enormous amounts of Bitcoins.
Nation states
Although El Salvador was the first country to accept Bitcoin as legal tender, many others are currently discussing the option. There is also something to be said about the way social platforms like Twitter, as well as the decentralized crypto community, resemble countries.
So far, only El Salvador holds "official" Bitcoin reserves. However, many nations, including Switzerland, do so indirectly through the funds they invest in. And, as per countries holding Bitcoin in their Treasuries, many Latin American nations' representatives have stated their interest in following El Salvador's lead, and others are already building systems reliant on blockchain technology. This showcases a previously unseen level of awareness.
Some of the countries looking into accepting Bitcoin as legal tender (and therefore adding it to their Treasuries) are:
Ukraine, which recently passed a law that legalizes and regulates Bitcoin. The bill gained support from 276 out of the country's 282 lawmakers which, along with the President's interest in digital currencies, which seems to hint that Ukraine could be the second country to formally adopt Bitcoin.
Paraguay, another Latin American country in which unofficial sources state that a law proposal is already being discussed.
Other countries such as Brazil, Argentina, Panama and Mexico also have lawmakers upholding proposals related to accepting Bitcoin as legal tender.
In Summary: There's little to fear from a crypto crash
If you're a newcomer to the crypto ecosystem, you should be aware of the fact that at one point or another you'll witness a crash. There's nothing to be afraid of: These things happen in an environment as new as ours, some might even say for the better.
What's important is that cryptocurrency as a whole, spearheaded by Bitcoin, continues to cement its importance in the "real" world. At D-CORE, we're strong believers that every time a financial firm, company or country moves into Bitcoin or other cryptocurrency, they're triggering powerful network effects and creating positive-sum dynamics for the decentralized world to continue taking steps forwards.
Therefore, we've professionalized the practice of helping financial and non-financial firms integrate cryptocurrencies into their systems. We have created an entire distributed ecosystem around it, and we can't wait to tell you all about how it could help improve your business or firm.  If this sounds like something you might need, we strongly encourage you to reach out using the forms below!
Curious to learn more about D-CORE? Click this button to speak with one of our specialists and discover how D-CORE's research can benefit your blockchain business.