It's been ages since we last dedicated an article exclusively to a project. Recently, we covered a few on our DeFi 2.0 article, but we have yet to cover a specific one. So, why have we decided to change this for RUNE THORChain?
Well, because the engine is running at full speed!
If you've been following our newsletter, you may have noticed that the D-CORE engine is producing comprehensive research reports at an amazing rate. Thanks to this, we're looking into producing more exclusive content describing projects, which includes these articles.
That's it. Let us then consider this novelty inaugurated and go back to RUNE THORChain!
RUNE THORChain is a decentralized liquidity protocol that allows users to swap assets between different blockchains. This is very different from a DEX for reasons we'll see below, although THORChain does incorporate native decentralized exchanges like Asgardex/Skip exchange or ThorSwap. This is because one of the main goals of THORChain is, indeed, to provide cross-chain trades… although there is a lot more to it.
RUNE THORChain and the
importance of cross-chain swaps
Another project heavily focused on interoperability and making waves on the crypto scene is Panther Protocol. Check out this interview with their founder on our podcast!
Monetary interoperability is one of blockchain's biggest and most complex topics, and this is not without reason. For starters, as you know, each blockchain needs a native asset that acts as an incentive for network participant to secure its applications. These applications can be unique (like in Bitcoin's case, which's application is transactions) or complex (like Ethereum, that features smart contracts). However, most blockchains are radically different and their assets therefore cannot communicate.
If you take a look at any decentralized exchanges, such as Uniswap, you might see that they typically feature only trades for assets in their native chain (in Uniswap's case, ERC-20). To get around the interoperability issue, these DEXs tend to feat wrapped assets, which are assets locked in their native chains and represented 1:1 on others. This is particularly useful for them as this requires no interoperability features.
Wrapped assets retain the price of their "normal" versions, but feature several issues. For one, they incur in transaction fees to migrate, having to move around assets in two chains. They also sometimes require users to trust third parties (like in wBTC's case, since Bitcoin doesn't have smart contracts), have liquidity problems, single security points of failure, and other headaches.
Clearly, the best thing is always to leverage native assets
However, exchanging native assets in a fully decentralized manner was, until recently, near impossible. Not-at-all friendly interfaces, the need for an extensive knowledge, hard (and expensive) work and liquidity issues made doing so very complex.
Meanwhile, a great number of assets (and therefore billions of dollars remained mostly uncommunicated) only available to each other through the use of centralized institutions.
Enter the Nordic god of thunder
And so was born THORChain, a project that, so far, has managed to interconnect Binance's BEP2, Bitcoin's, Litecoin's, BCH's and Ethereum's chains in a decentralized way. The protocol uses its own blockchain, built using the Cosmos SDK and Tendermint, which allow it to operate cross-chain. It relies on Proof-of-Stake consensus, based on the incentives of staking its native RUNE token to validate transactions and earn rewards.
To allow for inter-chain swaps, THORChain RUNE uses an automated market maker (AMM) model that resembles Bancor or Uniswap's, with the difference that RUNE is the only possible pairing per asset. This makes RUNE the base swap pair, but not the "destination" of any particular transaction. Traders exchange different assets using RUNE as an almost hidden intermediary. RUNE also serves to reward liquidity providers with fees collected by the chain, and therefore to pay for said fees.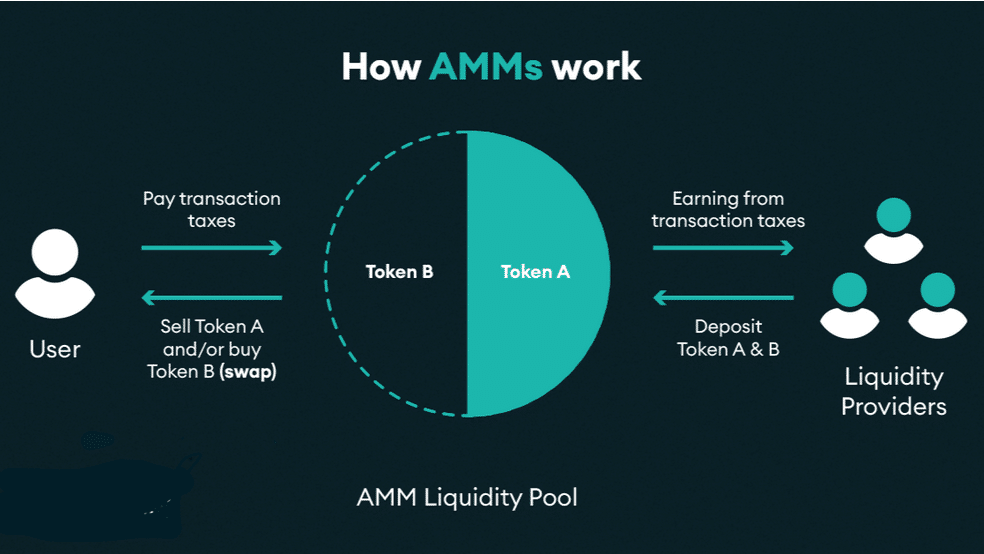 This diagram illustrates how AMMs typically work. THORChain aims to make this process simpler by only pairing assets with RUNE, while others create pairs for every single asset.
Since the only pair for each asset is RUNE itself, liquidity isn't divided into many pools, as happens in a conventional AMM like Uniswap. As we mentioned, the network collects a small fee, which gets higher based on the amount of slippage to deter whales manipulating rates. Slippage naturally increases along with trade size, making this process almost organic. THORChain uses a cross-chain bridge system (known as the THORChain Bifröst) to connect different chains. It also uses an adapted version of Bancor's "smart tokens" which it calls Continuous Liquidity Pools, to facilitate the exchange of assets. The key difference is that CLPs reward users for contributing to the liquidity in each pool.
Deterministic RUNE
The deterministic pricing of RUNE is key to the THORChain tokenomics. Tokenomics are key to any project's success, as we continuously explore in our asset review series, here featuring Lithium Finance.
The price of RUNE is deterministic since the network requires it to be staked 2:1 by node operators, and paired 1:1 with pooled assets by liquidity providers. Therefore, by economic design, the market cap of RUNE is at least 3x the TVL of non-RUNE assets, divided by the total RUNE, at all times.  
Which assets does THORChain support?
Currently, THORChain supports the following assets:
The

RUNE

crypto

itself, as well as the Ethereum version of it (ERC20-RUNE).

BNB, Binance Chain's main token. On this chain, THORChain also features BUSD (a stablecoin), AVA, BTCB (wrapped Bitcoin), and TWT. These are all tokens that are integral to Binance Chain's ecosystem.
Bitcoin Cash, a fork of Bitcoin that features faster and lighter transactions.
Litecoin, which is considered digital silver in contrast to Bitcoin's digital gold.

Bitcoin, which you might have heard of.
Ethereum (not wETH, its wrapped version used in a lot of AMMs).
The following tokens in the Ethereum blockchain: YFI, ALCX, DODO, THOR, USDT, USDC, RAZE, AAVE, HOT, SUSHI, CREAM, FOX, ALPHA, SNX, PERP, KYL. These are all tokens that are integral to the ERC-20 ecosystem, including two stablecoins, the native tokens for several decentralized protocols like FOX, CREAM and SUSHI, and some tokens like DODO that are part of THORChain's partner ecosystem.
THORChain is said to have a limit for how many chains it'll be able to support. It has immediate plans to make a number of developments, including expanding to more assets as we can see below:  
What is the future of THORChain RUNE?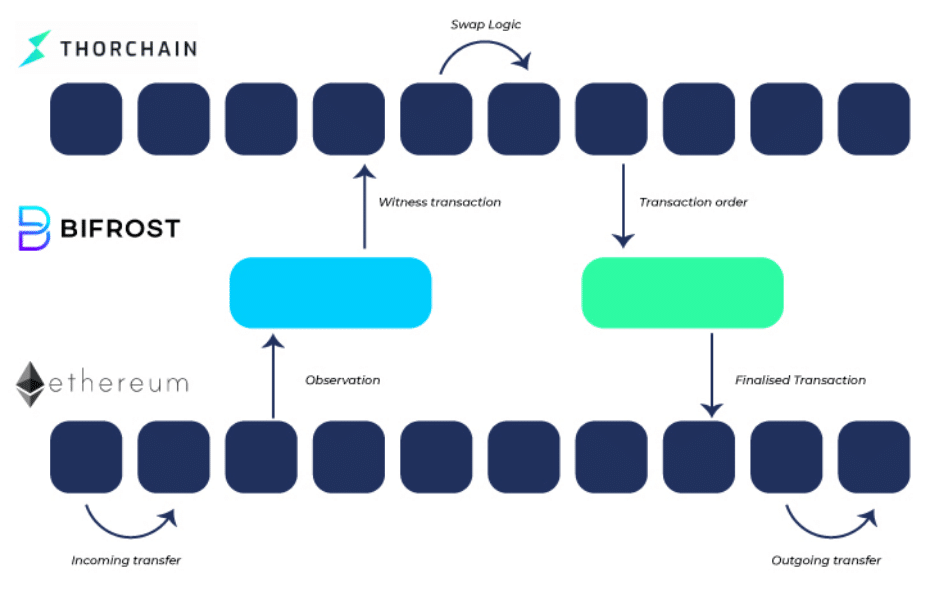 This diagram represents how THORChain's bridge, BiFrost, helps the network achieve consensus with Ethereum.
  It's important to note that THORChain's governance is fully pseudonymous, with no official creator and none of the 18 self-organized developers having a formal title. The THORChain website was fully developed by its community. THORChain's code is fully open-source, and it has been audited seven times by reputable auditing companies such as Certic and the Gauntlet.
Many governance procedures are currently performed using admin keys controlled by the team of developers. The THORChain team keeps a Medium account where weekly reports discuss bug fixes and monthly Treasury updates.
Another key player in THORChain's development is Nine Realms, which remains a separate entity from the THORChain team. Nine Realms, according to their own site, "works to bring institutional liquidity to THORChain. Nine Realms reduces the risks associated with supplying large amounts of asymmetric liquidity on THORChain."
As for THORChain's roadmap, the advancements in the network should look as follows:
THORChain's Single Chain

Chaosnet

, their proof-of-concept, went live in 2020. With it, users could swap between BEP-2 assets themselves and

THOR

RUNE.

The network's Multi-Chain Chaosnet went live in April 2021. It's used to swap between assets in different chains beyond THORChain itself and Binance Chain tokens.

There are capped capabilities for

THORChain

staking and liquidity in the network's current version. Thanks to this, while the protocol makes bug fixes to become more reliable (it has been exploited by hackers multiple times before), its ecosystem gets a chance to grow and gain functionalities. The liquidity cap allows the protocol to avoid catastrophic losses that the Treasury can't cover. For more details about the exploits of the network and the role of the Treasury, see below.
Currently, THORChain is working on the following integrations:
An Insurance fund for Liquidity Providers, which aims to de-risk existing capital, attract more of it and protect the project's reserves from unexpected negative events.
The full deployment of the Mainnet (with uncapped staking and liquidity) by Q1 2022.
Integration with Cosmos' IBC (Inter Blockchain Communication), which aims to make interoperability easier at a higher level.
Launch a functionality for cross-chain savings account with fixed APYs for all existing assets.
Open up a protocol for cross-chain lending with self-repaying loans.
Enable native smart contracts with native composite assets and stablecoins.
Hand over complete control of the protocol to a DAO.

Integrate an additional 15 chains. Some mentioned names are Monero (XMR)

(A THORChain XMR team-up happened at the end of 2021)

, Haven (XHV), Terra (LUNA), Dogecoin (DOGE), Polkadot (DOT), Avalanche (AVAX), Zilliqa (ZIL), Cardano (ADA) and Zcash (ZAC)
As for THORChain (RUNE)'s price prediction, according to various algorithm-based forecasters, things look quite optimistic.
Wallet Investor

predicts that by the end of 2022, the average price will be $13.187, and by the end of 2025, it will be $36.854. RUNE/USD was predicted to hit $45.341 in January 2027, according to a five-year forecast.

In 2022, according to

DigitalCoin

's THORChain (RUNE) price estimate, it might hit $7.9, rising to $9.4 in 2023, $12.92 in 2025, and $25.37 in 2029.

RUNE might cost $8.91 in 2022, $27.32 in 2025, and $182.11 in 2030, according to

Price Prediction

.
How is THORChain different from a DEX?
So, if THORChain decentralized swaps that happen cross-chain are the main reason for the project's existence, why isn't it a DEX?
Well, THORChain doesn't mean to impose a single solution to the decentralized cross-chain liquidity problem. It instead attempts to create an underlying protocol that solves this and that any project can plug into.
The THORChain network can support any number of cross-chain DEXes, such as Skip exchange or ThorSwap, among those mentioned above. Along with them, other projects have been born that aim to reflect the broader DeFi in the chain, such as Thorstarter. Thorstarter leverages multichain swapping to build an IDO launchpad.
There are also other initiatives, such as the THORName Service (not unlike Ethereum's ENS) and Brokkr, which aims to create synthetic assets that mirror stocks and other securities.
And, while this is not the main application, many have found THORChain's stablecoin interest rates, as well as those for non-stable cryptos, incredibly attractive. THORChain APYs are indeed very seducing for holders of all kinds of cryptocurrencies, which is why many users take advantage of the network as a passive income source.  
Where do the yields from THORChain liquidity pools come from?
This is, of course, a valid question. Most users, even somewhat technical ones, might struggle to conceptualize why a decentralized chain can provide annualized rates of over 50% (as compared to their bank's amazing 0.01%) for cryptocurrencies pegged to the price of a dollar. THORChain understands this and has published a page describing where these returns come from. It can be said that, without a doubt, one of the chain's strongest points are their communications.
The THORChain community has also created a website that shows the APY for each RUNE pair.
In short, THORChain pays liquidity providers from the fees collected by the pools they contribute to, along with inflationary emissions to offset impermanent loss. The emission curve "is designed to start at around 30% APR and target 2% after ten years. At that point, the majority of the revenue will come from fees." Users are also paid from THORChain's token reserves.  
So, why do some pools offer higher liquidity providing rewards than others?
THORChain liquidity providing rewards are, as in most AMM platforms, proportional to the volume of trade going through each pool. Pools earning more fees are also incentivized with more THOR RUNE block rewards.  
Wasn't THORChain hacked in the past?
THORChain was exploited twice in ten days this 2021. The details of the hacks and exploits can be found here.
Remarkably, THORChain's two hacks showcase both very desirable and undesirable traits for a DeFi protocol. For starters, the hacks occurred because the developers published unaudited (or not up-to-standards) code. The second one even featured code with vulnerabilities spelt out by developers in the code's notes, which were left unresolved.

The message left by THORChain's second hacker, illustrating valuable points for the development of the project.
If the above seems to signal almost fantastic unprofessionalism to you, you might be relieved to hear that, while there is no way to excuse the developer's behavior, the hacks meant no loss to users. As stated by the team in a tweet after the attack happened: "The only entity that will wear the burden will be the THORChain treasury, approx $5m will be used to donate to ETH LPs. This is the purpose of the treasury during Chaosnet, to insure the network funds."
THORChain does not seem to try and excuse themselves from their mistakes, although the fact that there were funds ready to cover for them speaks well of their protocol planning. The team also announced upcoming security measures, including audits to be performed by firms of similar quality to those that first reviewed the protocol.  
In Summary: THORChain RUNE can become a household name.
We can only hope that, as an organization, THORChain understood the importance of upholding security procedures. Given that the protocol lost no user funds because of the exploits, the project has managed to rise above murky waters. THORChain has a solid and passionate community, but even this kind of investor/user can shy away from a product that's likely to fall for amateur mistakes and risk losing it all.
If further implementations and developments of the protocol roll out successfully, including the addition of new chains, THORChain might see a demand for its products skyrocket.
We do not offer investment recommendations, either in our comprehensive reports or in these articles. However, if you'd like to continue to see D-CORE's analysis, we'd advise you to subscribe to our newsletter using the form below. As a crypto research firm, we offer services to all kinds of capital institutions that want help uncovering tomorrow's disruptors.
D-CORE is a distributed engine of crypto enthusiasts following a scientific methodology to evaluate blockchain projects. Our reports aim to assign an objective score that tracks projects' likelihood for success. If this sounds interesting to you, please go ahead and book a free consultation below!  
[/vc_row]
Curious to learn more about D-CORE? Click this button to speak with one of our specialists and discover how D-CORE's research can benefit your blockchain business.