The crypto market has always struggled with liquidity. This is because the ecosystem is highly shattered with individual liquidity providers, pools, and platforms that cater to a specific group of users on top of a standalone blockchain. There have been major liquidity concerns rising from the decentralized finance (DeFi) market in the crypto space. On Sunday, June 19, Solana-based lending platform Solend initiated an SLND1 proposal to grant emergency powers to Solend Labs to take over control of whale accounts temporarily.
Solend is the largest Defi lending market on Solana that allows users to lend and borrow tokens. Solend stated that the decision to perform emergency powers was to handle liquidation gracefully over-the-counter (OTC). The leading platform is expected to control slippage at 3 % with this move against 46% on the DEX platform.
Solend decided to mitigate liquidity risks as a Solend whale had a huge marginal position putting its users at risk. To this, Solend further justified its proposal by noting:
"If SOL drops to $22.30, the whale's account becomes liquidatable for up to 20% of them borrows (~$21M)" – the proposal read. "It'd be difficult for the market to absorb such an impact since liquidators generally market sell on DEXes. In the worst case, Solend could end up with bad debt. This could cause chaos, putting a strain on the Solana network."
Community Backlash
Even though the poll had received "YES" votes by 97.5 percent (in favor), there was a huge community backlash for a "decentralized" protocol to execute such emergency powers.
Dylan LeClair, a senior analyst at UXTO wrote: "Absolute comedy! @solendprotocol, a supposed "decentralized" lending protocol built on Solana has "voted" to take over a whales account with emergency powers to eliminate the chance of forced liquidation. "Decentralized" in name only."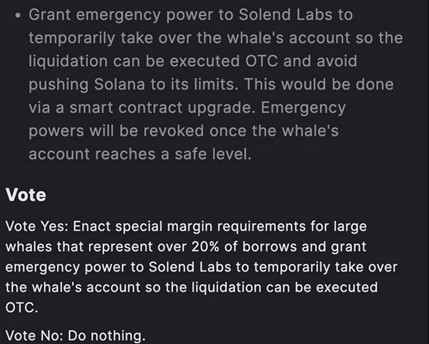 Moreover, Evan Van Ness, founder of @WeekInEthNews also stated, "Solana's Solend leverage platform just spun up a fake vote as cover to control a whale's account so that it wouldn't get liquidated & crash the $SOL server again. Solend is an official company of Solana. Insider deals. Central servers. This is the definition of CeFi. Bailouts for insiders through a sham and opaque political process".
What did Solend do?
Solend initiates corrective measures soon after a major community backlash. Solend knew it was time to repair the damage. Moreover, the SOL price has jumped from $32 now as part of the market recovery. Thus, Solend got some time to pay attention to the feedback.
Thus, in order to invalidate the previous proposal of SLND1, Solend initiated a new proposal SLND2. The announcement notes are as follows:
We recognize that a voting time of 1 day is still short, but we need to act swiftly to address the systemic risk and the fact that normal users can't withdraw USDC. We ask our community to be active in governance in the next few days. Voting time will be revisited in a future proposal. We're committed to protecting user funds, transparency, and doing what's right.
Solend further added that it is committed to protecting users' funds and is willing to maintain absolute transparency in the matter.
1) Solend labs is a bad precedent in DeFi. They are proposing to take over user wallet so the liquidation can be executed via OTC. This is a bad idea for several reasons: 🧵

— Høus (@0xHous) June 19, 2022
Although the move is taken back, marketers are still expressing their concerns about decentralization which has been the core principle of cryptocurrencies, and DeFis in particular. Users are pointing at the setbacks of PoS chains in comparison to PoW chains. Having said that, normalcy in the business is probably the need of the hour. 
Curious to learn more about D-CORE? Click this button to speak with one of our specialists and discover how D-CORE's research can benefit your blockchain business.