Amongst the many, MANY crypto asset classes that exist today, stablecoins are some of the ones that spend more time under the spotlight. Stablecoin interest rates, the reserves backing them, their regulatory status, and many other challenges surrounding them garner a lot of interest from users and regulators, positively or otherwise.
In fact, stablecoin regulation has taken a predominant spot in crypto media lately, and we're here to tell you this likely won't change much.
Euro stablecoins, algorithmic stablecoins and other wonders.
There are many types of stablecoins. Their differences, on the most basic level, depending on the asset of choice to peg the stablecoin's value (gold, euros, dollars, pieces of cardboard, matryoshka Russian dolls) and the method of choice to do this.
Pegging the price of a stablecoin to a given value can be both a simple (not to be confused with easy) or a complex task. To do this, some projects rely on having audited vaults containing the assets they aim to use as collateral. Others (with disastrous results) have attempted to use trading algorithms for pegging the value of their coins to a given price. Projects like MakerDAO issue stablecoins by allowing users to collateralize their tokens with other cryptocurrencies using smart contracts. In these cases, once the collateral's value falls below a certain threshold, the user needs to either return the stablecoins or see their assets get liquidated.
With the growth of DeFi and solutions centered around staking, lending, and other passive income-earning avenues, it is now possible for users to obtain yields in the double digits for simply entering their stablecoins into these protocols.
Stablecoin interest rates in an era of hyper-low bank interest rates, along with CBDCs are among the many reasons why governments are paying additional attention to stablecoins… and a reason for the crypto industry to feel uneasy.
So, why the stablecoin FUD (fear, uncertainty and doubt)?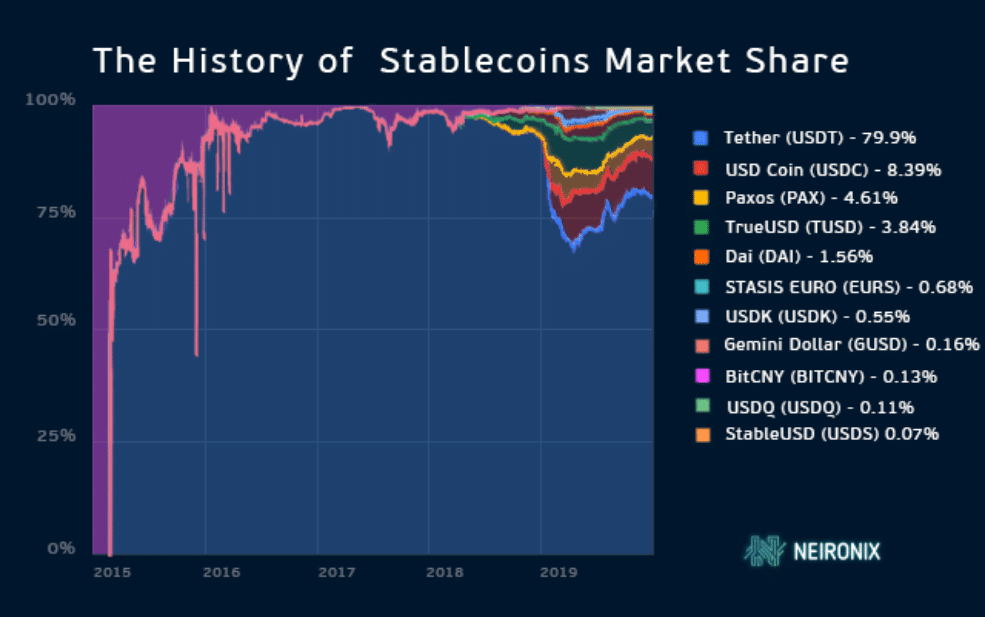 Over the years, the market share stablecoin projects hold has dramatically changed to become more competitive. (Source)
In a way, many crypto believers do not consider stablecoins as "true crypto": Most are issued by centralized players and rely on non-crypto assets (directly or indirectly). This creates the shadow of a possibility of systemic failure, be it because of a default (or scam) by the issuer or a defect in their smart contracts, causing instant devaluation.
Because most stablecoins are pegged to the dollar, the United States is undoubtedly the center of the discussion on stablecoin regulation. Not every centralized stablecoin issuer is located within the USA, yet, they hold significant amounts of government and corporate bonds from the United States. This, along with being considered "as good as the real thing" by many institutions and users in crypto (for example, crypto exchanges tend to use stablecoins rather than fiat pairings), worries the agencies responsible for maintaining the health stability of the country's financial system.
In December 2020, the President's Working Group on Financial Markets (a.k.a. "P.W.G." or the "Plunge Protection Team") released a statement outlining their view on what potential regulation on fiat-pegged cryptocurrencies should strive to achieve. They also recommended some best practices for stablecoin issuers while they are primarily unbounded by regulation.
Almost a year later, the group published an extensive report on stablecoins that may very well be the last step before "urgently needed Congressional action" is initiated. The report was made with the participation of the SEC, the Federal Reserve, the Department of the Treasury and the CFTC, consulting with many major market participants and stakeholders such as Paxos, Circle and the Blockchain Association. There isn't a suggested next step before actual legislation is drafted and ratified by the competent party, be it the government agency itself or Congress, so it's safe to assume they are working on it at this very moment.
What is in the latest stablecoin report by the Fed, the SEC and others?
In this episode from our podcast, Themelio's founder, Eric Dong, introduced the stablecoin running underneath their protocol, Melmint.
The report's contents start by recognizing stablecoins' widespread appeal and usefulness as efficient payment alternatives: They enjoy worldwide reach, fast if not instant payment processing times, and great capability for integration with digital platforms. The PWG clarifies that they don't intend to shut off stablecoins (which would work to eliminate the competition for a CBDC) but only address public concerns by eliminating regulatory gaps. The risks observed by the PWG bring to light threats that less solid stablecoins bring to the financial system as a whole, while their recommendations indicate which will take the bigger hit and which will gain the most from regulation that is to come.
One of the most widespread risks, both for users holding stablecoins or participating in their ecosystem is the risk for "stablecoin runs". This is a predominant danger since most of the entire crypto industry is in one way or the other dependant on these solutions.
A stablecoin run would not necessarily need a catastrophe to trigger it to occur. To picture it, let's say that trust in the redeemability and value stability of a stablecoin is weakened somehow, be it by lack of transparency on what is their reserve composed of, loss of some reserves or questionable conduct on redeeming procedures. This could provoke a spiral of holders redeeming their balances and the issuer quickly selling their assets (maybe at a loss), causing further mistrust from the holders and potentially ending with the stablecoin's insolvency. Externally, the sudden liquidation of these assets may cause significant depreciation, posing a great risk for the whole financial system.
These concerns are caused by the aforementioned lack of transparency or quality of the reserves that hold the value backing stablecoins. Tether, the most popular stablecoin and a notorious example, has up to 25% of the total value of its USDT token in exotic assets, such as Chinese corporate debt or municipal bonds. Tether is subject to suspicion by a significant fraction of the cryptocurrency community, and they may be the worst faring stablecoin after the new regulation rolls out. In the opposite direction, Paxos (which operates PAX and BUSD) holds all of its reserves in cash or treasury bonds, and it is the only federally insured stablecoin issuer. Circle, the maker of USDC, is in the path to become a commercial bank and, if they succeed, will likely also become insured. If this is now merely an advantage against their competitors, it may become a requirement for centralized stablecoins to work within the United States in the near future.
And yes, Tether, we're looking at you
The President's Working Group also indicated their concerns about large non-financial corporations using their products and influence to foster the adoption of a stablecoin (remember Facebook's Libra?) They concluded that forbidding this kind of arrangement and setting requirements for interoperability between stablecoins will be essential to limit market concentration and enable users of one stablecoin to not become captives to a single provider.
Significant disruptions on the payment chain of stablecoins are, according to the report, potentially harmful to the broader economy. For this reason, some of the regulations may tackle reliability requirements for these networks. If the use of stablecoins continues to grow to a point that they compete with traditional banking, the broader credit creation mechanism can be significantly affected, lowering credit availability and interest rates for the real economy. Further requirements about the kinds of reserves held by stablecoin issuers are a possible mechanism to mitigate those consequences. Nevertheless, if this happens, we're more likely than not to see KYC requirements for any stablecoin issuer.
Stablecoin KYC and AML are not the solution, however
Decentralized smart-contract based stablecoins, such as DAI or UST, cannot be made to comply with KYC, interoperability or reserve requirements. However, US regulators can forbid crypto exchanges in the United States from listing them for their clients. This reach to rely on exchanges and other blockchain companies to ensure compliance will likely permeate the new regulations in multiple points. The PWG believes centralized exchanges play a crucial role in providing liquidity to the stablecoin ecosystem.
The US regulators also revealed to be working with cross-national institutions such as the Financial Action Task Force to ensure there will be an international effort to roll out similar regulations. Therefore, moving out of the US isn't guaranteed to be a safe alternative to complying with the new rules.
A greater government-sponsored danger in the horizon
We hate to finish an article on a dark overtone, but we have no choice but to do so on this opportunity. Stablecoins, particularly decentralized ones, have a great potential to improve the financial system's efficiency, which has inspired multiple central banks to draw plans to launch their own CBDCs.
For now, though, CBDCs are still a long way off from becoming a reality, and regulators have to figure out how to implement standards for stablecoin issuance that work to guarantee their redeemability. Therefore, stablecoin regulation might be just a testing ground for Central Bank Digital Currencies.
In the meantime, the decentralized crypto scene can only ensure that decentralized alternatives interact with TradFi positively. Hopefully, the transparency behind these systems will, when the time comes, suffice to maintain a way to transact outside of government-created, centralized blockchains.
Curious to learn more about D-CORE? Click this button to speak with one of our specialists and discover how D-CORE's research can benefit your blockchain business.