It's not every day that we have a chance to take a head-first dive into the many different types of tokens there are. However, given that we just published our 2021 Institutional Blockchain Investment Guide, we thought it could be good to go deep into one of the topics that, for space reasons, we didn't cover as thoroughly as we believe we should have. Today, we'll focus on synthetic tokens.
Synthetic assets are tokenized assets that can be traded as standalone tokens but that perform a function based on a set of rules. For example, owning Bitcoin means that you have purchased or mined a Bitcoin and hold it in a wallet of your choice. On the other hand, owning wBTC means that you do not own the underlying asset -you merely have exposure to its price by holding a token collateralized by it, and that has certain added functionalities (such as being tradeable within the Ethereum blockchain).
Cutting to the chase
Synthetic assets are a reflection of crypto builders making the most out of the programmability of cryptocurrencies. By this, we refer to the fact that the Ethereum network and other blockchains that support smart contracts allow its users to pass their tokens through code, making the tokens subject to it.
With programmable assets, it seems reasonable that one of the first use cases would be to provide exposure to commodities and tools ordinarily inaccessible to the average crypto investor… Whether for regulatory or intrinsic reasons (such as that most chains aren't interoperable, e.g. Bitcoin is not interoperable with Ethereum).
Programmable assets also make accessing functions such as shorting, inverse market performance, indexes, and other complex financial products easier. However, one of its first use cases (and perhaps one of the most interesting ones) is allowing wrapped assets to flourish.
The wonders of wrapped assets.
The first edition of the Crypto Hot Seat panel featured CEOs of Coinbase and Bittrex, two exchanges that have been enthusiastic towards this kind of assets.
Let's go through a thought exercise to highlight the importance of wrapped tokens.
Imagine that you are an honest, hard-working freelancer in (say) Cambodia. Since your government would take a massive cut out of any SWIFT transaction sent to you from abroad, and your payment does not go as far as to justify this, you ask your progressive employer to pay you in crypto.
Now, in this situation, you face yet another problem. You do not want to be exposed to Ethereum's or other Bitcoin's volatility, so you ask for your payment to be in a stablecoin. Stablecoins, since they are a token meant to represent another asset, are synthetics in and out of themselves, but let's not spend too much time thinking about it for now.
Now, let's say your employer sends a deposit of a mere 200 USDC into your non-custodial Ethereum wallet, and, a week later, you think about trading 100 of them for $100 worth of Cardano (ADA), which you're sure will go up. After all, you've got to invest, right? You head to the only place you could trade directly within your non-custodial wallet, a decentralized exchange (DEX), such as Uniswap.
And now you've got trouble
You want to invest in Cardano (ADA) and you have 100 USDC to do so. Now, since USDC is an ERC-20 token that therefore works on the Ethereum blockchain, and Cardano only runs in its own chain, these two are incompatible. To go and buy the "real" Cardano, then, you'd have to go through a rather inefficient and somewhat expensive process like the following:
Find a counterparty. If you don't have one, you'd have to use a system that finds one for you, which might or not charge fees.
You then send your USDC to your counterparty's wallet (paying a fee for the transaction).
An intermediary might need to check whether you sent it or act as an escrow (paying a fee).
Your remote counterparty would now send you Cardano coins to a Cardano wallet of your own (paying fees of their own, which would reflect on your final balance).
You might, again, have to pay for escrow fees or for someone to verify your transaction.
Of course, most users would rather not go through such a tedious and prehaps costly process. The alternative, then, would be going through one of the following ways to save yourself the trouble:
Option #1: Going through a centralized system.
A centralized exchange (CEX) such as Kraken, Coinbase or Binance can offer USDT/XMR, BTC/DOGE, or USDC/ADA pairs despite none of the paired coins existing on the same chain. This is possible because they control, and therefore own (not your keys not your crypto!) all the funds inside their system. They, basically, just keep tab of the balances. This allows CEXs to move money around quite efficiently, at the cost of users' not being the sole owners of their currencies. Users can always move their tokens away into wallets they do control, but this process often generates high fees, a way of CEXs to control users' behaviour.
You can also, then, go through…
Option #2: Using wrapped assets
One of the earliest application of synthetic tokens, and an early innovation of the decentralized world. Wrapping tokens works by sending them to a decentralized smart contract, which would then "lock" the coins in exchange for creating a brand-new token to represent them. In your case, you would purchase wADA (an ERC-20 representation of the ADA someone else locked away) in Uniswap instead of ADA. This would provide you exposure to ADA's price to fulfil your investing strategy, since the contract to mint wADA can only do so it by locking Cardano coins. You can now choose to either keep your wADA (and be exposed to ADA's price movements) in your wallet, or go back to the smart contract that minted it and exchange it for "real" ADA. Which, in turn, would burn your wADA, making sure that only one representation of its value circulates in the market. Note that, since wADA is a synthetic ERC-20 token on the Ethereum blockchain, you cannot use it within the Cardano chain for staking or other purposes.
Thanks to this, users could theoretically wrap any asset, in whatever chain that supports smart contracts, to issue wrapped tokens to then use in not-directly-interoperable chains. If this makes the thought experiment easier for you, you can think of your wADA as an IOU that entitles you to cash out ADA whenever you want to.
More so, investing isn't the only reason for wrapping tokens
In the previous example, you were interested in wrapping a token purely for value purposes: You wanted to gain exposure to Cardano's price action without running into the logistic nightmare of interacting with two chains simultaneously. And, by purchasing wADA, you fulfiled this purpose.
However, as many have pointed out before, including ourselves, the fact that chains are governed by code makes this code almost like a Constitution stablishing the blockchain's values and rules. Therefore, by accessing a new chain, you obtain a synthetic that acts according to your target chain's values. A non-programmable token, wrapped into a programmable chain, would then be programmable. And you can replace the word 'programmable' in that sentence to mean 'fast', 'private', 'interoperable', or whatever your target chain's value proposition is. In the case of wrapping ADA into wADA, you gained access to a chain with smart contracts, which means that your new token can, among other things, be used for DeFi protocols such as liquidity pools and over-collateralized loans.
Synthethic tokens are therefore a way for you to access the best of several worlds, or the lesser of several evils, depending on your perspective.
Other synthetic beauties: Stock tokens, stablecoins and derivatives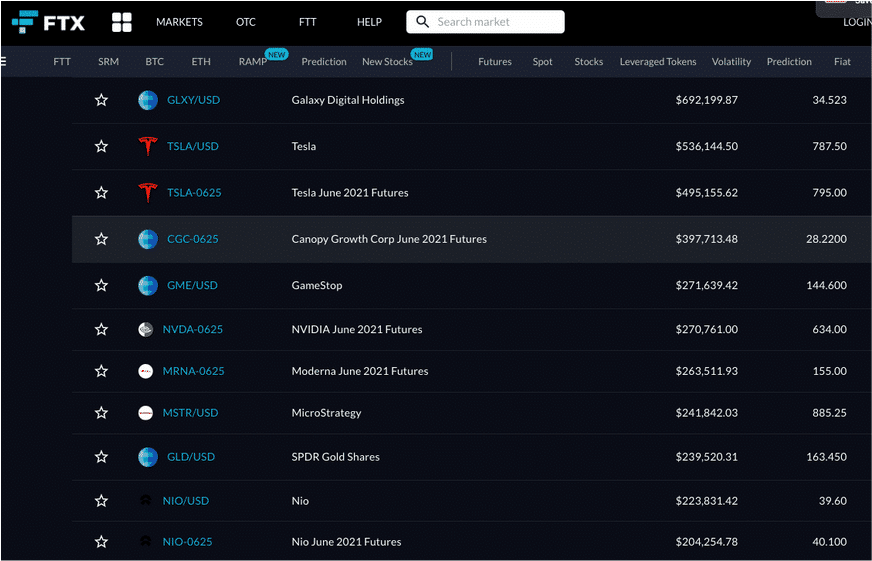 Some platforms, like FTX, provide a wide catalog of stock tokens to users.
Now that you understand how wrapping works and the process of entering a token into a smart contract to gain programmability and mint other assets, other use cases should be pretty straightforward to understand. Let's go through a couple more before we let you off for today!
Stablecoins (they are synthetic tokens too!)
Stablecoins, since they by definition aim to provide exposition to the price of another asset (whether a house, an ounce of gold or one Czech krone), are a synthetic token. Now, whether the tethering of the asset occurs on or off-chain, is a matter of design. 
Some stablecoins create their tether on-chain by minting tokens through algorithms and formulas. For example, DAI is minted by locking away collateralized loans. 

Other projects choose to do an off-chain tether, by storing assets in a vault, bank account, or through legal frameworks. 
Stock tokens (they are synthetic tokens too!)
Stock tokens are a type of synthetic asset that represents a digitized stock. Platforms such as Binance have offered stock tokens to their users, allowing them to gain direct exposure to the underlying asset's price and the utilities paid by the company to investors, but without making them able to participate in voting or count as shareholders. Stock tokens can be traded back and forth between other cryptocurrencies in DeFi. They could also be considered a sort of stablecoin with an off-chain tether.
Derivatives (you guessed it, synthetic tokens)
One of our earlier podcast episodes featured the creator of a hyper-fast derivatives exchange.
Finally, we arrive at derivatives. Derivatives take programmability to the next level by introducing tokens that track numbers and apply variables to them algorithmically. Want a token that can short DOGE, increasing in price when DOGE goes down? A derivative will do it without you having to adjust anything manually. The same would go for leveraged tokens, which register 3x their original token's price action.
Another type of derivative would be tokenized options, which give you access to price movements within a determined range.
Curious to learn more about D-CORE? Click this button to speak with one of our specialists and discover how D-CORE's research can benefit your blockchain business.