2021 saw the Terra blockchain surprisingly become the #1 competitor of Ethereum in Total Value locked in DeFi protocols. Surpassing Binance's Smart Chain, Terra hit second place in TVL by contributing a significant amount to decentralized stablecoin minting, a field of great interest for those in the USDT FUD camp.
What is the Terra blockchain?
Terra is, first and foremost, a decentralized stablecoin ecosystem running on its own smart-contract capable blockchain. Terra stablecoins are, in order of popularity, UST, pegged to the US Dollar, EUT, tied to the Euro, SDT, mirroring the price of the IMF's SDR currency basket, and 16 other fungible tokens tied to different national currencies. LUNA is Terra's free-floating native cryptocurrency, used to power the mechanism that allows stablecoins to maintain their pegs. Funnily, the LUNA Terra names come from how LUNA proverbially acts as the Moon maintaining its gravitational orbit around the Earth.
What are decentralized stablecoins? How do decentralized stablecoins work?
Stablecoins have been under the spotlight in the crypto world for a while, mainly for seizing the attention of regulators, some of which plan to launch jurisdictional CBDCs and don't want to be outcompeted by existing private or decentralized alternatives. They are also the central piece of collateralized lending protocols, a dominant aspect of DeFi.
Even though USDC and USDT, the dominant assets of this class, have been serving their purpose of providing liquidity and stability to the overall crypto ecosystem, they are not poster children of the crypto industry. Concerns for asset freezes, KYC limitations and other potential upcoming regulatory requirements, lack of transparency on their reserves, or denials of redemption requests help make a case for decentralized stablecoins.
One can perhaps say that a scalable, permissionless, censorship-resistant stablecoin ecosystem is the holy grail of the crypto market. This is precisely Terra's value proposition.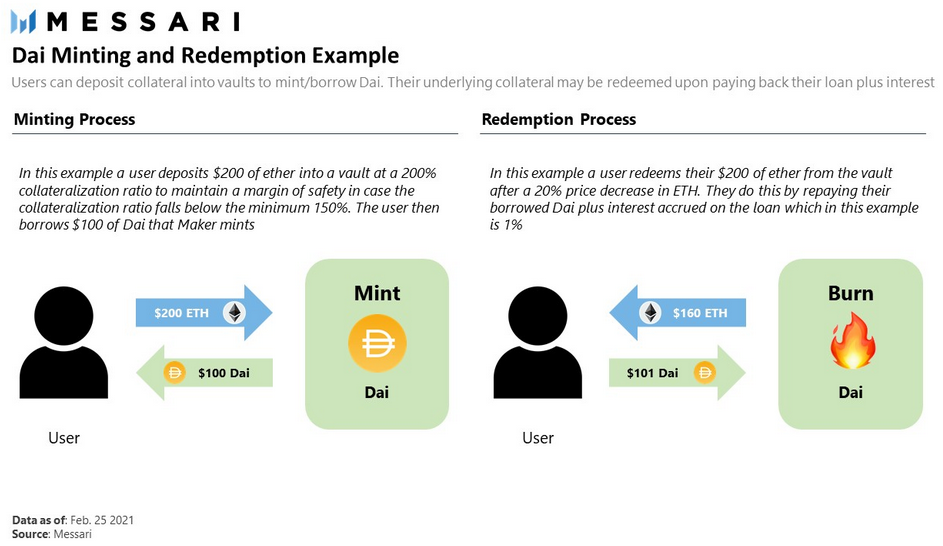 The process of minting 1 DAI via an overcollateralized loan. Source.
It's not very difficult to understand how centralized stablecoins like USDT or BUSD work: The issuer mints an arbitrary amount of its stablecoin on any blockchain of choice and starts accepting fiat currency for their stablecoin at a 1:1 ratio. Ideally, they have reserves of cash that equate to the value of the stablecoins they have minted to prove that the peg to $1 is more than an illusion, although, as those acquainted with the crypto ecosystem know, this is not always the case.
Decentralized stablecoins usually need to get more creative than that. Collateralized lending is the simplest and most popular mechanism for a stable token price. Basically, as Maker pioneered with their stablecoin, DAI, users can get stablecoins in exchange for an overcollateralized loan. They can only receive back their collateral (initially, Maker accepted only ETH) by burning these stablecoins within the protocol. Since the system liquidates users by selling their tokens for DAI if the collateral drops below a specific price point, and Maker is transparently collateralized, DAI's peg to $1 is justified.
In our podcast, we interviewed Themelio, a project that uses a unique stablecoin to reward its validators. If you're interested in the science and potential behind stablecoins, you cannot miss this!
How does Terra work? What are its advantages?
The main disadvantage of a lending approach to decentralized stablecoin minting is the inefficiency of locking capital away to access cash flow. This, in coalition with the costs of liquidations, lowers the efficiency of these protocols, although we have to recognize the great innovation that Maker and DAI were in their time.
On the other hand, the Terra blockchain introduces a new way to mint decentralized stablecoins. One could wonder how complex the mechanism for simultaneously maintaining 19 stablecoins' prices fixed to their fiat counterparts ought to be. Nevertheless, Terra's pricing mechanism is surprisingly easy to understand.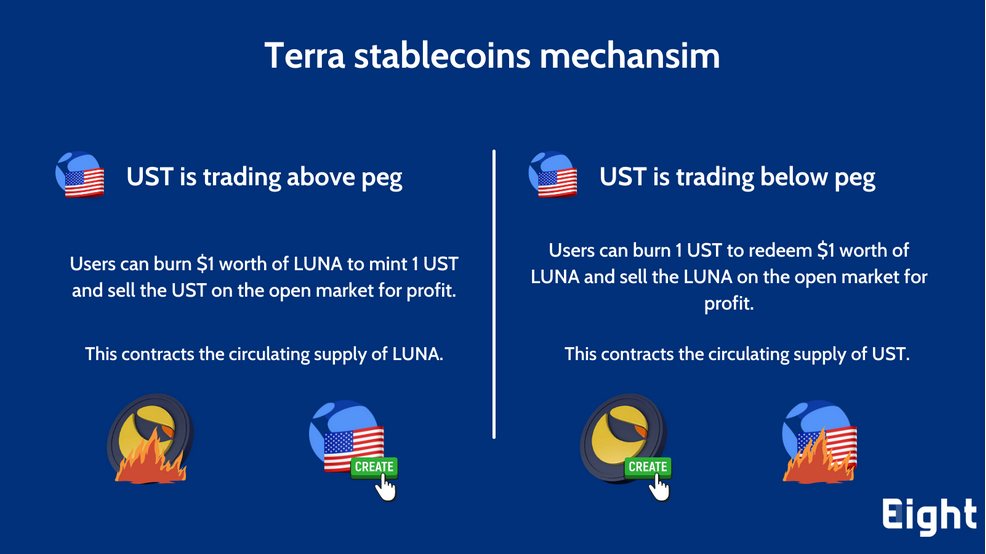 A simple description of how the Terra algorithm tries to incentivate users to balance its stablecoins' price.
Terra depends heavily on arbitrageurs to maintain UST and other stablecoins' pegs. The system allows users to arbitrage the price of UST, for example, by burning LUNA in exchange for stablecoins at a favorable rate if the demand for UST threatens to increase its price. By increasing the supply of UST, the token can meet the market's request, and its price stabilizes. Similarly, the Terra system will allow users to burn UST to mint more than $1 worth of LUNA if there is a decrease in UST's demand, lowering the supply to stabilize the price.
Note that, through this process, LUNA's supply also changes dynamically. This causes users that stake their tokens to secure the blockchain, as well as holders, to benefit from an increase in the stablecoins' demand.
The Terra blockchain has access to accurate, authoritative market prices in all 19 fiat currencies through an Oracle module provided by Terra's staked validator nodes. Terra's mechanism is easily accessible to non-technical users through Terra's official desktop wallet app, Terra Station. UST and other Terra stablecoins are available in decentralized exchanges such as TerraSwap, or centralized ones like Binance.
How does the Terra blockchain work?
A project that also plans to issue a decentralized stablecoin, albeit backed by altcoins, is Bonded Finance, which rebranded to Fringe Finance. Meet their team at this episode!
It hasn't been long since UST surpassed DAI as the largest decentralized stablecoin by market capitalization. Although DAI has been around for longer and is thus seen as more reliable by many, a few aspects that differentiate these assets show they aren't the same and don't serve the same purposes.
Terra is its own delegated Proof-of-Stake (dPoS) blockchain (not a DeFi protocol like others) built using CosmosSDK and the Tendermint consensus engine. Terra is highly scalable, with up to 10,000 TPS, very efficient smart contract execution, and low energy consumption. Unlike in the Bitcoin or Ethereum ecosystems, no new LUNA is created as mining/staking rewards. Terra instead distributes its fees from transactions in the network. Validators make new blocks every 5 seconds and are responsible for voting on their authenticity. This includes providing auxiliary services such as the oracle module that provides authoritative market prices for LUNA relevant for stablecoin minting.
It's key to note that $LUNA serves additional functionalities. For one, it is used as a governance token throughout the Terra ecosystem. It is also the currency in which transaction fees are paid, and therefore the currency in which stakers are rewarded. However, asides from minting UST, perhaps its most interesting aspect is its tokenomics.
LUNA Tokenomics: Deflationary from now on?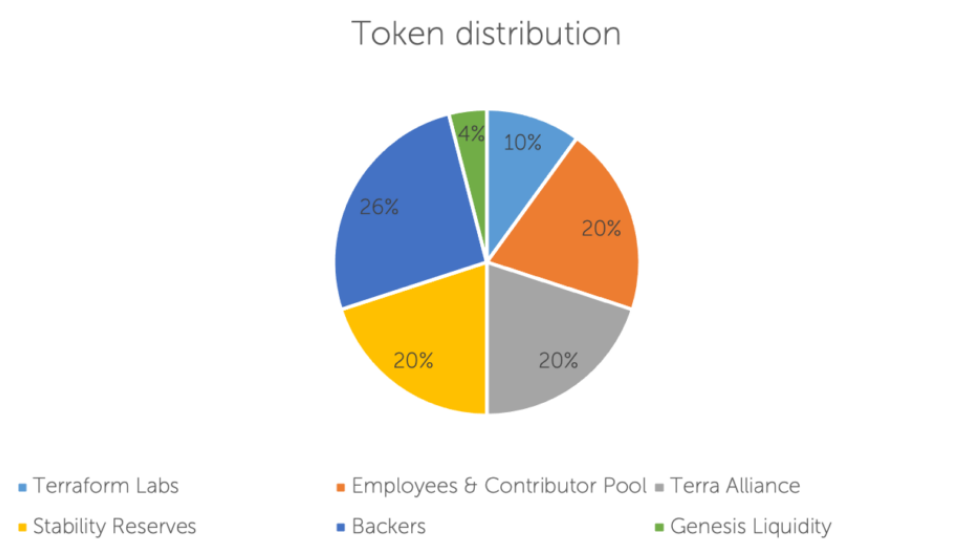 LUNA's initial token allocation.
Terra's tokenomics are LUNA's tokenomics, as the protocol's native currency is the main incentive keeping it running.
The Terra blockchain had a Genesis liquidity launch that saw the maximum supply of 1 billion tokens get minted. This has raised many eyebrows, particularly as Terra is a delegated Proof-of-Stake blockchain. However, one could say that the blockchain itself provides sufficient incentives to users to stay decentralized since their tokens have deflationary mechanics.
Although not all LUNA tokens are trading in the market, the system has a default setting to burn all tokens issued after the 1 billion mark. This, along with the burn of seigniorage, the costs associated with minting LUNA tokens, as well as of dividends swap fees to the exchange rate oracle ballot winners, makes Terra deflationary.
It can be said that LUNA's tokenomics are directly related to the popularity of UST, as the perpetual burning mechanism, combined with growing use, can only make the price of LUNA rise. Therefore, it is worthwhile exploring if there are any downsides to Terra, its blockchains, or stablecoins. We also need to review the Terra ecosystem to see if it can continue to create use cases for these tokens.
Disadvantages of the Terra blockchain
One of the most famous critiques of Terra relies on its parallelisms with a project that intended to do something similar: Iron Finance. Iron Finance sported two ERC-20 tokens, IRON and TITAN, acting similarly to UST and LUNA, balancing each other out through a Uniswap AMM Pool. Iron Finance saw a quick and brutal demise as a lag in its oracle's speed caused users to exploit an unpeg and mint trillions in stablecoins, which quickly lost their value.
However, it is safe to say that the differences between Terra and Iron Finance are sufficient to render this critique worthless. For one, Iron Finance's oracle refreshed every 10 minutes, creating a significant time window for such an attack. Terra's oracles work in 5-second frames, allowing the system to recover quickly from peg losses. Being its own blockchain, Terra also allows for significantly more use cases for LUNA and creates more incentives for users to work and maintain the peg.
Disadvantages of delegated Proof-of-Stake
Another critique is the dPoS arrangement of the Terra blockchain. In this system, a few stakeholders' large concentration of tokens is a reason for concern. If a malicious authority wants to enforce its rules onto the network, it just has to find and coerce those few stakeholders. This is Terra's biggest flaw today, as Terraform Labs, the organization which created it, holds a bit more than 50% of the total supply of LUNA, with its founder holding a significant amount.
The company currently delegates most of their LUNA between multiple validators and collects staking rewards, a mechanism available to everyone who doesn't have the means to run a validator themselves.
There is a cap of active validators for performance reasons. Currently, only the 130 validators with the most significant stake participate in block creation or rewards, with plans to progressively raise this number to as many as 300 validators. In the Tendermint consensus mechanism, a "51%" attack requires two-thirds of the staked total of the network, but more than one-third of misbehaving validators can cause stability problems.
Therefore, it could be possible that conducting an attack on Terra might not be prohibitively expensive or far-fetched.
The Terra ecosystem: Main protocols, bridges and solutions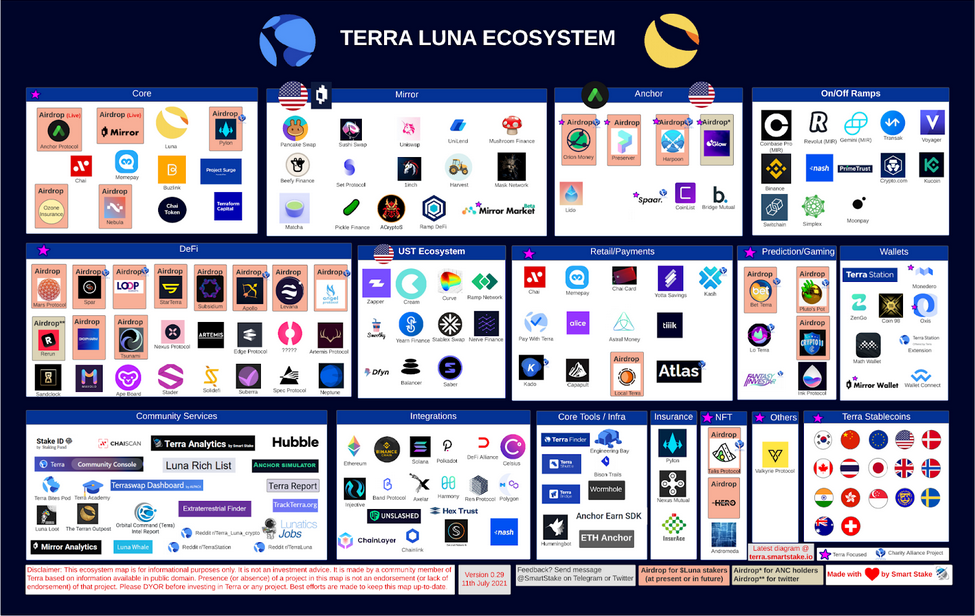 Terra and LUNA have a significant ecosystem arising thanks to the many different use cases for every token involved. Source.
From the get-go, Terra's focus was set on being an outstanding payment solution for the decentralized web. The blockchain was built alongside the Korean payment app Chai, used by 2.5 million people in 2021. The app saves around 1.5% per transaction for retailers compared to credit cards, which is achieved by using Terra and KRT (the Korean Won stable currency) in its back-end. All app users unknowingly participate in the Terra ecosystem and fund its stakers with transaction fees.
Having so many national currencies represented in its blockchain natively –with virtually no limit to this number as long as there are accurate price feeds for the oracle– the potential for a decentralized, no-KYC Forex market running on Terra is enormous. All Terra stablecoins can be used in other chains' ecosystems through bridges, the construction of which is facilitated by its Tendermint-based design. Thanks to it, Terra can easily interact with other Tendermint-based projects but isn't limited to them.
An official Terra Bridge frontend bridges assets to and from Terra, Ethereum, BSC, Osmosis, and Harmony. At the same time, thanks to the Wormhole Bridge, Polygon, Avalanche, and Solana are also options. Terra has enjoyed notable success in the DeFi space in 2021, surpassing Binance Smart Chain in TVL on December 20th.
The Terra ecosystem is still developing and has a long way to go before reaching other blockchains. DeFi Llama lists just 14 protocols on Terra, in contrast to the 263 deployed in BSC. On the other hand, there's something to be said about the 14, which so swiftly drove the growth of a still somewhat unproven ecosystem. Some of the names that stand out are:
Anchor ($ANC): Terra lending and borrowing.
The #1 spot in Terra's DeFi landscape, with almost 50% of the TVL in Terra, goes to this lending protocol which currently offers 19.5% APY on UST. Lenders deposit their UST to receive aUST, an interest-bearing token representing their deposit.
Borrowers deposit ETH or LUNA to take out UST loans, on which they pay a 17.5 APR while simultaneously receiving ANC token rewards, offsetting most of this cost. The protocol stakes their ETH and LUNA and the staking rewards pay for part of the returns to the lenders. If any excess profit is made, this value is added to the treasury, which is used when the returns are short to pay lenders.
Lido is simply a staking platform for LUNA, ETH, and SOL. Users deposit these assets to receive corresponding amounts of interest-bearing bTokens, which can be used in the DeFi space as collateral for yield farming and other ways of compounding their earnings.
The main AMM DEXs on Terra, with about $1B of value locked in each. Many of the CW20 tokens in Terra's ecosystem can be swapped in these exchanges, while liquidity providers earn fees on all swaps.
Through Mirror Protocol, users can mint, buy, sell, and short synthetic assets representing stocks, commodities, other cryptocurrencies, and any other type of fungible assets. This is possible in the same way algorithmic stablecoins like DAI work, but instead of the US dollar, using the value of these assets as supplied by an oracle. Users can stake their assets and short positions to earn MIR rewards.
Pylon Protocol offers an enticing opportunity for investors in Terra's growing DeFi landscape: users can invest their funds in "safe" protocols such as Anchor or Lido, while using their earnings to invest in riskier, early-stage projects or to pay for products, services, or subscriptions.
In Summary: Keep Terra on your watchlist
Crypto payments have certainly been away from the spotlight lately, although there has been an outstanding level of innovation in the last years thanks to DeFi, NFTs, and other developments.
It will be fascinating to see how Terra continues developing its ecosystem and integrating marketplaces, Forex trading, and payment solutions based on its decentralized stablecoin platform. Given Luna's deflationary performance and the role the Terra ecosystem aims to play within the blockchain scene, it could be considered that Terra could both bring something new to the panorama and solidify within it.
Remember: We are a crypto research firm, but neither these articles nor our reports on crypto projects are to be considered investment advice. You can, however, sign up below to receive these articles and our reports in your inbox if you'd like to stay on top of the industry's disruptors!
Curious to learn more about D-CORE? Click this button to speak with one of our specialists and discover how D-CORE's research can benefit your blockchain business.