The World Wide Web is the primary tool used by billions of people to share, read, and write information to interact with other people via the internet. The World Wide Web has made much progress since its advent.
Today, we are seeing the next step in the evolution of the Web. We have a new generation of decentralized services and apps that offers unprecedented control over their data.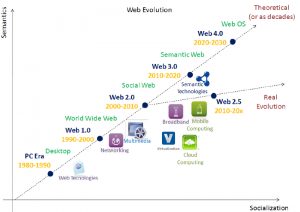 The first version of Web 1.0, also referred to as Syntactic web, or as the read-only web was the era (1990–2000) where the role of a user was limited to reading the information provided by the content producers. There was no option given for users or consumers to communicate back the information to the content producers. Examples of Web 1.0 are static websites and personal sites.
Then came Web 2.0, also referred to as Social Web or read-write web, which is commonly used today (2000–2010 and continues even now) and facilitates interaction between web users and sites which in turn allows users to communicate with other users. In this era every user can be a content producer and content is later distributed and shared between sites.
Some of the famous Web 2.0 applications are Facebook, YouTube, Flickr, Twitter, etc. The web technologies like HTML5, CSS3, and Javascript frameworks like ReactJs, AngularJs, VueJs, etc., enable startups to innovate new ideas which enable users to contribute more to this Social Web. Web 2.0 is built around the users, producers just need to build a way to enable and engage them.
Web 2.5 is the concept to address the practical and real evolution which we are currently seeing in our era (2010–2020) between Web 2.0 and 3.0. On our way to Web 3.0, some of the players like Amazon, Google, Salesforce, KiSSFLOW, etc., provide a service model in cloud computing for developers to create web applications for their users to connect them on any devices, anytime and anywhere.
Moreover, Web 2.5 is majorly focusing on mobile computing and the evolution of mobile technologies. As we all know mobile computing plays a major role in engaging larger audiences via native apps as well as mobile web apps, we can find more and more apps entering the market to establish their presence by addressing mobile users.
Some of the technologies which got introduced in this era are Progressive Web Apps (PWA) and Accelerated Mobile Pages (AMP). To make it conceptually clear, we can call Web 2.5 the convergence between the Social and Semantic web.
Web 3.0, also referred to as Semantic Web or read-write-execute web, refers to the future of the web. In this era, computers can interpret information like humans via Artificial Intelligence and Machine Learning which helps to intelligently generate and distribute useful content tailored to a particular need of a user. Professionals have different perspectives on the new Web3.0. Most importantly, in Web 3.0, ownership and control is decentralized. Some see it as a hoax, while others see it as the way of the future.
We are currently at an intersection on the journey to Web3.0. Now is an interesting time as companies are merging the two worlds into their products, realizing that a full Web3.0 reality is around the corner, but not quite there yet.
Curious to learn more about D-CORE? Click this button to speak with one of our specialists and discover how D-CORE's research can benefit your blockchain business.