Hindsight is 20/20. Can you imagine traveling back in time and becoming a power user/investor for all the DeFi, NFTs, fungible tokens and decentralized products used in crypto every day before they catch up? Well, that is exactly what investors all over the world are trying to do in new and upcoming blockchains, including the Tezos ecosystem… not to mention taking advantage of what they see as a bargain in the Tezos price.
But first of all: What is Tezos (XTZ)?
It takes no genius to know that, if we're mentioning a particular blockchain in the title of our article, it has a lot to do with the fact that we believe what's going on in Tezos is fascinating.
Like any good tale, Tezos' story deserves to be well told, so let's start right at the beginning.
Tezos history for the books
Tezos is a second-generation blockchain. This means that it works with a proof-of-stake consensus mechanism and can process smart contracts. Tezos was envisioned in mid 2014 by the couple Arthur and Kathleen Breitman, both Cornell alumni with solid careers in the tech and financial sectors. Their vision was to tackle the most critical of Bitcoin's problems, such as its low throughput, limited features and somewhat disorganized governance, which lead to multiple hard forks throughout its first decade of existence. The Couple founded the company Dynamic Ledger Solutions in 2015 to support Tezos development efforts.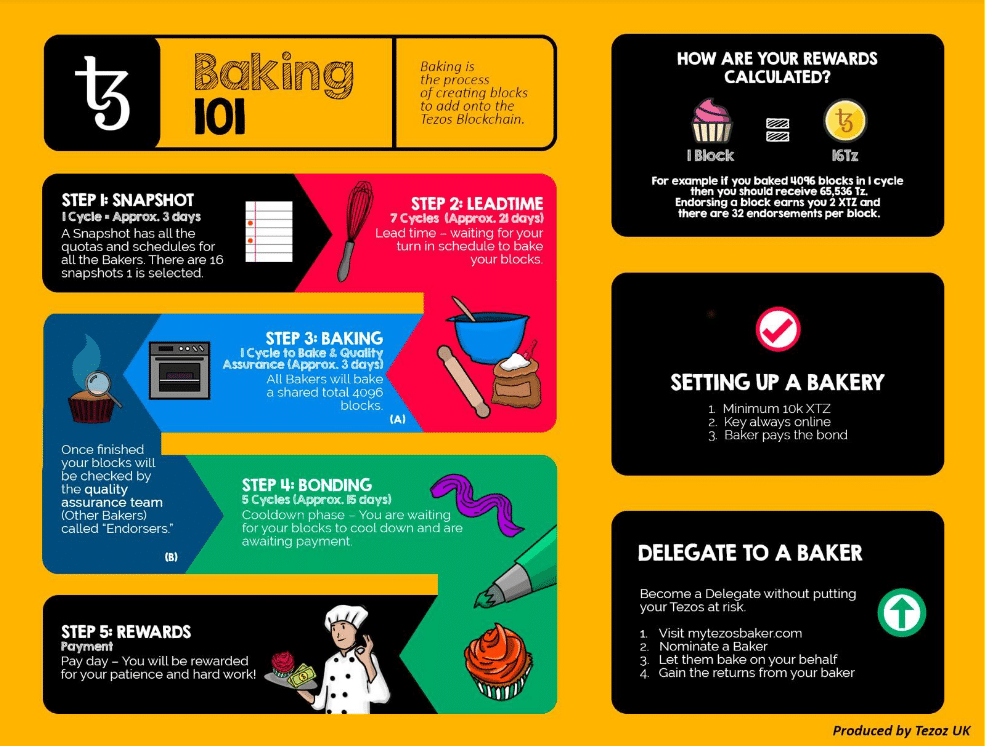 Tezos' consensus mechanism, explained.
From the get-go, all the innovations that Tezos promised to deliver made it (briefly) achieve the status of the biggest ICO crowdfunding ever in July 2017, raising $232 million. The enthusiasm of the crypto community was based on a series of features that, at least on paper, made the chain feel like it had chances to replicate (or even surpass) the success of Ethereum. The Tezos price seemed to reflect this in 2018, maintaining its stability before going on an of 305% upwards rally.
Through the ICO era and afterwards, however, Tezos had to face a different competitor. The chain never achieved the fame or perceived relevance of Ethereum, being relegated to compete for headlines with Cardano, another Proof-of-Stake blockchain, which made the Tezos price suffer. Cardano, led by one of Ethereum's co-founders, had a whole year to build momentum and grow its ecosystem due to a dispute between the founding couple and a third founder, Johann Gevers.
The public feud over the control of the Tezos made early investors become impatient and file lawsuits to the American SEC to obligate Tezos to refund their ICO purchases, culminating in a $25 million fine. From this point on, Tezos' trajectory can be seen as a redemption act to regain the trust of cryptocurrency investors and secure partnerships to rival their main competitors.
So, does the tech stand up for itself? How does Tezos work?
Tezos is a layer-1 blockchain ledger with its own Proof of Stake (PoS) algorithm, Emmy. Tezos supports smart contracts and dApps written in Michelson, its own low-level programming language, or Liquidity, an easier-to-use alternative that translates into Michelson code. Without diving into technical specificities, Tezos proponents argue that Michelson's features and logic make it ideal for high-value, high-security applications from enterprises and sovereign states. Tezos has a learner-friendly developer portal for those wanting to start writing Michelson smart contracts.
However, Tezos' top features lie somewhere else.
An environmentally friendly blockchain
Proof-of-Stake reliance makes Tezos (and any blockchain utilizing it) more energy-efficient than their proof-of-work counterparties. Tezos features an annual energy consumption about 400,000 times lower than Ethereum (which still uses a hybrid of proof-of-work and proof-of-stake), despite being three times faster in transactions per second.
Tezos's extremely green energy footprint is currently one of its most appealing features. Several artists (two famous ones being PiaMia and Doja Cat) choose the Tezos blockchain to mint NFTs due to environmental (and likely also monetary) concerns with the Ethereum blockchain. Some platforms used for this are Hic Et Nunc (on which we'll expand later) and OneOf, platform to launch their NFTs due to environmental concerns. Ubisoft Entertainment recently announced the creation of its own NFT platform "Ubisoft Quartz", running on Tezos. Rarible, the famous NFT marketplace, has recently integrated Tezos as one of its supported platforms.
Tezos' Proof of Stake
If you're interested in learning how Ethereum's proof-of-stake system works, you might want to check out this episode of our podcast. On it, we interview the founder of Stakewise, a solution to allow anyone to stake their Ethereum.
Tezos' Liquid Proof-of-Stake model has its own characteristics, which differ from Ethereum's proposed Proof-of-Stake. For one, staked $XTZ (the Tezos cryptocurrency native to its ecosystem, similar to Ethereum's ETH, pronounced "Tez") isn't locked for a set amount of time (as with Ethereum). Second, users can delegate funds to a specific validator (or "baker") for shared rewards without transferring the full ownership of their coins.
Thanks to this model, called delegated-Proof-of-Stake (dPoS), users can delegate and stake even if they provide an amount lower than the minimum required to become a baker. For consensus, every 30 seconds, a baker is randomly selected to build a block. Two hundred fifty-six others can choose to endorse that block or not. Rewards are paid with transaction fees plus inflation, which's rate hovers around a stable 5%. Beyond just staking, $XTZ is used to pay for transaction/processing fees and to weigh votes on governance issues, thus being unequivocally tied with the demand to use and participate in Tezos' ecosystem.
Another unique factor about Tezos is that its governance and updates happen purely on-chain through voting, which is very rarely seen in Layer-1 blockchains. By having an official and formal way of approving modifications to its chain (unlike what happens in Bitcoin and Ethereum that rely on a somewhat centralized authority) that is directly registered in the blockchain itself, Tezos avoids disputes that may lead to hard forks and community fragmentation. The Tezos developers can only implement a change in the blockchain if an 80% Super-majority exceeding the minimum quorum accepts it.
Another interesting Layer-1 blockchain that visited our podcast was Themelio. Themelio features a unique consensus algorithm that relies on a stablecoin instead of a freely-fluctuating asset.
The last piece in Tezos' governance is the Tezos Foundation, a Switzerland-based organization supervised by the Swiss Federal Foundation Supervisory Authority. Although the foundation doesn't own, control, or operate the Tezos network itself, a good chunk of the funds raised in the ICO and some more –circa 1.2 billion USD – are kept in the foundation's coffers. The foundation then invests in promoting the Tezos protocol and the growth of its ecosystem, be it through security audits in Tezos' code or grants for new projects using the Tezos blockchain.
It is somewhat easy being green
Tezos has lately (and greatly) benefited from the environmental concerns surrounding blockchains and cryptocurrencies. We are not only referring to the sagas you know about NFT and Bitcoin electricity usage: ESG principles have taken over the investment world in recent years, putting tremendous pressure on companies to become green and on investors to start creating greener portfolios.
This has made Tezos ideal, as we'll see next, in the eyes of potential investors in use cases. A PoS, smart contract network is only as good as the array of projects and ideas it can host. This takes us straigth to…
Diving head-first into the Tezos ecosystem
Now that we've covered some of the history and technology behind Tezos, it's time to talk about its flourishing ecosystem.
Institutional adoption has been a dominant driving force of the growth of the Tezos ecosystem map. Tezos' smart contract formal verifiability, adequate and reliable performance, on-chain governance and low overall energy consumption fit like a glove to alleviate companies and governments' concerns while adopting open-source blockchain solutions with no central governance authority.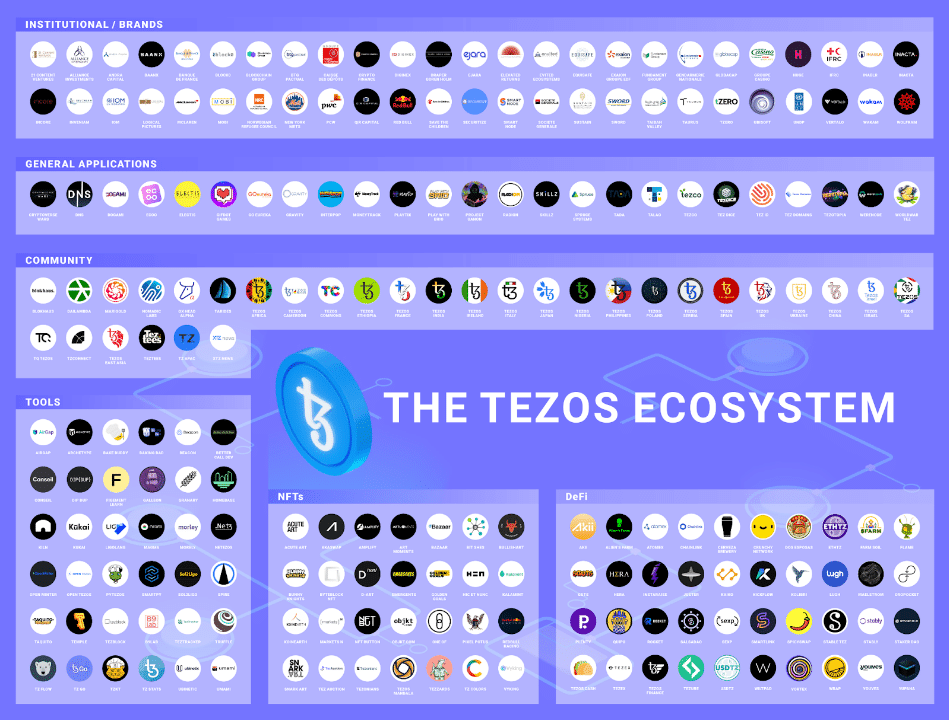 The Tezos ecosystem map continues diversifying, adding tools and projects for institutions as well as for the community. (Source)
For example, earlier this 2021, Red Bull Racing and McLaren Racing independently chose Tezos network to host their NFT fan experiences citing carbon neutrality goals. Clearly, the Tezos ecosystem is making waves thanks to its efficiency, as opposed to Ethereum, which makes them because of its security and popularity.
Tezos ecosystem's NFTs are at the height of its popularity, but they're not alone
Tezos price predictions are one of the most discussed subjects in the blockchain field. According to Marie Tatibouet, the Chief Marketing officer of the crypto exchange Gate.io, in December: "If the surge continues, then I see Tezos touching $6.50." The crypto market's unique volatility makes it hard to produce accurate forecasts, but even sources like Coin Price Forecast and Wallet Investor project a bright future for Tezos.
As we mentioned above, NFTs are a big reason why the Tezos ecosystem is experiencing a rebirth. Along with the companies above, and as we mentioned before, Ubisoft and OneOf also mint their NFTs in Tezos. These NFTs can (as of December 2021) be exchanged inside of Rarible.
The Berlin-based Fundament Group, the Brazilian bank BTG Pactual, the UK-based Globacap and Alliance, as well as US-based Elevated Returns and Securities all pick Tezos as their blockchain of choice to create and trade digital securities. Tezos' smart contracts are used to build financial services applications and cryptocurrency custody solutions by the Swiss company Taurus Group and Baanx.
The French government has also been increasingly invested in using Tezos to build blockchain solutions through government agencies and state-owned companies such as Caisse des Dépôts and the Gendarmerie Nationale. France also created a smart contract to authenticate transactions from grants conceded to the institution by the Europol. However, this all dwarfs when compared to the ongoing tests by Banque de France, which evaluates using Tezos to power the first Euro CBDC; albeit it's not clear if they plan to fork the blockchain or mint a token. Tezos fungible tokens follow the FA2 standard, analogous to Ethereum's ERC-20, which will be interoperable with the whole Tezos ecosystem.
Top Tezos ecosystem projects to look out for this 2022
As you know, at D-CORE, we specialize in finding early-stage disruptors. Our comprehensive research reports cover every aspect of these projects, from the team to its tokenomics and product-market fit.
As such, we have identified several projects in the Tezos ecosystem that could be (or already are!) fundamental to the development of its ecosystem. Whether they're DeFi protocols, dApps or NFT-related, we believe that these are all exciting subjects of analysis for those looking to participate in Tezos.
The name of each project's token is preceded by a $ in the following list.
QuipuSwap ($QUIPU): The biggest Tezos decentralized exchange
QuipuSwap is Tezos' biggest decentralized exchange and the go-to dApp to purchase Tezos-born (FA2 standard) fungible tokens, charging only a 0.2% fee, which goes to liquidity providers.
QuipuSwap is governed through the QUIPU token, a fixed-supply FA2 token that users will also use to pay for upcoming QuipuSwap services.
Hic et Nunc ($hDAO): One of the best NFT marketplaces
Hic et Nunc broke several records through 2021, becoming one of the most used NFT marketplaces at a legendary speed.
This platform uses a simple, minimalistic, open-source web interface for an entire NFT platform run through a proprietary dApp governed using the hDAO token. Its founder, Rafael Lima, envisioned Hic et Nunc as an experimental project to truly decentralize the NFT market while adhering to the ideal of "green NFTs", made possible by Tezos' low energy footprint. H=N's (the abbreviated name for the platform) cut of every NFT sale is currently only 1%, and minting NFTs through it is hundred of times cheaper than in the Ethereum network. The platform managed to outperform OpenSea in daily active users in May 2021, at the height of the NFT mania, for a short while.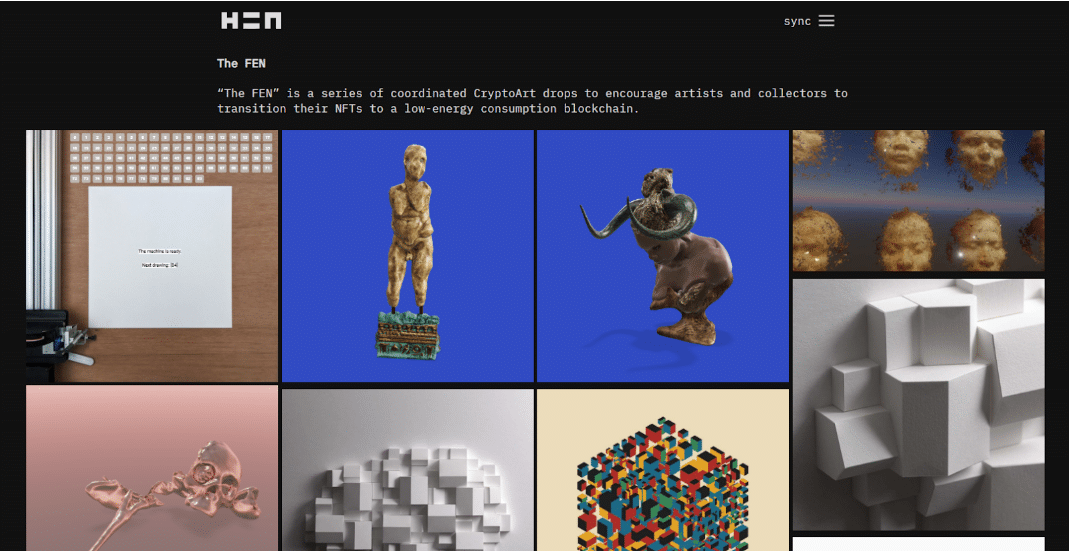 A big part of H=N's success is, undoubtedly, its simplified interface and artsy feeling.
Kolibri Protocol ($kDAO): Decentralized stablecoins for the Tezos ecosystem
A DeFi ecosystem is not complete without a collateralized lending protocol that mints its own stablecoin. And well, it also isn't complete, some might argue, without decentralized stablecoins.
Kolibri and the dollar-pegged kUSD are very similar to the Ethereum-born MakerDAO and its cryptocurrency DAI, the pioneer in this category. Kolibri has a liquidation threshold of 2:1 Tez to kUSD. The community can adjust all the protocol parameters through proposals in their governance mechanism, where votes are weighted using the kDAO token, which can be farmed by depositing LP tokens in their "Kolibri Farm" platform.
youves ($YOU): Synthetic tokens for DeFi
youves is a non-custodial platform for creating and managing synthetic assets. The platform is still at early stage, but already offers the uUSD token, a decentralized stablecoin backed by collateralized loans, and uDEFI, a DeFi index synthetic token tracking five large DeFi projects (Aave, CakeSwap, Chainlink, Terra and Uniswap). youves is self-governed through a multisig contract where two developers and five independent external parties hold the keys. Still, the platform plans to adopt a governance token model in the future eventually.
Plenty ($PLENTY): Plenty of liquidity around here
Plenty is a liquidity farm and decentralized exchange in Tezos, with 47 pools offering APYs of up to 700%. $PLENTY is their reward and governance token, which has a limited supply with slowed down minting similar to Bitcoin's halvings model.
SmartLink ($SMAK): A crypto escrow in Tezos
SmartLink provides Trust-as-a-Service solutions, the chief of which is their decentralized escrow platform, aimed at businesses and individuals looking to establish international contracts and anonymous transactions between untrusted parties. Their roadmap includes a DEX, $SMAK staking, a lottery dApp and a marketplace for goods, services and NFTs using their decentralized escrow solution.
What's in Tezos' future? And for the Tezos ecosystem?
As we mentioned, a unique feature of the Tezos blockchain is its on-chain governance. Tezos' major upgrades are called amendments. The network has undergone eight successful changes, with several proposals rejected by the participating nodes. Nodes that propose changes can attach an invoice – simply an amount of Tez they will receive if the submission gets accepted – which might be used to pay for most development efforts. When a voting period ends, these funds are created by inflating the Tez supply.
Some of these upgrades focused on tweaking network constants such as the gas limit for each block and each operation, block times, the roll size (minimum amount for a slot as a baker, used to calculate the weight of votes and the distribution of block rewards) and storage fees. Others provided additional features for Michelson and smart contracts built with it, improved its performance, refined the governance process and overhauled Tezos' consensus algorithm, which has gone through three iterations already (Emmy, Emmy+ and the current Emmy*).
Tezos' 9th proposed upgrade has been labeled "Ithaca", and it presents one of the most profound changes to their consensus algorithm to date. It parts away from a Nakamoto-style consensus mechanism because it doesn't rely on the "longest chain rule". In the case of a fork, block proposal windows are divided into rounds instead of waiting for a noticeable difference in the number of subsequent blocks mined between the two parallel chains to elect the longest as the legitimate one. Only one validator can propose per round during these rounds, with the others voting on its legitimacy.
The new way to achieve consensus deterministically would make the blockchain effectively quicker than Ethereum, even though its block time is almost two times slower. Ethereum users are recommended to wait for at least seven confirmations (two minutes) to ensure the transaction's validity, while two blocks in Tezos only take around 60 seconds. Staking rewards will now be paid immediately instead of being frozen for days before being redeemed. Other minor changes include more endorsement slots per block, a smaller threshold of Tez to become a validator, removal of rolls as a unit of participation in the network and a required security deposit for validators.