Oh, you didn't know the word Metaverse is 30 years old? Or that 1992 was precisely 30 years ago? Well, we might have a fascinating tale to tell you.
In 1992, the Sci-fi novel Snow Crash by author Neal Stephenson introduced the concept of a Metaverse. In the novel's fictitious world, users of a VR-powered post-Internet system use the Metaverse to escape their world's dystopian reality. This topic, as you might know, has also been explored in pop culture by the likes of Ready Player One and Black Mirror.
The word Metaverse and its associated meanings have been making waves in the crypto world for the past year. Still, it was Facebook's Meta announcement in late October that undoubtedly put the term back into the mainstream spotlight.

If you missed out on this year's action… well, this pretty much summarizes it.
The Metaverse definition
The Metaverse definition is exactly what you might expect given the word's origin. When people say "Metaverse", they often refer to a powerful VR world in which users can immerse themselves into an experience almost indistinguishable from reality by combining Virtual Reality with other technologies.
It's crucial to understand that "Metaverse" isn't a synonym of "virtual reality", although they go hand in hand. A metaverse is conceived to be a network of virtual 3D worlds rendered in real-time, experienced simultaneously by a theoretically unlimited amount of users. These worlds are persistent, in the sense that there is continuity of data and user interactions and their ramifications aren't meant to be reset or undone. The Metaverse concept also requires strong ownership, history, identity and payments mechanisms, and no other technology fits the role of providing these systems to these virtual worlds better than the blockchain.
To define Metaverse also requires mentioning the role augmented reality experiences can play in the real world. Some mainstream games, such as Pokemon Go. already implement these solutions to great success. With the creation of Google Lens and similar devices, the adoption of these technologies is only likely to grow.
A good example of what aren't metaverse experiences are VR games in which the user does not interact with others. Solo experiences like VR games tend to be interesting, but they still lack the interoperability part of the Metaverse concept – which can come in a later stage of the Metaverse's growth and evolution.
In the investment world, there has been a Metaverse stocks ETF since June. The Roundhill Ball Metaverse ETF, invests in Nvidia, Microsoft, Tencent, and many other companies that have shown interest in building the Metaverse. Asides from Facebook's announcement, we can also cite Neuralink's announcement that the company will begin human testing in 2022 as a sign that immersive virtual experiences are just getting started approaching the "real feel" of sensorial experience.
And so, thanks to the Zuckerberg Metaverse, Metaverse crypto prices skyrocket
The announcement by Mark Zuckerberg and his company prompted an almost instantaneous, magnitudinal price hike in Metaverse-related fungible tokens such as $MANA and $SAND. These are tokens of projects that, in one way or the other, could bring cryptocurrencies and blockchain into the Metaverse.
The surge in prices given Facebook's rebrand announcement highlights the perceived importance of the bets blockchain Metaverse projects are making, along with the interest in the inclusion of NFTs and other blockchain-based solutions in virtual worlds. NFTs, by design, are highly important tools for creators to benefit from the Metaverse, so it wouldn't be rare to soon see implementations, possibly by Facebook itself. Metaverses could have implementations for social networking and keep users hooked 24 hours a day, which is more than enough of a reason for Facebook to pursue them.
Where there is a trend, there is money to be made
This might be a good time to remember that there is an ongoing class action against Facebook for their alleged role in the bear market of 2017 (from our podcast archives).

Of course, as tends to happen in the crypto-verse (and elsewhere), different industry players quickly realized that Metaverse projects were likely to be where innovation and capital were to flow over the coming years. Many traditional tech and videogame companies have started to make moves into the trend, hoping to become important players in the Metaverse right from the time it starts to emerge.
While VR is hardly a new niche with many existing experiences (and, to be fair, known limitations), this cascade of interest has taken its derivates and integrations to a new dimension. Below, we've compiled some of the top crypto (and non-crypto) Metaverse projects (Metaverse tokens are signalled with a $ before their name). Remember this is not financial advice, just a number of pointers for you to get started on your research!

This crypto Metaverse ecosystem diagram shows you the richness and diversity of the space (Source).
Below is a list of the most well-known, more popular Metaverse crypto tokens and projects.
Decentraland ($MANA): Buy land on a virtual world
Decentraland is an open virtual world, the most popular so far, created by the private company Metaverse Holdings Ltd in 2015, going through a very successful ICO in 2017 that raised $24 million and launching in February 2020. Decentraland's virtual world is divided into 90601 parcels of land in a grid, each individually unique and represented as freely tradeable Ethereum NFTs, integrated with Polygon. Parcels are fully customizable through the Decentraland Builder, a tool that enables constructions and decoration of all kinds in a user's piece of land.
Apart from single parcels of land, there are locally-managed districts in Decentraland. Each one has its own rules and themes – including the cyberpunk district Aetherea and the gambling district called Vegas City, just to name a few. The rules of a district are set collectively by its parcel owners. There are also community-owned plazas, which all $MANA holders manage collectively and function as hubs for players to gather freely.
On October 21st this year, Decentraland organized the Metaverse Festival  in one of these plazas. The virtual music festival featured more than 80 artists, some of them even big names such as DeadMau5, Paris Hilton and RAC. Decentraland also features more permanent attractions such as NFT art museums and get-togethers.
Visiting Decentraland's world is completely free. $MANA, the game's currency, is used to buy wearables, exclusive avatar names and other NFT items. $MANA holders also perform governance procedures through Decentraland's governance portal. Their role in steering the platform is set to continuously increase until the DecentralandDAO gets complete control of the game's administration.
Gala Games ($GALA): A full blockchain game studio
Kent Barton, podcast friend, is ShapeShift's head of Research and Development and has published research on the Metaverse concept and ideas.
The blockchain gaming company Gala Games, maker of Town Star, Spider Tanks, and many other titles in development, seems to be poised to take a leading role in the Metaverse's evolution while staying true to blockchain's principles of decentralization and distributed governance through their token, $GALA. $GALA was in fact one of the biggest gainers in this November Metaverse crypto rally, skyrocketing by about 350%.
Gala's approach to game development is to prioritize exciting mechanics that make their games worth playing while integrating blockchain and play-to-earn features in an "almost invisible" way. Gala plans to implement compatibility features amongst their own games, a project they've come to call the "Galaverse". There is great expectation amongst the GameFi and Metaverse communities on what Gala will do. It seems like the organization will need to form partnerships and hire experienced professionals to take the following steps in their development, a process that they intend to begin shortly.
The Sandbox
($SAND): Sandbox Metaverse DAO to rule them all?
The Sandbox metaverse comes from a very successful 2D mobile game launched in May 2012 by Pixowl. Its evolution to a blockchain-enabled metaverse happened after being acquired by Animoca Brands, a Chinese software development company, in 2018. The SAND token ICO raised $7 million in 2019, and millions more by selling virtual land and other private funding rounds. Their NFT land representations are called $LANDs, and there are 166,464 single plots of land in a virtual world where users can build structures, place in-game NFT assets, and create free or paid minigames called Quests through the Sandbox Game Maker. The Game Maker is an integrated monetization option for $LAND owners. Some prominent Sandbox $LAND owners are Atari, Binance and Snoop Dogg. A neighboring lot to Snoop Dogg's "Snoopverse" recently sold for almost half a million dollars.
The $SAND ERC-20 token is used for all transactions inside the game world and in The Sandbox's NFT marketplace, and in conjunction with $LAND, it gives users rights to vote in governance issues for the Sandbox. The Sandbox is in a public Alpha development phase, where testers are rewarded with up to 1000 SAND and 3 NFTs for their early participation. As of today, The SandBox runs on a single centralized server, owned by Animoca Brands with little actual decentralized governance. A DAO that will eventually take over the game's administration is planned to launch in Q2 2022. Nevertheless, Animoca Brands has been crucial for securing partnerships and adoption for The Sandbox until now, making deals with gaming giant Ubisoft and Skyband Entertainment, a positive case of progressive decentralization.
Netvrk ($NTVRK): Blockchain VR systems.
NetVRk is a blockchain-powered VR platform and Metaverse currently in development. NetVRk is based on how our universe works and will have its own planets, towns, structures, vehicles, etc. The NetVRk Metaverse aims to reproduce enhanced physical and social interactions between people.
To achieve their vision of an ever-expanding Metaverse, NetVRk will provide its users with powerful and easy to use VR experience creation tools and ways to monetize this content if they so wish, with no coding or 3D modeling experience required. NetVRk aims to address the current lack of quality VR content that delays mass VR adoption.
Blockchain technology is used in the form of NFTs and the NTVRK token to establish ownership of objects, cosmetic items, and virtual real estate. The native token serves as currency for the whole ecosystem. An early-access release phase started in Q4 2021, but was recently delayed to Q1 2022. NetVRk intends to get its revenue with advertising spots and non-mandatory membership fees when the platform is fully up and running.
Axie Infinity ($AXS): Why does the Axie Infinity land come last?
The biggest play-to-earn NFT game, Axie Infinity, is enjoyed daily by an enormous user base of over 2 million people. Axie is also constantly mentioned in articles and discussions about the Metaverse.
So, why are we leaving it for last?
Simply put, Sky Mavis' (the company behind the game) plans to leverage Axie's popularity into the new paradigm of internet interactivity are far from clear. This is not bad for the game itself: Some projects do far better sticking to their target niche rather than going above and beyond trying to enter a new one.
While Axie hasn't pioneered any Metaverse-like features, this doesn't mean they are non-existing, as some are getting rolled out in "Lunacia", Axie's world. Tokenized pieces of land are being introduced in the game, with 90601 individual plots, in which owners can find buried AXS tokens and other resources used to improve their property. Sky Mavis also aims to launch the Lunacia SDK, a toolbox for creating minigames and other user-generated content hosted in a player's plot of land.
Is Metaverse a blockchain? No, but there are many prominent Metaverse stocks and companies
What is Metaverse hype without companies outside the blockchain realm jumping into the trend?
As we elaborated above, the definition of Metaverse stock was, quite literally, born out of the possibility for established capital and reputation of tech firms moving into the Metaverse.
From the known Facebook Metaverse news to other players' incursion, the most prominent firms are: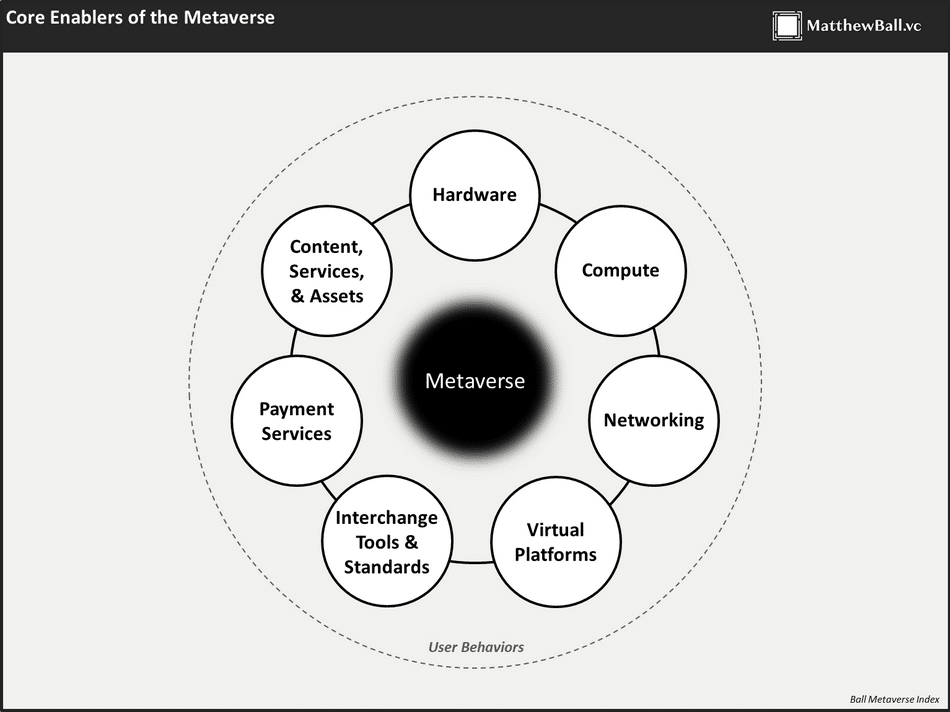 This diagram illustrates a number of areas that are critical for Metaverses to emerge and thrive.
Meta (formerly Facebook)
Facebook, Metaverse, Metaverse, Facebook… a new synonym, or appropriation of a word?
On October 28, Facebook's founder and CEO Mark Zuckerberg made his bet on the Metaverse known to the world with the company's rebrand to "Meta Platforms". Since the acquisition of Oculus in 2014, Meta has increased its investment in VR, with 20% of their workforce dedicated to VR/AR technologies. They have also destined about $5 billion yearly to projects related to the Metaverse. According to his vision of the Metaverse, Mark Zuckerberg believes it to be the natural next step of the evolution of social media, with the potential to have a significant impact in work and education environments. It's also important to remember that, while Facebook as a platform has fallen out of fashion, the company also owns Whatsapp, Instagram and Oculus.
Alongside the rebrand, Meta announced Project Cambria, a new premium line of VR headsets with gesture and facial expression tracking capabilities. They are also investing in VR software for building and customizing virtual spaces for hosting dates, gatherings or parties.
NVIDIA: Bitcoin mining turns Metaverse
NVIDIA has been hugely successful in the crypto realm with its cards, chips, and GPUs for crypto mining. Now, the company seems to be making a move (both voluntarily and in public opinion) towards the Metaverse.
While Meta's commitment to the Metaverse idea couldn't be clearer, it's fair to say that NVIDIA's role in bringing the concept to fruition will be significantly larger. NVIDIA's investments in new physics simulation algorithms and 3D rendering technology enabled real-time rendered simulations leveraging their latest advancements in the hardware front throughout the last few years. The ever-increasing demand for VR capable devices that can instantly and consistently generate scenes happening in real-time on virtual worlds necessitates a relentless pace of innovation by graphic card manufacturers.
NVIDIA has released their 3D scene creation and rendering tool in open beta on the software front, the aptly named "Omniverse". Omniverse will grow into a whole suite of tools to create the building blocks of the Metaverse, including audio, objects, characters and animations, being able to interconnect with most existing 3D rendering software and game engines. The Omniverse integrates NVIDIA's state-of-the-art simulation solutions to make possible the creation of "digital twins": replicas of machines, buildings or any physical system used to simulate wear and tear, estimate the impact of changes on their layouts and composition, train robots to operate on those environments even before its actual construction and many other impactful applications for the corporate world.
Microsoft's Metaverse efforts
As it's to be expected from LinkedIn, Teams, Office and GitHub's parent company, Microsoft joined the scramble for relevance on the construction of the Metaverse, presenting a work-focused solution: Mesh for Teams.
The Teams add-on functions in two layers, where the first allows anyone in a call to substitute their webcam feed with their own 3D rendered avatar, which reproduces the user's expressions with a natural feel. The second layer is an immersive and interactive 3D space for collaborative work and conversation to improve the remote work experience and team synergy.
Microsoft owns Xbox, one of the most relevant video game companies with dozens of game studios as subsidiaries, and Hololens, their virtual reality headset division, competes with Meta's Oculus line. Microsoft is one of the heaviest investors in mixed reality, therefore, their position to become one of the largest players in the Metaverse is thus very likely to come to fruition.