The NFT mania is back at the top of its game, and we're sure you have thought about jumping at it. Hell, some mornings, one does feel like rolling out of bed and picking up a 1.2 ETH picture of a stickman to make a stranger's day. It's tempting to start looking for where to buy NFTs.
NFT art marketplaces feature a different array of people than their real-world counterparts do. There is less wine, fancy dresses, and money laund… ehrm, loud auctioneers going on. People are often in their pajamas, at home. However, the social signaling, rituals, and thrilling glamour are still there. They're just expressed in different ways.
Before you go all-in into an NFT marketplace (and yes, we WILL eventually tell you where to go shopping), let's take a quick look at why you should care about NFTs, what NFT trends you should avoid, and whether your investment can be a good idea or not.
Hopefully, this will make you both a better investor and more technologically aware!
Ground zero
Now, since you're reading this, we're already assuming you have at least a base-level understanding and knowledge about NFTs. If not, we'd advice you to quickly go and pick up a free copy of our 2021 Institutional Blockchain Investment Guide, in which we review the technology behind NFTs and the crypto industry in detail.
Now, as many have pointed out, NFT art is just one use case for this technology, and it might very well be the most frivolous one. NFTs have incredible applications that can apply to gaming, the cryptocurrency industry, healthcare, record-keeping, and many more areas.
And so, buying art might be fun, but it's not necessarily the best investment to profit off the NFT-zation of the world
There are three factors that you should consider before investing in NFTs. Let's quickly go over them:
Factor #1: NFT liquidity and underlying value
Of course, if you're investing in something, that means that you're expecting it to:
Have a fair value in the market or, in a best-case scenario, be undervalued.
Be able to retain its current value (but overcoming inflation!) or increase it over time.
Have sufficient demand on the market so that you'll somewhat easily be able to sell it once you want to cash in your investment.
Now, this topic has lead to incredibly long-winded discussions both in the crypto world and outside of it, so it's essential to review whether (all) NFTs should be considered valuable.
In this clip from our podcast we analyze possible outcomes for NFTs along with ShapeShift's Head of Research, Kent Barton.
Suppose you compare a one-of-a-kind (an important distinction that we'll touch on later) piece of NFT art to a "real" one. In that case, there should be some degree upon which that, just like one-of-a-kind paintings or sculptures are rare (and therefore valuable), this should translate to digital art as well.
However, to preserve this value, you also have to make sure that your digital piece won't be made fungible. This might happen either through social or legal contracts. A social contract could be the artist having its reputation attached to the fact that, ultimately, she would be hurt the most by pirating her own work.
And, if the work is indeed Non-Fungible, this can suffice.
We stumble into "intrinsic" value.
Suppose you assure that the piece of art you're dealing with is, indeed, Non-Fungible, and it won't be made so by any third party. In that case, expertise, creativity, and the range of qualities we classify as "talent" can make it attractive and desirable.
This episode of Blockchain People dives into the purposes and use cases for NFTs along with the CEO of CoinBurp, one of the UK's top crypto wallets!
Value is rarely something palpable, and people can rationally explain. The financial markets have made us greatly aware of that. We attach "value" to things in which we see utility, beauty, brilliancy, originality, or even potential. Therefore, our purchases become reflections of "taste", an extension of our personality.
Should the value of the NFTs you plan on buying lie on these qualities, you can rest assured that someone else might empathize and identify them as well. Therefore, you should strongly consider whether your purchase is motivated by hype or appreciation.
Factor #2: Long-term potential
At this stage, you should consider the potential of your investment.
Now, if you genuinely want to stumble upon a gem that increases its value over time, you need to put your trust in your critical eye. That is, of course, if your goals are financial.
It would help if you also considered that, in the long term (or even in the short one), there are no guarantees that you might be able to find a buyer for your NFT. The market may have declined, the demand might be too low, and the supply too high (in the real art world, roughly 10% of the artists make up for more than 90% of the sales revenues). There could also be economic crises, or we could realize that the pieces we bought at this stage were grossly overvalued, with a much lower floor making investors immediately fall at a loss.
Because we cannot predict the future, a smarter move might be to invest in the upcoming blockchain stars creating solutions based on NFTs. We've written at length about how to spot industry disruptors and our unique methodologies to do that, so we won't dive into that on this occasion. You can always find relevant articles and content about it on this site.
The next NFT disruptor might be coming from a variety of industries: Healthcare, digital identity, cybersecurity, financial options, etc. However, we're sure that looking for interesting projects to invest in within this developing field can be more productive than betting on individual pieces of art to flip for a profit.
Factor #3 (and perhaps the most important): Are you really buying an NFT?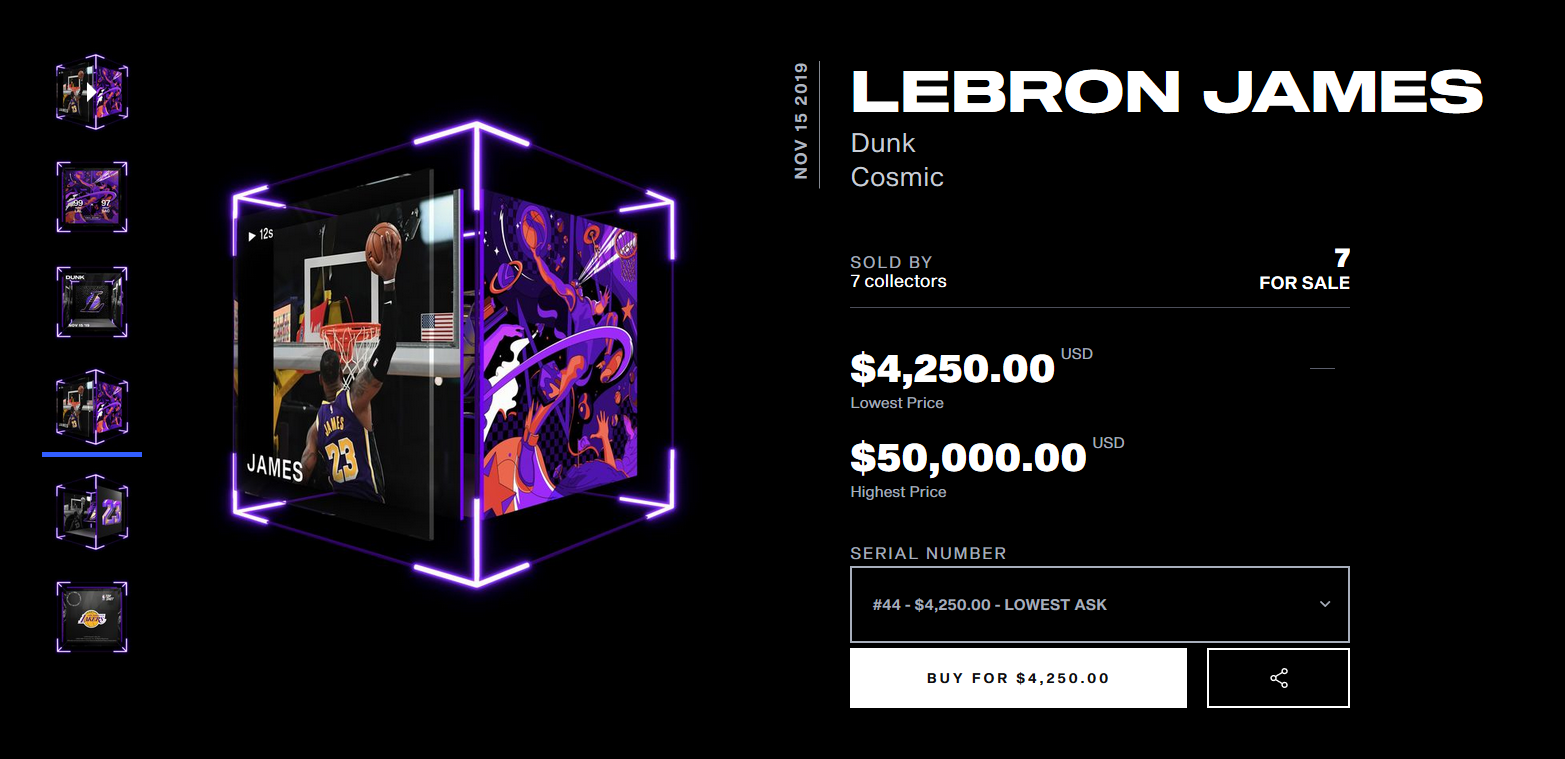 NBA "Top Shots" are marketed as NFTs, although in reality they're limited-edition fungible tokens.
The NFT craze is currently missing, and we'd like to raise to your attention that, by definition, an NFT should be non-fungible. That is, a user should not be able to use another token interchangeably for the same purposes. Therefore, whenever you issue a limited number of copies of a given art piece as "NFTs", you are in reality issuing a series of very much fungible tokens, even if you're just dealing with two copies.
And this is important because…
It might be a matter of time before the difference between limited-edition tokens that are fungible and real Non-Fungible Tokens, becomes a discussion centerpiece, particularly once regulators get more involved. Given this distinction, some might consider that people offering the former as NFTs might be stepping into a problematic field.
Because of this, both in value terms and as investments, we'd advise you to predominantly bet on NFTs that are really non-fungible, or at least have this difference in mind when purchasing pieces.
And well, before leaving, if you're still convinced… Here's where to buy NFTs!
You made it until the end! As promised, here's a list of the most well-known NFT marketplaces and their differences:
Curious to learn more about D-CORE? Click this button to speak with one of our specialists and discover how D-CORE's research can benefit your blockchain business.