Ok, probably you SHOULD expect China to ban crypto, based solely on the fact that they do so every now and then. No biggie. However, if you are interested in crypto regulation, you may have noticed that the waters have been… strangely calm lately.
The crypto regulation panorama is constantly shifting, with progressive jurisdictions leading the pack while others do their best to step on the brakes. However, as far as the game goes, there is always something happening, and things seem to be moving in a positive general trend.
In this article, we'll attempt to clear out what crypto regulation in 2022 might look like. We don't have a crystal ball, but we do happen to have a thing or two to say in that regard!
Meet the regulators deciding crypto legislation in 2022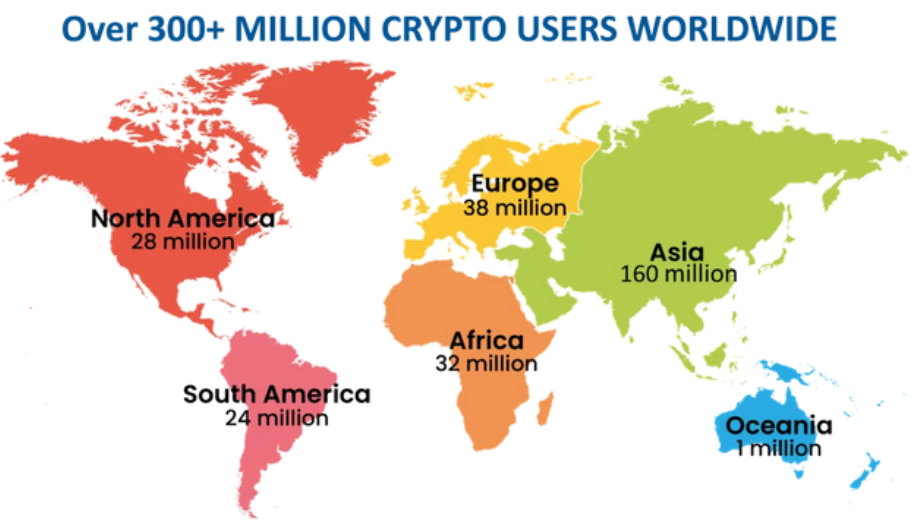 We are all just one big family, after all! (Source).
Next year, we expect a significant part of the decisive regulatory struggle to occur in the U.S.A. and Europe. Africa and Asia have a great number of crypto users. Still, African jurisdictions either don't try to regulate cryptocurrencies or just copy-cat Western regulations, while Asia has two wildcards: China and India.
Both China and India have banned and unbanned cryptocurrencies in the past, and their guidelines to deal with Bitcoin and other cryptos are not at all clear. Therefore, it is more likely than not that there will continue to be uncertainty on both grounds. Both are also exploring launching their Central Bank Digital Currencies (CBDCs), which can increase or decrease the pressure on "competing" cryptocurrencies.
This leaves us with Europe and the U.S. to look at, both of which are also attempting to launch digital currencies (particularly England, although not considered Europe anymore) and aim to make near-definitive statements both for the regulation and taxation of crypto.
Let us start with the latter.
U.S. crypto regulation: A love-hate story, with a lot of hate.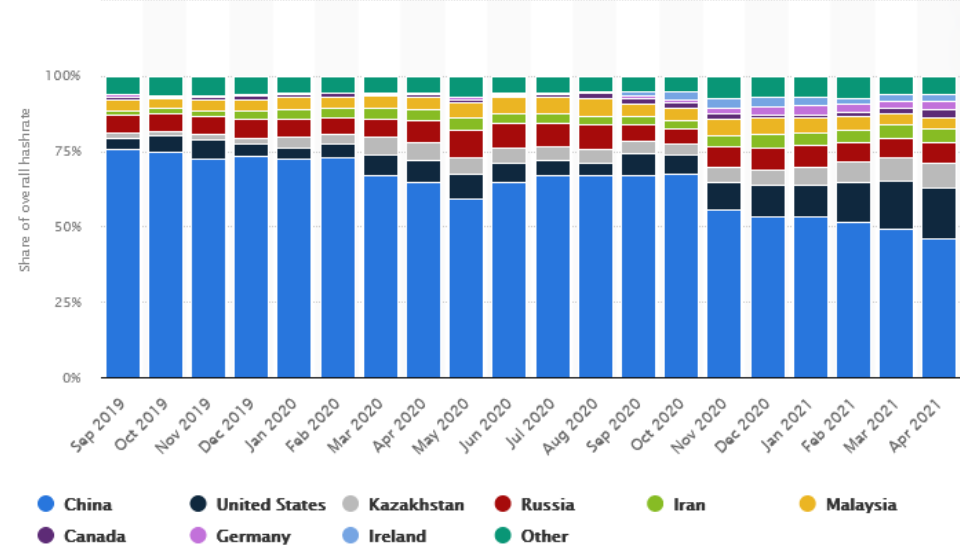 The U.S. accounts for a big percentage of mining rate, something that has only scaled due to Chinese pressures on miners (Source).
If you ever wondered why the US is so important to crypto, the most straightforward metric you can look at is the number of miners in America. 16.85% of the BTC mining power worldwide is concentrated in the US, and more than 10 percent of all Americans invested in crypto over 2020, according to a survey by the University of Chicago.
In this survey, 13% or respondents said that they either bought or traded cryptocurrency in the past 12 months. By comparison, 24% of Americans invested in stocks over the same period.
All this plus… well, the SEC.
A guest from our podcast, Aaron Kaplan, is of the opinion that the SEC's guidelines will eventually be undertaken by the whole world. Aaron also thinks that cryptocurrencies are more likely than not to be considered securities across the table.
The US is also home to one of the most stringent regulating bodies in the world, the Securities and Exchange Commission (SEC). As the SEC itself states, the body has a three-part mission: Protect investors, Maintain fair, orderly, and efficient markets, and Facilitate capital formation.
The SEC is controversial by its own right, and has on many occasions made statements about cryptocurrencies that made enthusiasts think that their technical knowledge was lacking. The SEC has also faced criticism due to its response to the different economic crashes within its lifetime, something somewhat ironic should one consider that the SEC was formed after the crash of October 1929.
Despite crypto-enthusiasts' antagonism towards the SEC, the institution, at its core, has investors' best interests at heart. The main purposes of the organization center around the following notions:
Companies offering securities for sale to the public must tell the truth about their business, the securities they are selling, and the risks involved in investing in those securities.
Those who sell and trade securities – brokers, dealers, and exchanges – must treat investors fairly and honestly.
Another regulator turned crypto innovator is Pelle B, whose company Notabene aims to provide plug-and-play compliance solutions.
The SEC's decisions are of great importance to cryptocurrencies since the imposition of rules over digital assets will determine how the most prosperous nation in the world reacts to this asset class. If the purported benefits of this kind of assets are to come to fruition and Web3 becomes a reality, the US is likely to mark the world's rate of adoption.
Fortunately, legislation is not (yet) required to begin addressing the many concerns around digital assets. Regulation, as well as the SEC's interests, seem to have found their pace to advance in their understanding and governance of the crypto-verse.
Regulators play a crucial part in ensuring that financial markets are safe from fraud and manipulation. They can and should use their authority to limit greenhouse gas emissions, protect consumers, and ensure that lawful practices to protect investors are followed. Because of this, a great deal of innovation is still hanging in the air, pending regulatory clarity to proceed.
To this day, one of the worst things that can happen to a crypto project is being accused of running an "illegal securities offer".
Crypto regulation and the most important institutions in Europe
Europe is a unique ground since it hosts a wide array of crypto companies and has a prominent tech scene. However, due to the many countries that share a relatively small space, it is still challenging to determine a general direction.
In Europe, it is important to look at the individual regulatory bodies of particular countries and the EU's measures, as well as any treaties among several parties. For example, Germany's Financial Supervisory Authority (BaFin), France's Autorité des Marchés Financiers (AMF), Italy's Ministry of Finance, as well as Bolsas y Mercados Españoles (BME) from Spain, share a treaty. Authorizations and licenses granted by any of these regulators can then "passport" through the continent, allowing operators to act under a single regime across the entire bloc.
Exchanges that deal in QFi's (Qualified Financial Instruments) are regulated regionally, and firms can rely upon their existing QFi licences to provide crypto products and services. There is, however, a great number of EU legislation and rules that crypto offerers need to comply with, including "AML/CTF, CRD/CRR, EMD2, MiFID II, PSD2, compensation, margin, deposit, and sanctions obligations."
An EU draft document recently expressed concerns about the risks of private digital currencies. The document also confirmed that the European Central Bank is considering crypto regulation as well as the possibility of issuing its own CBDC. The EBA is promoting the adoption of a Single AML/CFT Rule Book across countries. Member states would be obliged to follow this without exception which could be negative for the continent's crypto hubs that have benefited from innovating quickly, such as Malta and Estonia.
Different consumer protection laws and acts apply in different European countries to regulate the crypto industry's conduct.
Is the recent Elizabeth Warren crypto saga the key to understand Bitcoin regulation in 2022?
Elizabeth Warren recently saw herself as the center of a strong controversy about crypto regulation. Senator Warren stated:
"While demand for cryptocurrencies and the use of cryptocurrency exchanges have skyrocketed, the lack of common-sense regulations has left ordinary investors at the mercy of manipulators and fraudsters. These regulatory gaps endanger consumers and investors and undermine the safety of our financial markets. The SEC must use its full authority to address these risks, and Congress must also step up to close these regulatory gaps and ensure that every investor has access to a safe cryptocurrency marketplace."
While Sen. Warren's approach might have not been the best, she isn't completely wrong. During the six-months between October 2020 and March 2021, at least 7,000 people suffered losses from cryptocurrency/related scams, resulting in a great total of $80 million in losses.
The crypto community, however, didn't take positively to Warren's remarks and the subsequent hearing she held with experts to discuss the opportunities and risks that digital currencies present. This discontent originated in the perception of Warren being biased against financial innovation. More controversy followed as Warren released Robinhood's response to her February 2, 2021 letter about the GameStop market manipulation scandal involving Robinhood.
From Warren's focus, along with the biggest known regulatory risks for cryptocurrencies, we can draw some ideas of what the crypto regulatory panorama might look like in 2022. Some of these risks are:
A crackdown on crypto exchanges that are unregulated or do not follow AML procedures
One of the biggest risks for crypto users is when regulators target custodial, centralized exchanges. When we look at the causes of AML risks in these exchanges, we can see that there is risk both from ingagatory procedures uncovering shady tactics or simply of the impact of an unfair measure, as well as risks from exchanges themselves operating nefariously.
Typical risks for exchanges could be, for example:
Records of transactions being leaked, sold or stolen.
Security vulnerabilities and code being published or exploited in exchanges' systems.
Malicious software running on exchanges.
The use of these platforms to finance terrorism.
Because of this, cryptocurrency wallets and exchanges need to develop AML and KYC programs. These focus on identifying users as well as submitting them to data analysis to determine the flow of their funds.
Stablecoin risk
The Treasury Department and other government agencies, particularly in the US, are moving urgently on a tighter regulation of stablecoins, a sector that is quickly growing.
The Biden administration aims to exert control over stablecoins as the country prepares for the launch of a CBDC. This topic has generated increased concern and many in Washington, as whatever crackdown on cryptocurrencies might mean the country losing a competitive advantage against China in cryptocurrency adoption.
Since stablecoins are key for maintaining liquidity with a degree of security within the crypto ecosystem, these measures have resulted in significant lobbying from crypto executives. The Treasury Department aims to regulate the process of creating new stablecoins, install security systems to protect privacy and user data and implement consumer protection measures. Similarly, laws dedicated to the use of stablecoins in money laundering and tax evasion are being discussed.
Perhaps the poster boy for the cases of stablecoin-related risk is the fraud investigation into Tether, which settled with an agreement prohibiting the company from doing business with customers in New York and ordering it to regularly disclose audits of its reserves. Being the most popular stablecoin in the crypto market, a blow to Tether could simultaneously result in a crypto market catastrophe and thousands or millions of positions liquidated simultaneously.
If you connect the dots… it all leads to DeFi
A great conversation surrounding DEX regulation and creation of these platforms involved one of the creators of Clipper in our podcast.
Decentralized tools developed as an alternative to our current traditional financial system established on trust. In traditional finance (which includes centralized crypto exchanges) intermediaries are required to hold clients' assets and perform transactions. The regulation for these models is only partially applicable to the decentralized world, which predicates a lack of intermediaries as the future of all tech.
However, there have been more than one instance of decentralized crypto exchanges being developed by centralized companies. These exchanges (sometimes developed by for-profit companies in the US) have received inquiries from regulators on more than one occasion. This leads to a curious phenomenon that our guest in the video above, Mark Laurie, calls the decentralization dilemma.
Basically, Laurie explains, the dilemma consists on the fact that, to effectively and efficiently develop a decentralized protocol, the ideal way setup is to have a centralized company do it. However, in these cases, a company might have to register their product and officialize it to not incur any possible offenses to the law. Therefore, Mark proposes a system in which there is a clear, regulated path to decentralization.
In 2022, crypto regulation is incredibly likely to center itself around DeFi regulation
Generally, crypto exchanges are required to register as national securities exchanges with the SEC. This takes us back to the decentralization dilemma, as, needless to say, more and more projects are aiming to innovate in the DeFi space and launch a permissionless protocol. This process takes considerably less time and money than registration and allows them to compete on a newer, growing playing field, which might be attractive for many startups.
In a panel at a Bank for International Settlements (BIS) event, the SEC Commissioner Hester Peirce, acknowledged this decentralization, noting that a lot of DeFi protocols are not centered around issuing securities and assets, rather developing borrowing, lending, and less popularly, insurance protocols. However, he warned about DEXs and Automated Market Makers (AMMs), as those could, depending on the circumstances, be considered to fall within the SEC's purview.
In Summary
It is clear that, with many more projects launching in the DeFi space, crypto regulation in 2022 will likely have a strong focus on stablecoins, anti money laundering practices, and regulating decentralized protocols. It is to be expected that DeFi continues to grow and engulf great amounts of value, particularly while institutions continue to jump about the DeFi train and as Ethereum 2.0 launches.
While a fully decentralized protocol cannot by any means be regulated or censored by any entity, it is an unfortunate truth of the current landscape that only a handful of projects are fully decentralized. Therefore, some might say that the best possible path to evolve this system would entail the development of better ways to comply in the path to decentralization.
We hope you enjoyed this article and continue to check out D-CORE's materials!
Curious to learn more about D-CORE? Click this button to speak with one of our specialists and discover how D-CORE's research can benefit your blockchain business.