Networks & Protocols
OpenSea will now support Arbitrum Nova and join its Data Availability Committee (DAC). Arbitrum introduced Arbitrum Nova chain focusing on social and gaming use cases.
The initial public version of Cairo 1.0 was released this week, allowing developers to start writing and testing Cairo 1.0 programs. However, the team is still actively working on the project, aiming to deliver feature parity with Cairo's older version in the upcoming weeks. According to Defilama's data, Cairo stands fourth in terms of TVL dominance among all other languages in the market.
Saga is collaborating with Celestia Labs to introduce 'Sequencers-as-a-Service' to scale their rollup architecture. Despite providing a viable scalability option, rollups often battle with centralized sequencers and complex technical challenges for developers. Both teams are committed to solving these issues with their new solution. Learn more about Celestia in D-Core's report here.
The Saigon Testnet is transitioning to DPoS architecture to prepare for Ronin's upcoming Mainnet launch. This will enable RON, the native token, to be staked on the Mainnet once completed.
Mainnet beta Explorer and Solana Foundation Public RPC endpoints went offline as the RPC node software was upgraded, following a bug in test release 1.14. Block production has not been impacted due to this, and the Solana network has not been impacted.
A governance proposal submitted by Gauntlet containing an error resulted in Moonwell users being affected. Gauntlet is expected to pay 70% of the damage, with the rest to be taken out of the reserve. CT has estimated that the total damage would be approximately $771k. As part of Moonwell's risk management strategy, Gauntlet is tasked with submitting protocol update parameters.
Mycelium reported an exploit due to a situation that occurred in its ETH-USD Liquidity Pool. A discrepancy in median prices caused by the reference price feeds seems to be the cause of this exploit. A full post-mortem is yet to be released by the project for further insight on this issue.
Balancer alerted LPs to take out their liquidity from multiple pools due to a vulnerability arising from an Emergency DAO proposal aiming to prevent another issue. Consequently, LPs have removed around 85% of the liquidity from these pools, and the team is actively working to fix the situation.
An Immunefi researcher prevented a $200 million hack on three Polkadot parachains. Link.
MEV Boost
The overall count of MEV Boost relays remains at 10, with Flashbots maintaining a dominance of 72%. Thanks to its initiatives encouraging increased competition in the relayer market, Agnostic Relay has witnessed a steady rise in its market share to 1.1%.
Meanwhile, Manifold introduced Geth Sealer, a Geth extension that enables building blocks externally for faster iteration of searching and building strategies. Geth Sealer also enables speculative execution and backtesting.
Recent research examining MEV's influence on Curve has deduced that arbitrage bots have taken out more than $10 million in value from Curve pools, whereas sandwich bots have earned $0.98 million. Full report here.
Apart from Ethereum, Skip Protocol recently shed light on MEV on the Cosmos blockchain.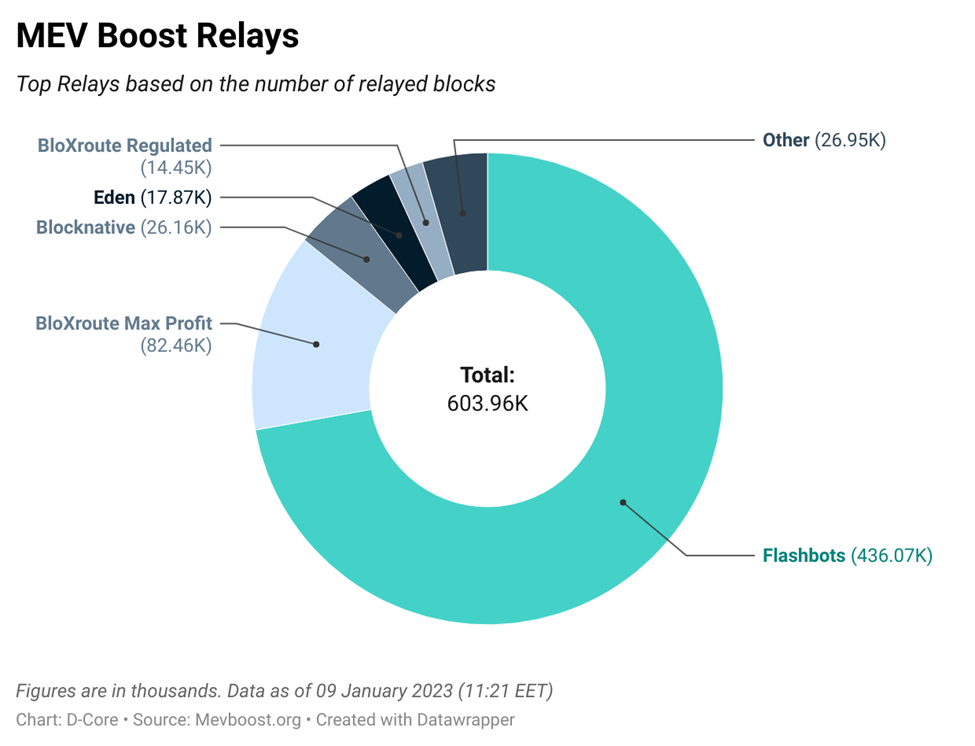 CeFi
In light of the current market conditions, Wyre is making alterations to their withdrawal policy, allowing customers to withdraw only up to 90% of their accounts, subject to daily limits. The firm is currently looking into strategic options to tackle the situation and has changed the top management-Yanni Giannaros is now the Executive Chairman, and Stephen Cheng, the former Chief Risk and Compliance Officer, is the interim CEO. A link to the full community update is here.
In a recent public statement, Silvergate Bank announced a 40% workforce reduction and revealed they would take an impairment charge of $196 million on assets acquired from Diem Group. Consequently, the bank's launch of a blockchain-based payment solution is no longer imminent.
Crypto payments up by 60% in e-commerce in 2022, according to CoinGate data. Payments in BTC prevail over altcoins. Link.
Venture Activity
As we transition into the new year, venture activity in the week has been bland, with projects raising only $8.5 million in January. The revised figure for December is now $720.80 million.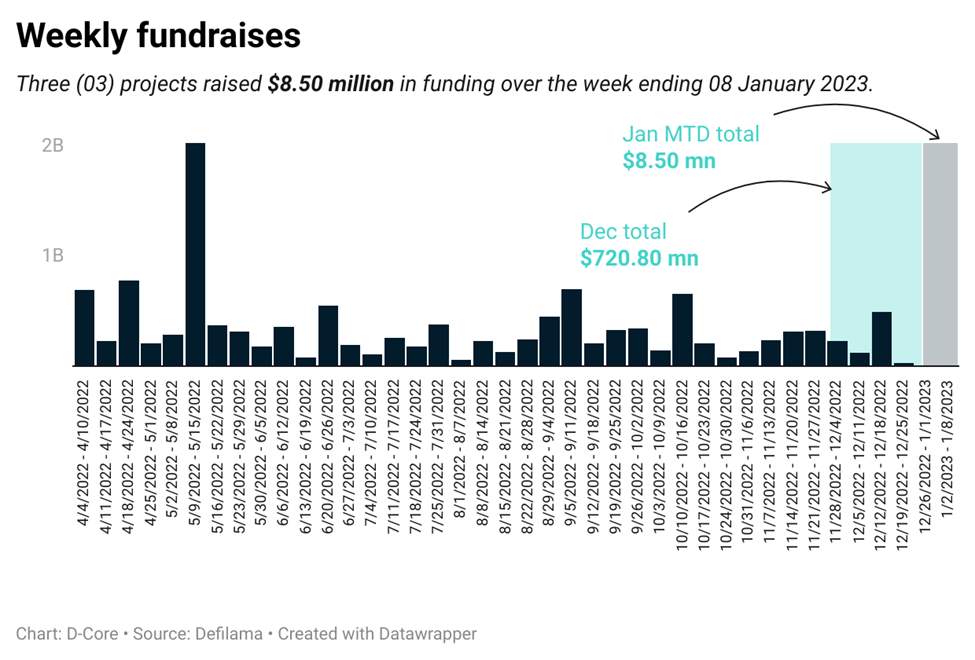 There were only three reported transactions in the week ending 8th January 2023.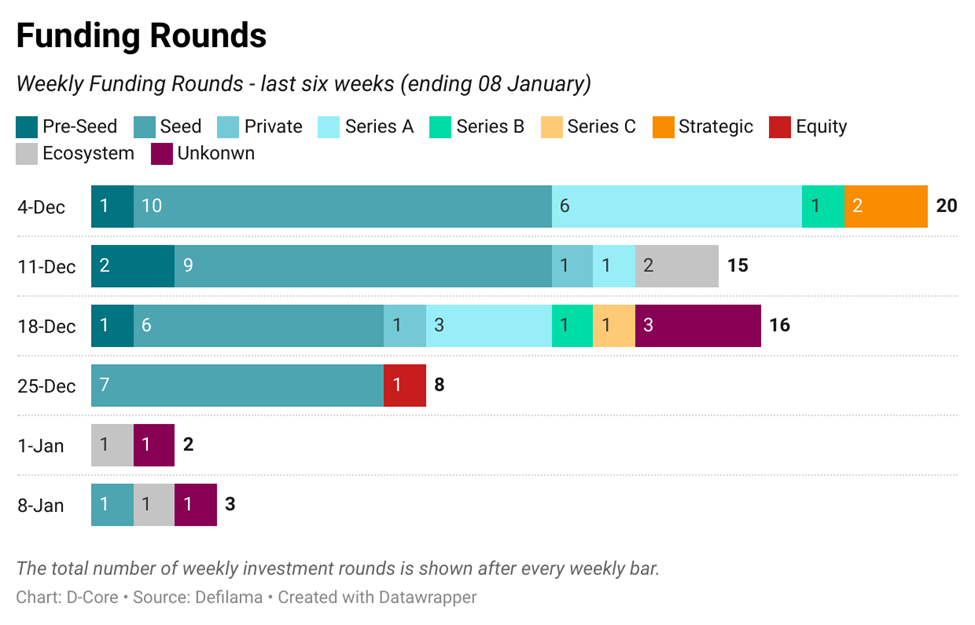 In the week ending 8th January, the three deals represented CeFi, GameFi and Infrastructure.