Networks & Protocols
In a move by Yuga Labs to embrace Ordinals, the company unveiled 'TwelveFold,' an exclusive collection of 300 generative pieces that would be inscribed onto the Bitcoin blockchain. This appears to be part of a larger trend emerging from the Ordinals project. On 5th March, Yuga Labs initiated the auction process, which is open for 24 hours. The auction procedure followed by Yuga Labs did come under criticism, particularly by the creator of the Ordinals project, Casey Rodarmor, who was outspoken in his criticism via Twitter.
D-Core recently published a report on the Ordinals, and the link to the report is here.
The recent dispute between Alpha Homora V2 and Iron Bank has left platform users in limbo, with their funds unable to be accessed or withdrawn. The disagreement is reportedly focused on debt repayment as the two sides continue negotiating and searching for a mutually satisfactory solution. As evidenced by the tweet from the Alpha Homora, both partners appear determined to find a resolution as soon as possible.
Uniswap Labs introduced the Uniswap mobile wallet, a self-custodial and open-sourced mobile app. However, the app was available as a limited early release (only for 10k users) through Apple TestFlght, due to Apple needing to approve a full release.
Uniswap Foundation also announced the Uniswap Bridge Assessment Committee that will assess and make recommendations on eight bridges and three bridge-agnostic solutions. A summary Tweet thread here.
NEAR Blockchain Operating System (BOS) went live on Alpha this week to coincide with the NEAR Day at EthDenver. BOS is a composable frontend for Web3. It will allow end users to easily and frictionlessly discover all of Web3's possibilities in one seamless experience. For more recent updates, refer to NEAR Blog here.
Aleph Zero announced a major upgrade to Aleph Node to push ink! 4.0 stable release to the Testnet. Moreover, the contract storage fee has been largely reduced—by a factor of 25x. This stage will be followed by releasing ink language smart contracts on the Mainnet.
Pancakeswap v3 set to go live on BNB Chain in April.
The staked assets hub, Supernova, decided to close the project, citing growing uncertainty of the relevant regulations and growing competition.
MEV Boost
The Relay Market progressed on its usual path to more diversification of dominance away from Flashbots. The Ultra Sound Relay's ascension to the third highest ranking was noticed in the week.
In addition to the ongoing developments within the Ethereum ecosystem, there's progress being made in other ecosystems.
Skip Protocol and Osmosis introduced Protocol-Owned Builders (POB), a fully in-protocol and generalized MEV capture solution. The Protocol-Owned Builder solution builds on learnings from the Skip x Osmosis ProtoRev collaboration. POB is an alternative to Ethereum's PBS. Further details on POB are provided in this Blog post.
Duality announced Multiplicity, a modification to the Tendermint consensus that enables full on-chain MEV capture and redistribution to Duality LPs. The project aims to open-source it in Q2 of this year.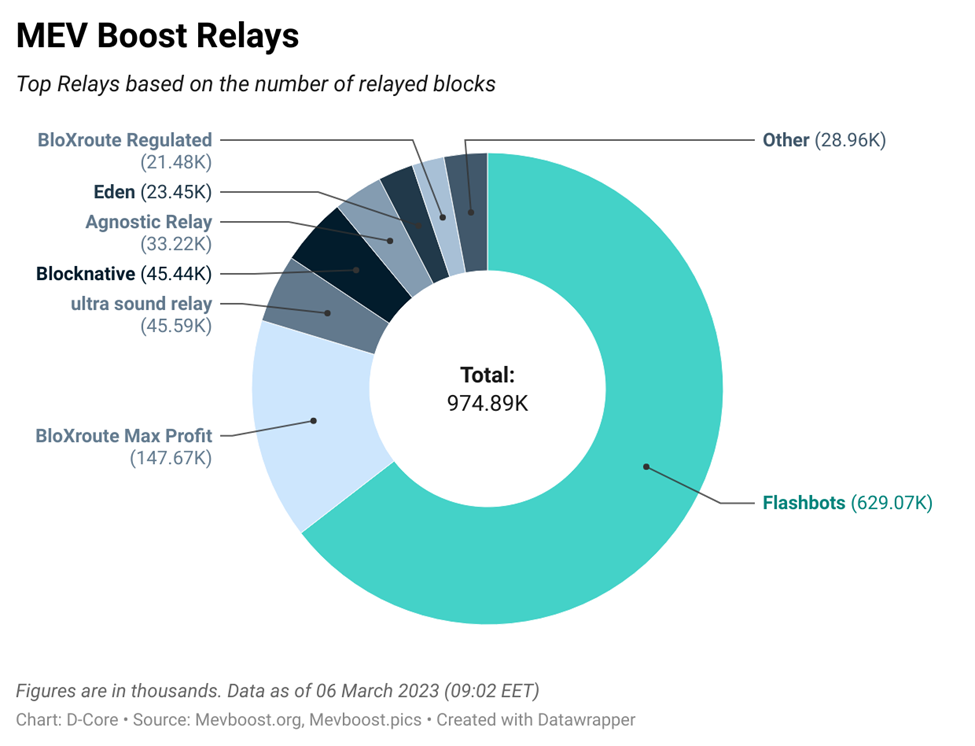 CeFi
According to Reuters, Visa and Mastercard put crypto deals on hold amidst adverse market conditions.
ByBit suspended USD deposits via bank transfers, while Crypto.com will no longer accept deposits via Silverbank. The crypto bank suffered a $1 billion loss.
Due to regulatory concerns, HSBC customers are no longer allowed to buy crypto using credit cards.
Coinbase delisted Binance's stablecoin – BUSD – due to liquidity concerns. Coinbase also announced that it had acquired One River Digital Asset Management (ORDAM), an institutional digital asset manager and SEC-registered investment adviser. ORDAM was a subsidiary of One River Asset Management (ORAM) and will now transition to become Coinbase Asset Management (CBAM). ORAM's CEO & CIO, Eric Peters, will lead both entities.
As part of a survey of over 2000 American adults commissioned by Coinbase and carried out by Morning Consult, the results revealed that 67% of the respondents indicated that a significant redesign of the current financial system was required, with 20% of the participants owning crypto. Findings of the Survey here.
Venture Activity
The week ending 5th March 2023 saw a decrease in the number of investments compared to the previous week.
February witnessed an impressive 88 financing rounds, achieving a total of $867.55 million. This was a notable increase from January's figure of $574.99 million and represented a 51% increase for the month.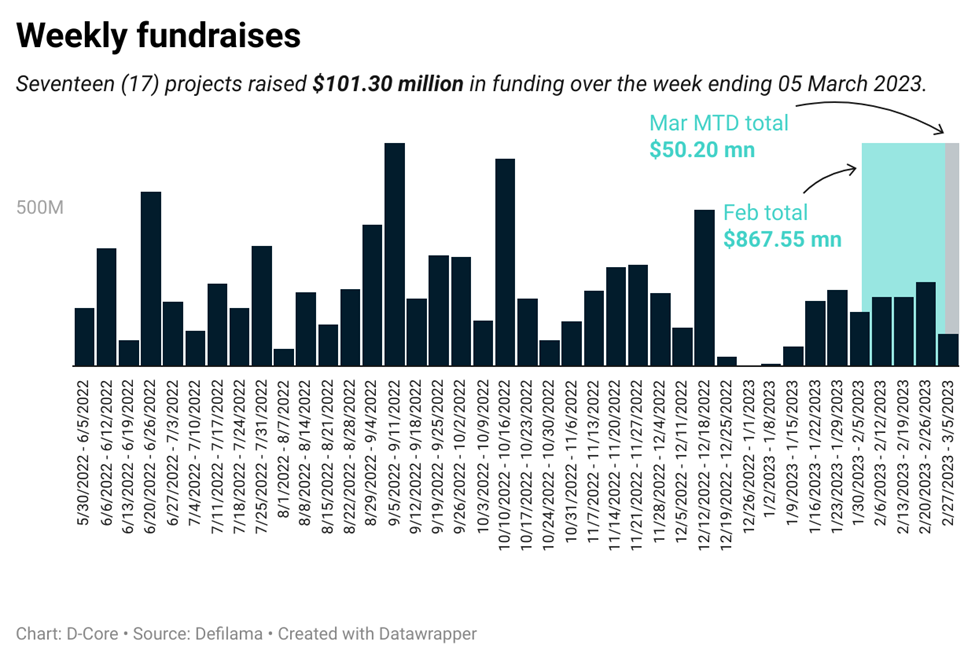 For the week ending on 5th March of this year, 17 investment deals successfully secured $50.2 million in funding.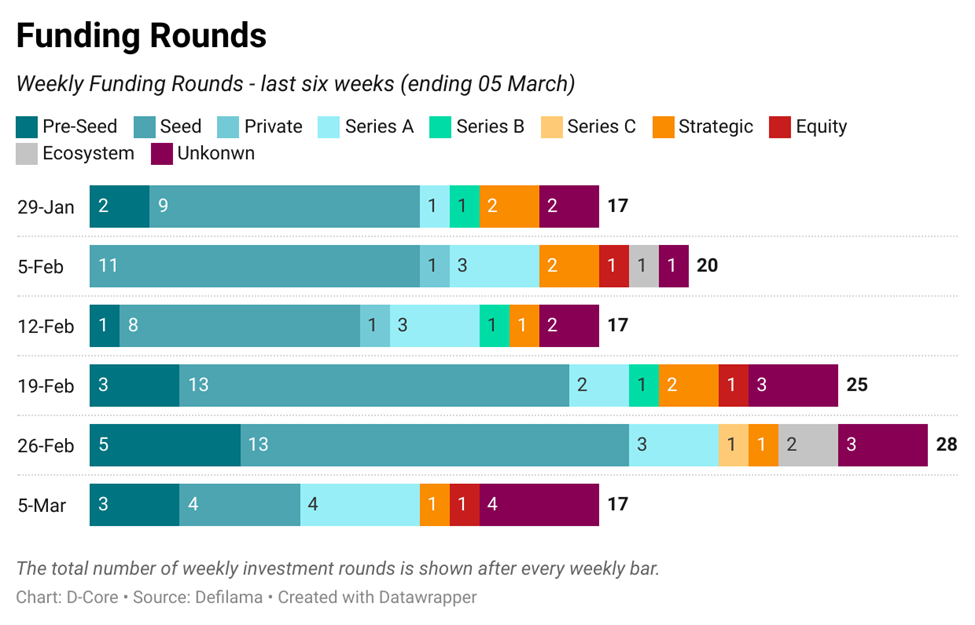 Regarding the types of sectors that received financing during this period, the Infrastructure and DeFi sectors were the biggest earners, with the NFT sector also performing well and keeping pace.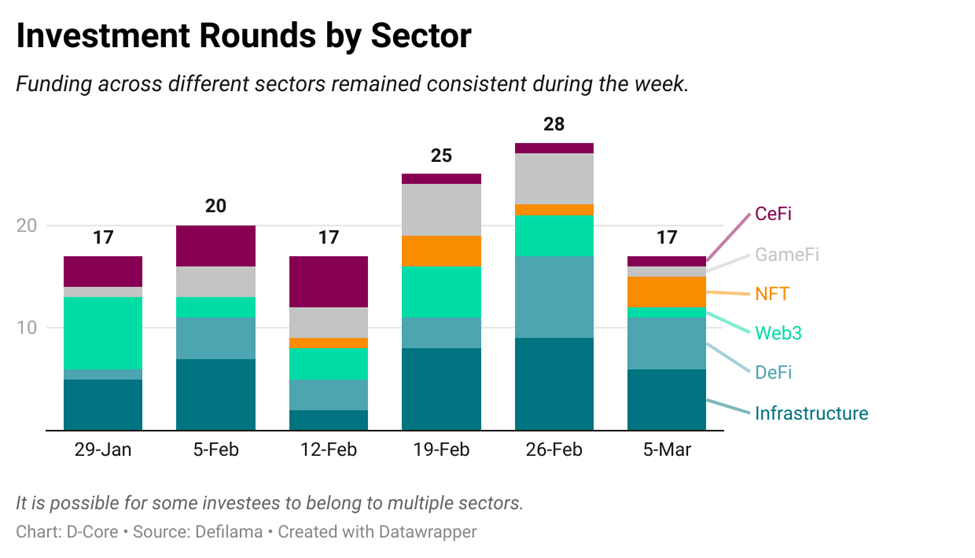 Metaverse & NFTs
Binance launched an NFT generator based on AI. The new feature is called Bicasso and sparked the mint of more than 10k tokens in 2.5 hours.
Yuga Labs' first Bitcoin NFT collection, Twelvefold, was auctioned on March 5th. In total, 288 digital artifacts were available for sale. Bitcoin NFTs market size could reach $4.5 billion by 2025, according to a Galaxy research report published on March 3rd.