Networks & Protocols
Maple Finance has announced the launch of its Maple 2.0 upgrade to its application. Earlier this week, Orthogonal Trading defaulted on its loan obligations to Maple pools, and as a result, Maple has severed ties with Orthogonal Trading.
Over the weekend, Lodestar Finance, an algorithmic borrowing and lending protocol on Arbitrum, was exploited, and an attacker drained approximately $6.5 million. The attacker reportedly exploited a vulnerability in the protocol's oracle contract. For a more detailed summary of the event, read the linked article.
The relayer market remained relatively unchanged this week, aside from Flashbots continuing to decrease its market share. Flashbots has dropped to just 75% from its high of 81% a few weeks ago.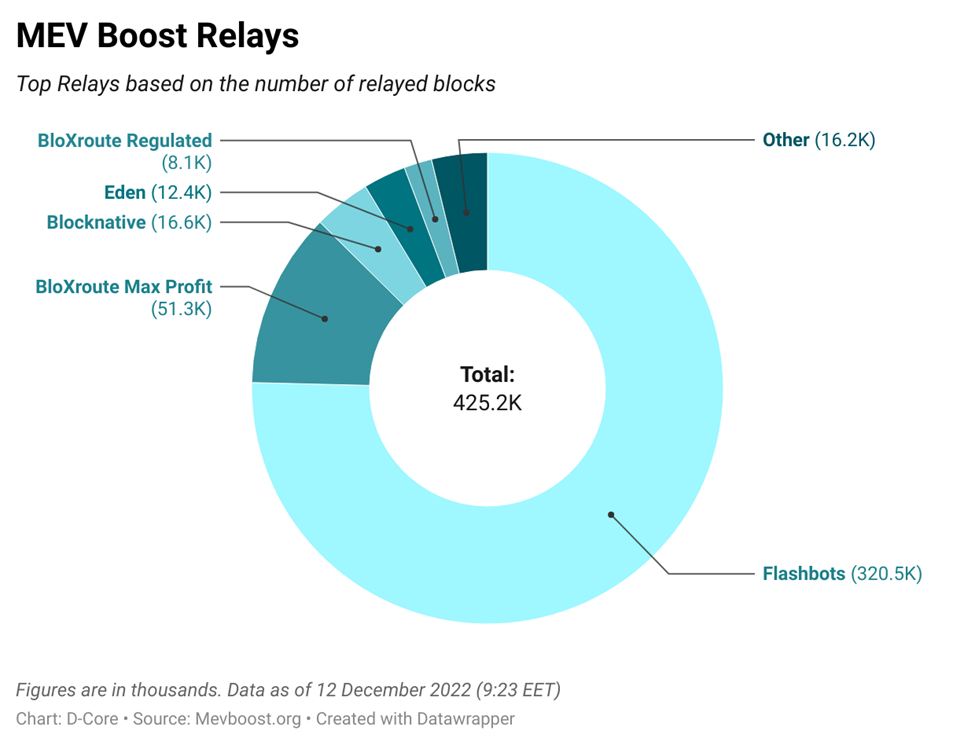 CeFi
The Bank of England is seeking proposals for a proof of concept of a sample wallet for a Central Bank Digital Currency (CBDC). The Bank has allocated GBP200,000 for this five-month (possibly extendable) initiative.
Crypto.com recently published its audited Proof of Reserves, conducted by Mazars Group.
The CEO of Block, a news, data, and research firm, has stepped down due to his failure to disclose financial dealings with Alameda Research. It was reported that the former CEO's holding company borrowed $27 million for the Block's restructuring and working capital needs. Bobby Moran has taken over as the new CEO, effective immediately.
Venture Activity
At the end of the week, the total value of fundraising activities was $119.35 million – a 45% decrease from the previous week. There were 14 investment deals reported, with Blockchain.com's $50 million investment being the largest. Liquid Access, a startup based in Limassol, Cyprus, completed its $3 million Seed round. Adding to these figures, the Month-to-Date (MTD) total funds raised by projects have now exceeded $180.35 million.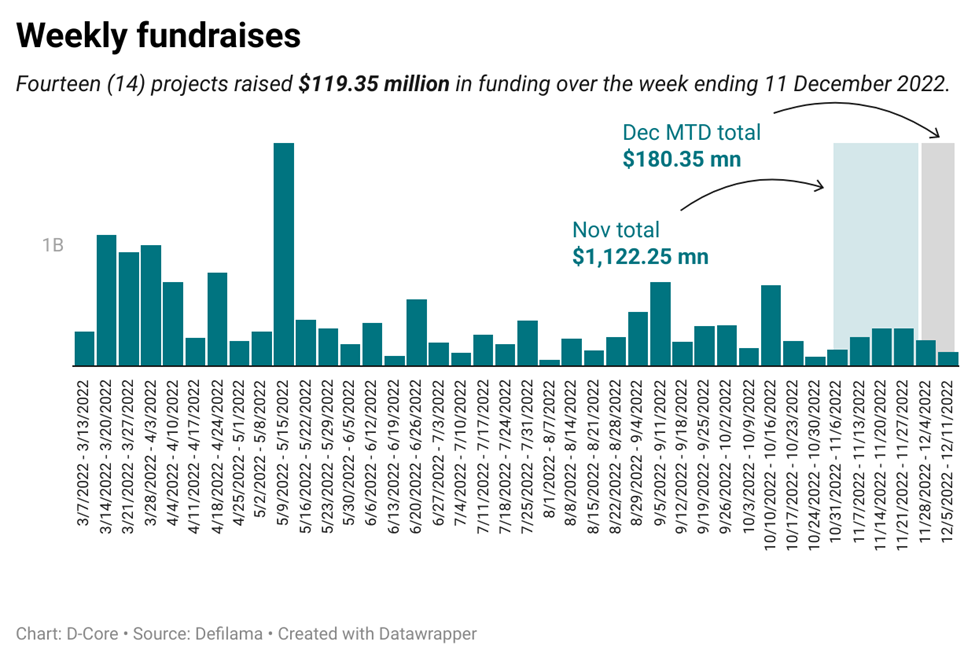 This past week saw a decrease in investment rounds to 14, after three weeks of steady growth. Most of the deals were seed funding rounds.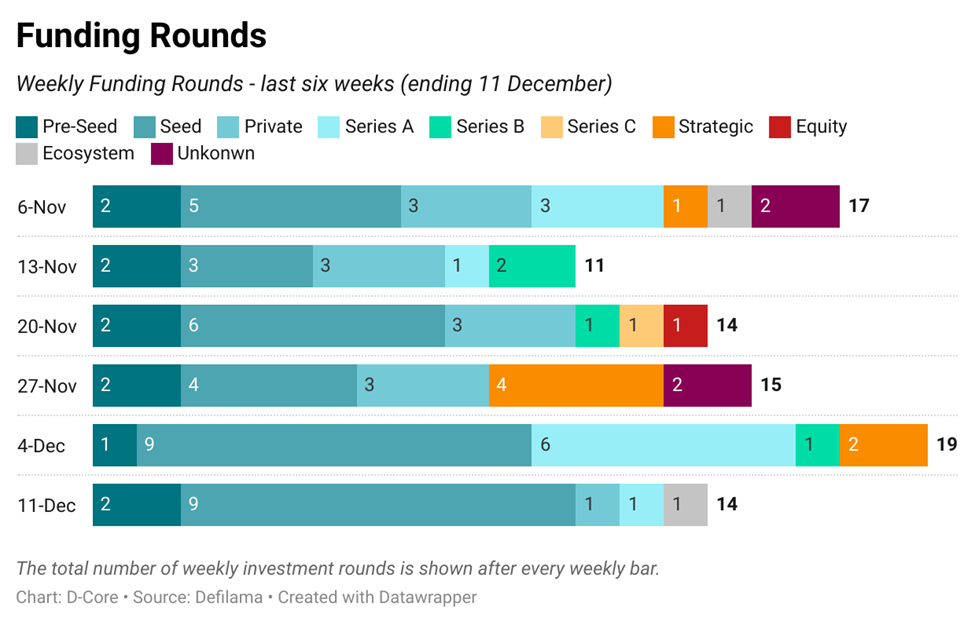 The trends from the previous two weeks continued this week, with investment activity seen across all sectors.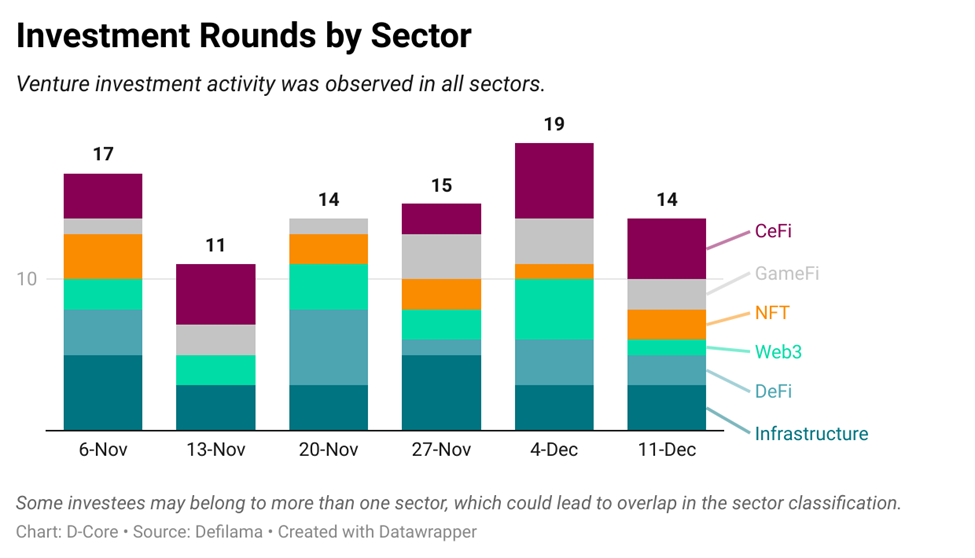 Metaverse & NFTs
Starbucks is officially launching its NFT rewards program, Odyssey, on Polygon (MATIC). Link.
Lawsuit filed in California against 37 co-defendants, including celebrities, for conspiracy in promoting Yuga Labs' Bored Ape Yacht Club collection. Link.
Regulatory
In complementing the MiCA Regulation and anti-money laundering rules, the European Commission proposed new tax transparency rules for all service providers facilitating transactions in crypto-assets for customers resident in the European Union. The draft must still pass through the European Parliament and the Council for adoption.