Macro
The US CPI for October, one of the highly anticipated metrics for the week, came in positive, driving market sentiment as the week ended. The CPI increased 7.7% on a year-on-year basis. The monthly increase remained similar to the September increase at 0.4%. However, the figure remains way above the Fed's long-term target of 2% inflation. Therefore, it is expected that Fed will continue to increase policy rate in the December meeting, albeit at a lower pace of 50 basis points.
Meanwhile, the US Midterm election resulted in the Democrats retaining control of the Senate.
Amidst these developments, the USD strength dropped to a three-month low. DXY, the Dollar Index, recorded one of the sharpest drops in a long time.
CeFi
However, the crypto markets were not driven by any macro developments as the collapse of the leading Exchange, FTX, spooked the markets. The FTX drama sparked with a CoinDesk article that raised concerns about the balance sheet strength of FTX's sister company Alameda Research. Amidst denial, the CEO of Binance tweeted his plans to sell his FTT token holdings. Skeptical about the Exchange's solvency, users rushed to withdraw their assets from FTX. What followed was the chaos of an unimaginable magnitude. As of now, FTX and related entities have filed for voluntary Chapter 11 proceedings in the US.
The collapse of FTX moved several exchanges to become more transparent by disclosing their balances. Binance led this trend which Huobi and Bitfinex followed.
Multiple investment firms also had to communicate to their LPs where they stood in terms of exposure to FTX, directly and indirectly.
St. Kitts and Nevis to adopt Bitcoin Cash as legal tender from 2023. Link.
Networks & Protocols
FTX hack potentially compromised keys. Solana developers working on a fork to Serum in order to secure the DeFi hub. Link.
NEAR Protocol released its roadmap for the next two years, 2023 – 24.
As per the data produced by Mevboost.org, Flashbots continued to dominate the Mev Boost Relays market, with about 80% of the blocks relayed (~194.7k) by it.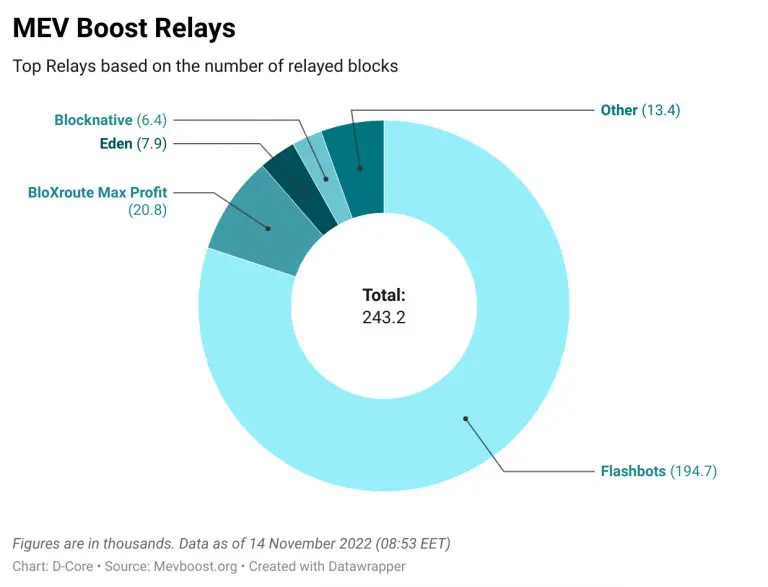 Venture Activity
The weekly fundraising data produced by Defilama (adjusted) shows that the total value raised increased 24% to $169 million week-over-week. There were 11 reported transactions with an average investment value of ~$15.3 million.