Macro
At the latest FOMC meeting, the US Federal Reserve raised its Policy Rate by 25 basis points, with the new target range being 4.50 – 4.75%. It is now predicted that the Fed will make one more rate hike at the March meeting, followed by a period without adjustments.
Additionally, two other major Central Banks made rate adjustments, with the European Central Bank (ECB) raising its policy rate by 50 basis points and signaling intentions to do so in the following month's session as well. The Bank of England's Monetary Policy Committee likewise increased its rates by 50 basis points to 4%.
According to the latest Economic Data, US Unemployment had fallen to 3.4% in January.
Networks & Protocols
A governance proposal to launch Uniswap V3 on BNB Chain has been the subject of much conversation due to a16z voting 'Against' the proposal. According to a Temperature Check concluded on 31 January, the community has voted to go ahead with Wormhole as the preferred bridge in this deployment. The voting on the proposal will go on until 10 February. According to reports, a16z did not get to vote in the Temperature Check, although partners hinted LayerZero as the preferred bridge, one of a16z's investee projects.
Personae Labs recently introduced Spartan-ECDSA, an open-source zero-knowledge proof system for faster verification of secp256k1 ECDSA signatures. It is believed that this method can generate proofs about ECDSA signature verification within a web browser in only 5 seconds.
Aleph Zero has been awarded the 38th parachain slot on Polkadot. The project intends to use the slot as a bridge between Polkadot and Aleph Zero ecosystems, forming an intermediary parachain between the two.
BNB Chain developers released a whitepaper for the new Web3 storage network. Link.
Everlend, a Solana-based DeFi project, has announced that it has ceased operations due to liquidity constraints.
Rally – a creators' platform built on the RLY Network – is said to have ceased operations. Unfortunately, the lack of further communication from the project has meant that the community cannot find out more.
This week, the SperaxUSD protocol on Arbitrum was exploited, resulting in an address being credited 9.7bn tokens without providing associated collateral. This address liquidated approximately 300k USDs before being stopped by coordinated action from Sperax and their Arbitrum ecosystem partners.
Orion Protocol has revealed that they experienced an attack that they were able to address successfully, with no losses incurred by users.
A new project called Ordinals launched on Bitcoin Network has caught the attention of many and a discussion on 'Bitcoin NFTs.' The project enables Bitcoin-native on-chain NFTs.
MEV Boost
This week's report shows that Flashbots' market share has dropped below 70%, and the Agnostic Relay has overtaken BloXroute Regulated, a probable consequence of Flashbots Builders sending blocks to two players, among them Agnostic Relay by Gnosis.
The data covered now includes the 11th Relayer, Aestus Relay. Aestus Relay was introduced in mid-December last year, and the current state shows that close to 50k validators are registered with it. The Relay accounts for a minor market share as of now.
RelayScan – a monitoring tool tailored for Ethereum MEV-Boost Relays – has been open-sourced, paving the way for developers to build other solutions on top of it.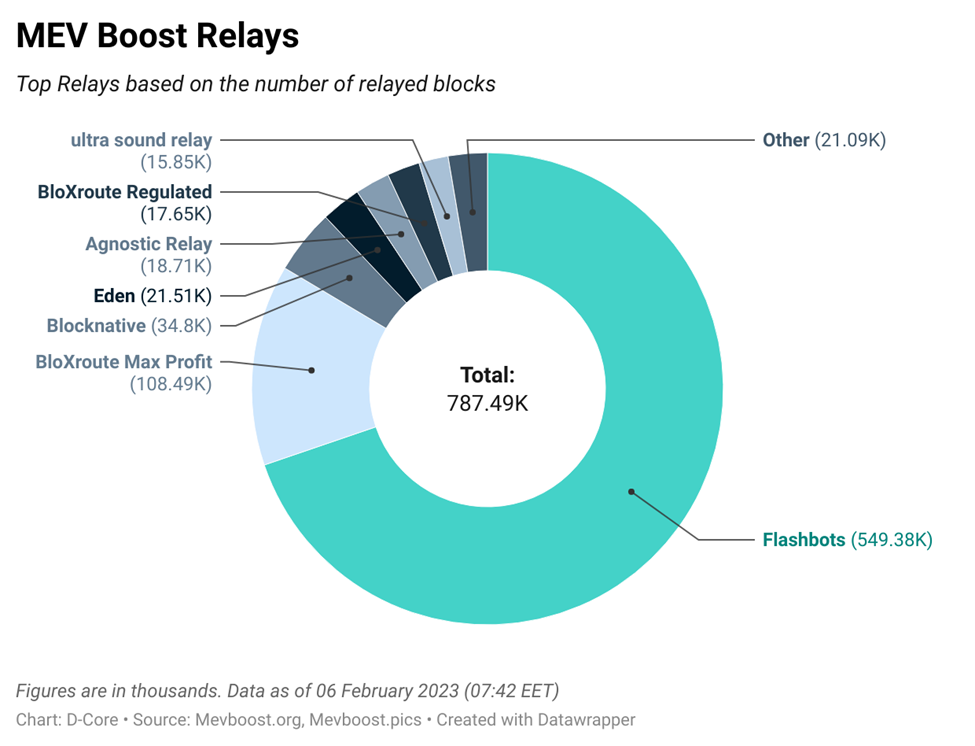 CeFi
Binance and Mastercard will start offering prepaid cards in Brazil. The project is expected to launch in the coming weeks. Link.
Cryptocurrency exchange Kraken was reportedly closing its offices in Abhu Dhabi.
Venture Activity
The week ending 5th February saw 20 venture investments announced, with a total capital of $170.85 million. In the month of January 63, projects raised a collective $570 million, in contrast to the $2.4 billion that was raised in January 2022.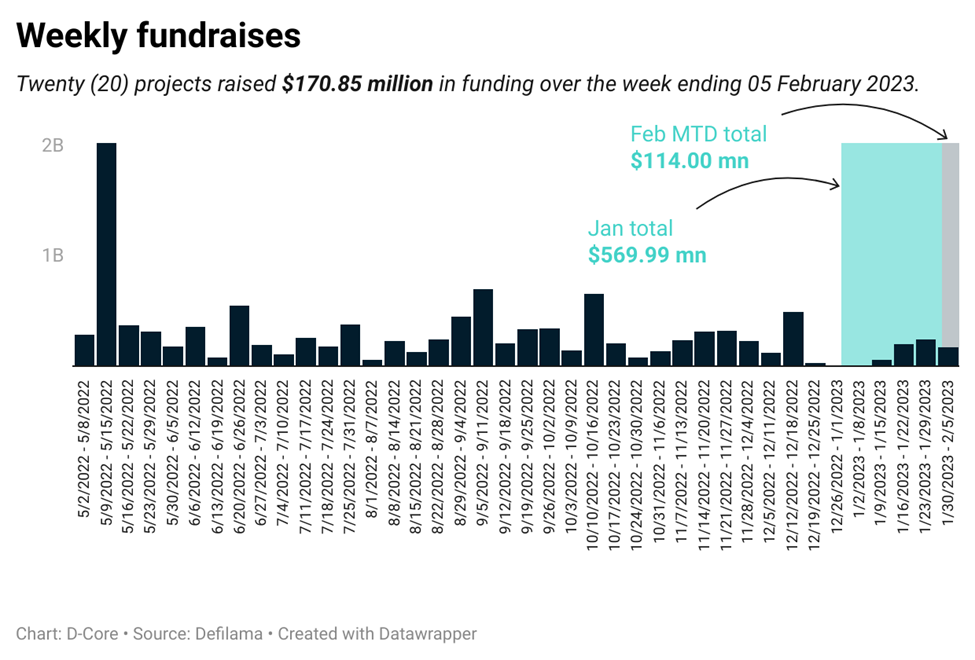 Half of the week's venture capital rounds were classified as Seed rounds. It was noteworthy that mining firms contributed a considerable amount to the collective $170.85 million raised during the period.
The available data showed that investors were showing interest in all major sub-sectors.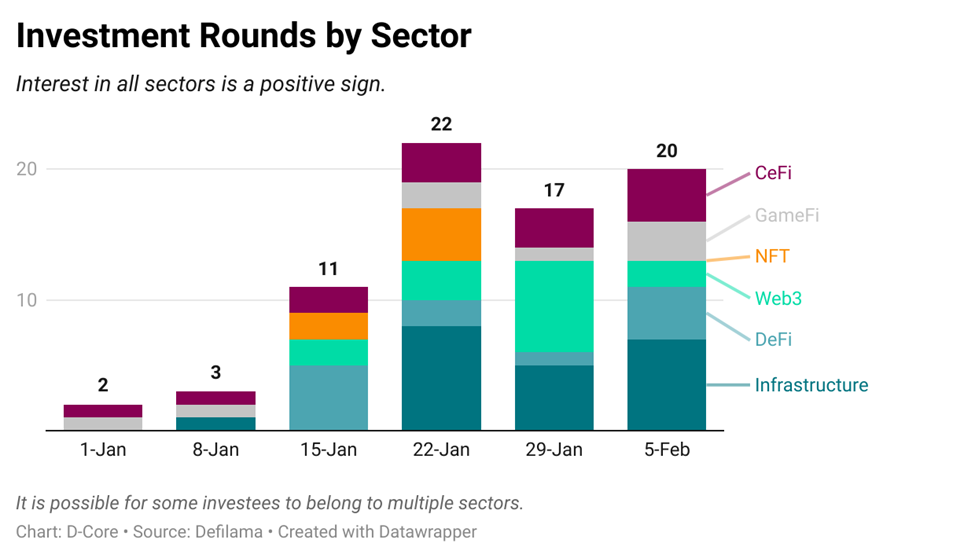 Metaverse & NFTs
The NFT sector showed signs of recovery in January 2023, as transaction volumes on Ethereum grew by 47%, totalling $796.3 million. OpenSea still predominates over other marketplaces. Link.
Regulatory
On 14 February, the US Senate Committee on Banking, Housing, and Urban Affairs will be hosting a hearing on "Crypto Crash: Why Financial System Safeguards are Needed for Digital Assets."