Macro
The latest U.S. Bureau of Labor Statistics data revealed that total nonfarm payroll employment rose by 263,000 in November, while the unemployment rate remained unchanged at 3.7%. At this point, there is an 80% chance of the Federal Reserve increasing interest rates by 50 basis points in their next meeting.
Networks & Protocols
Voting on the Stacks 2.1 upgrade is currently underway, with the poll ending on 8th December. This upgrade includes a choice of improvements, such as Stacking enhancements, new clarity functions for Parsing and Validating data, more efficient bridges, decentralized mining pools, Pay-to-Anyone coinbase, the ability to mine with SegWit and Taproot, and Bitcoin-native assets and Smart Contract control. For more information, click here.
Interlay, an interoperability network, recently launched Interlay Labs Grants Program to provide funding for software development and research efforts surrounding Interlay and its Canary Network, Kintsugi. The first round of the program is already open, inviting proposals in specific areas such as Lending Liquidation Bots, and Analytic Dashboard for Lending Market and AMM. Last week, Interlay also published their Interlay 2.0 Roadmap, with the aim of transforming their platform into a BTC DeFi Hub from a Bridge.
Ankr recently experienced a major exploit on its aBNB token, resulting in the attacker draining approximately $5 million worth of BNB from various DEX venues. This resulted from the deployer's private key being compromised (pending law enforcement investigation). The attacker then modified the smart contract, allowing them to mint unlimited aBNBc. In response to this event, Ankr is compensating the affected Liquidity Providers. Further details on the incident can be found in their update here.
Uniswap has now made Non-Fungible Tokens (NFTs) available for trading. Users can now access major NFT marketplaces, and the first 22,000 users can receive a gas rebate.
Telegram has suggested that they are planning to construct a range of decentralized tools, which include non-custodial wallets and Decentralized Exchanges (DEXs).
The relayer market witnessed the entrance of two more participants, i.e., Agnostic Relay and Ultra Sound Relay. Market dynamics also changed with Blocknative taking over Eden as the third largest relayer by the number of blocks relayed. Flashbots saw its share drop further to ~77%. Eden also lost market share while BloXroute Max Profit gained noticeably.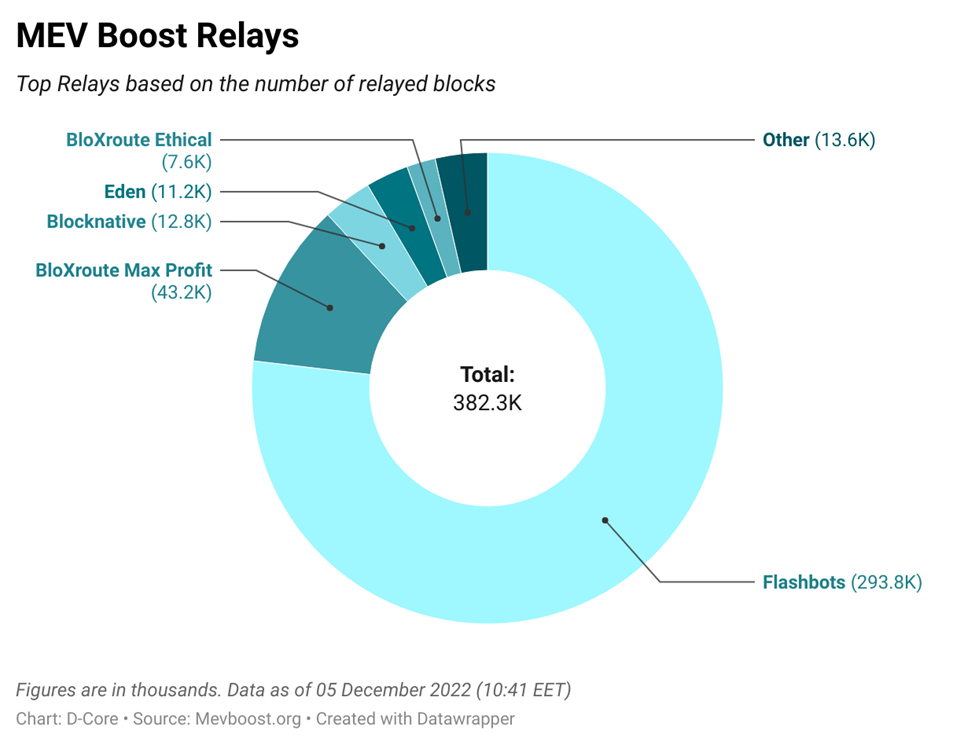 CeFi
Coinbase Wallet notified its users that they wouldn't be able to send NFTs on Coinbase Wallet iOS due to Apple blocking its last app release. Apple's reasoning behind this was that they required the gas fees to be paid through their In-App Purchase system, which does not support cryptocurrencies.
Binance recently announced the completion of their 100% acquisition of Sakura Exchange BitCoin (SEBC), a Japanese-registered crypto exchange service provider.
Maersk and IBM have recently declared their decision to discontinue the TradeLens platform, which was developed as an open and neutral supply chain platform underpinned by blockchain technology. The reason cited for this was that the platform had not generated sufficient commercial viability to sustain the financial expectations as an independent business.
Russia's largest bank, Sber, announces compatibility with Ethereum and integrates with Metamask. The bank applied in early 2021 to launch its stablecoin, Sbercoin.
Venture Activity
Highlights – November 2022
November was a noteworthy month for venture capital activity, with 66 investment rounds raising over $1.05 billion in funding. This was a surprisingly robust performance, considering the current market conditions.
Compared to October, this activity level in November was a 9% decline from the previous month's $1.16 billion raised in 83 rounds.
Significantly, the top five investment rounds in November represented 56% of the total value raised. The largest round was zkSync's $200 million raise, and the smallest was Vezgo's $750k Pre-Seed round.
A look into the types of investment rounds reveals that 47% of the deals were at the Pre-Seed and Seed level. An analysis of sector-wise investments shows that all sectors received funding, with Infrastructure, Web3, and CeFi being the largest recipients.
Over the week ending December 04, 2022, nineteen (19) projects received a combined total of $217.3 million in funding. As of now, December has seen investment transactions worth $61 million.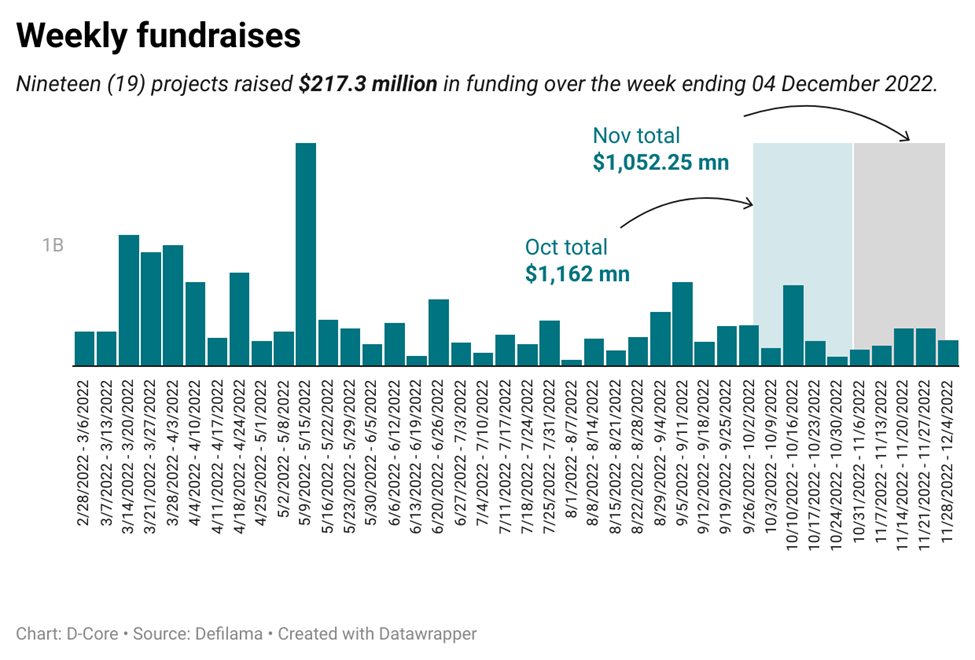 The past week marked the fourth consecutive weekly increase in the number of investment rounds, with 19 rounds being led by investors. These rounds were predominantly Seed or Private investments, in keeping with previous weeks.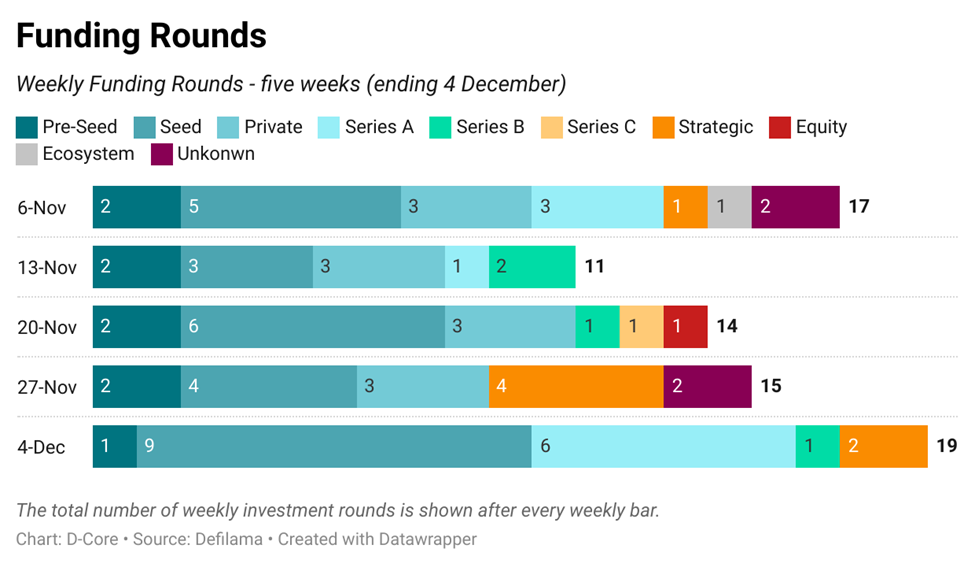 The sector-wise analysis of the investment rounds reveals that investors were actively investing in all sectors, though there was a decrease in activity in the NFT sector week-on-week.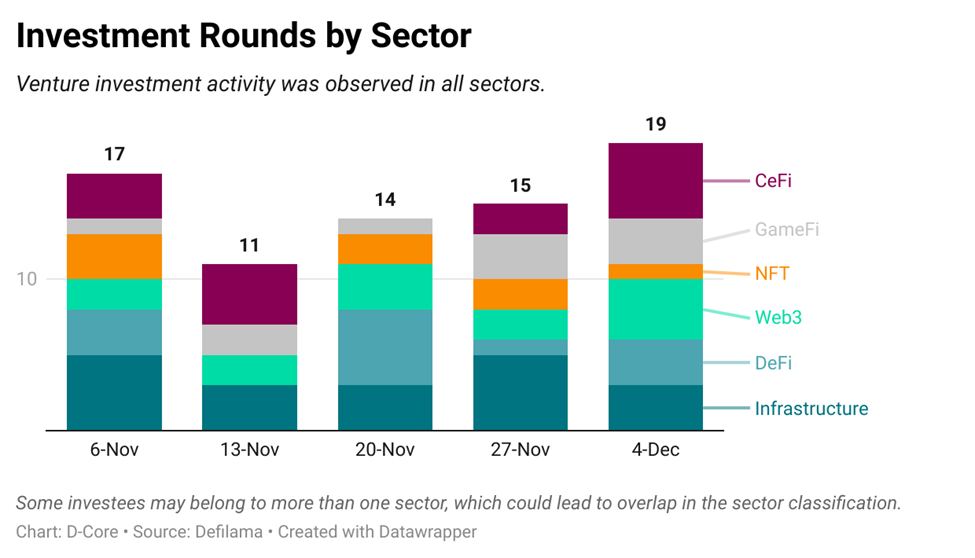 Metaverse & NFTs
Firefox dev Mozilla makes large-scale investment in the metaverse. Acquires Active Replica. Link.
Opera browser will let users drag and drop in the NFT creation tool from 2023. Link.
Regulatory
Brazilian lawmakers approved legislation making bitcoin and cryptocurrencies acceptable for payments. The new bill does not make bitcoin legal tender in the South American country. Link.